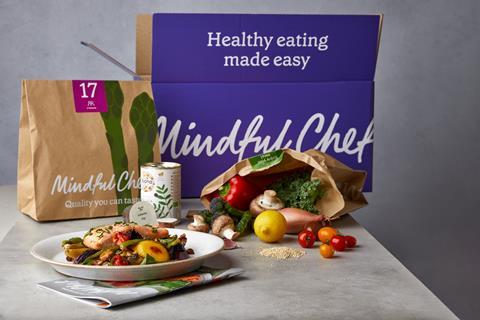 Recipe box brand Mindful Chef has launched a dietician consultant service, and is offering it to select subscribers.
The service will help customers "achieve their health goals" via private, one-to-one online consultations with "expert dietitians who specialise in nutrition and healthy living".
Those taking up the service, which began rolling out this week, will receive a "tailored assessment" based on their diet and lifestyle, resulting in "a healthy eating plan to achieve health goals".
The 45-minute consultation sessions with HCPC-registered dietitians cost £30. The service has been "heavily discounted" and "usually costs over £150" Mindful Chef said.
"Modern lifestyles mean the practice of healthy eating is challenging, particularly with competing priorities and being time-poor," Mindful Chef co-founder and CMO Giles Humphries told The Grocer.
"The dietician service we've created is a trial to help us give customers more tools to create long-lasting change, and ultimately ladders back to our mission of making healthy eating easy," he added.
Mindful Chef – the winner of The Grocer Gold Award for specialist online retailer of the year – has been working over the last year to expand its offering beyond recipe kits.
The brand boosted its grocery presence with the launch of a new recipe box partnership with Waitrose in late 2021, which involved the inclusion of Waitrose Cooks' Ingredients range in the kits, after launching a frozen ready meal range in 2019.
Its products are now sold via major retailers such as Planet Organic, as well as grocery delivery services including Ocado, Deliveroo and Getir.
The brand launched a quartet of chilled ready meals into Waitrose stores earlier this year.
Last year, year-on-year turnover at Mindful Chef increased by 39% to £67m in the company's first full year under Nestlé's majority ownership.