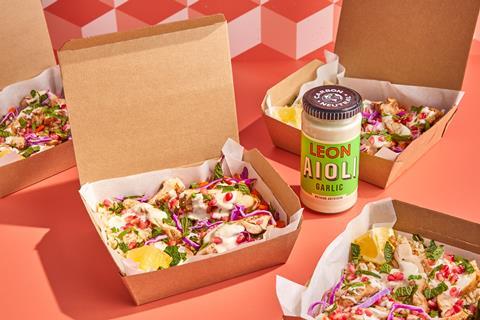 Recipe box brand Mindful Chef is partnering with Leon to provide four of the chain's "classic recipes" to subscribers.
The limited-edition recipes – which will be available to order exclusively for delivery from 17 to 30 September – give Mindful Chef customers the ability to "recreate their favourite dishes in the comfort of their own home" the meal box brand said.
Four recipes are available: Aioli Chicken & Rainbow Slaw, Keralan Cod Curry with Coconut & Pickled Cucumber, Lentil & Butternut Squash Masala and Black Cardamom Chicken Korma.
Those ordering the slaw kit will get a free jar of Leon's garlic aioli with their order. The aioli is one of a range of Leon brand dips and sauces, which debuted in Sainsbury's in 2019 before expanding last year into Asda and Ocado and more recently Costco. Over the past few years it has expanded the grocery range to include vegan sides, frozen waffle fries, soups and salads
"It's really exciting to partner with a brand that not only shares our values, but also holds the same commitment to delivering delicious, high-quality food that both tastes good and is good for you," said Glenn Edwards, MD at Leon.
Last year, Mindful Chef partnered with Waitrose to offer meal kits with complimentary ingredients from Waitrose Cooks' Ingredients range, alongside a cobranded recipe card. Launched in January, the trial ended in December.
It is not the first time the Nestlé-owned business has partnered with Leon, in 2020 offering two limited-edition meal kits, similarly with free samples of Leon's grocery range.
"Focusing on fresh, high-quality ingredients to bring healthy eating to millions of people is our mission here at Mindful Chef," said company founder Giles Humphries. "That's why we're so excited for this collaboration with Leon which shares so many of our values.
"We've handpicked their most iconic recipes and hope people will enjoy recreating these delicious recipes at home," he added.