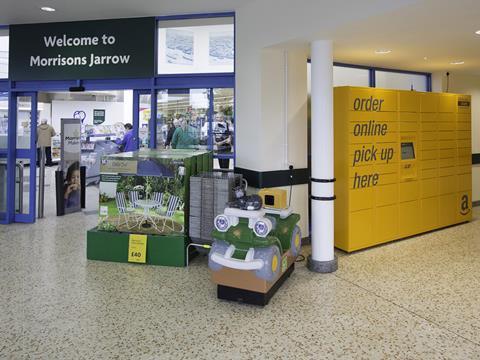 Morrisons is set to roll out Amazon lockers to the majority of its stores by the end of the year.
The retailer has been introducing the lockers to its stores over the past six months, but this week it announced that it plans to install hundreds more during the current financial year, which runs until January 2017.
"Many busy customers can't wait at home for their delivery, and we believe the option to pick it up from one of our hundreds of conveniently located supermarkets will be attractive," said Morrisons chief financial officer Trevor Strain.
The retailer said the move was part of a wider push to add extra services to its stores. In the past year it has revamped its in-store cafés and partnered with Timpson to grow its dry cleaning, key cutting and shoe repair operations.
The addition of Amazon lockers into Morrisons is part of a wider relationship between the two retailers. In May, Morrisons began to supply thousands of grocery items that are now available to Amazon customers through Amazon Fresh in London, Amazon Pantry nationwide and Amazon Prime Now, which is currently available to more than 30% of the UK population.
"We are delighted to introduce Amazon lockers at Morrisons supermarkets," said Amazon vice president of UK operations John Tagawa.
"Amazon lockers are the delivery option of choice for many customers who want to pick up their shopping at a time and place that suits them best. Morrisons supermarkets are ideal locations which allow people to pick up their parcels while on the move."
Shoppers using the lockers will receive an email or text with a unique code. They enter the code or scan the barcode from the email to retrieve their product at the locker.
There are currently more than 1,000 Amazon lockers nationwide in locations such as petrol forecourts, convenience stores and shopping centres as well as universities, train stations, banks and airports.