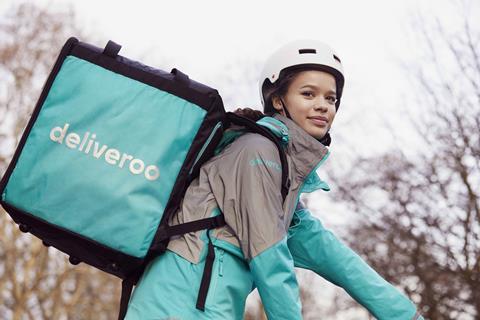 Deliveroo anticipates a spike in orders containing alcohol and cigarettes as the likes of Morrisons and Marks & Spencer join the platform

Riders failing to check ID "will no longer be able to work with Deliveroo", the policy states

Some riders have questioned how they could check ID and maintain a two-metre distance from customers
Deliveroo has introduced a stricter policy for couriers delivering age-restricted items after partnering with several supermarkets and convenience chains in recent months.
Couriers have been told they must ask to see a valid form of identification from the person accepting the order and must enter the customer's date of birth into the app which "will tell you if they're old enough to buy the item".
The new policy – shared with riders on Friday – says that as a result of the likes of Morrisons and Marks & Spencer coming onto the platform "you may be offered more orders that contain alcohol and cigarettes".
If someone is underage or doesn't have ID, they can still receive the non-age-restricted items in their order. The app "will advise what to do" with the remaining items.
The company has warned riders that it will be carrying out "regular spot-checks" to ensure the policy is being followed. Those that don't follow the policy "will no longer be able to work with Deliveroo", couriers have been told.
"Failing to check ID will be considered a breach of your contract with us," the communication to couriers states.
Some riders on Reddit questioned how they could check ID and maintain a two-metre distance from customers.
"The writing is tiny on these cards and there are so many different international ones it's an impossible task," one wrote.
"Another protocol devoid from real-world experience making our lives harder," another noted.
Others argued that age checks should happen at the point of sale – that is within the app – rather than at the point of delivery.
"It should not be our responsibility as it should be built into their system whereby the customer provides ID when they register before they even order," one rider wrote.
Uber Eats has a similar policy to Deliveroo concerning the delivery of alcohol, with riders required to "verify age or identification where necessary, and follow any steps set out in the app, and return undelivered alcohol to restaurants".
Couriers have also been warned they "may lose access to the app" if found not to have followed the procedure.
Amazon, a major investor in Deliveroo, last year changed its age-verification policy so anyone buying restricted products must show photo ID on delivery, no matter how old they are. Several supermarkets have introduced new procedures for checking ID while maintaining social distancing. Delivery drivers for Tesco and others now check for ID "either from a distance or through a window".
This month, California's Department of Alcoholic Beverage Control published findings of its investigation into underage alcohol sales over delivery platforms, following a Washington Post report which detailed how Uber Eats had "turned into a rogue cocktail bar". The department said its "recent enforcement actions have revealed that third-party delivery services are routinely delivering alcoholic beverages to minors".