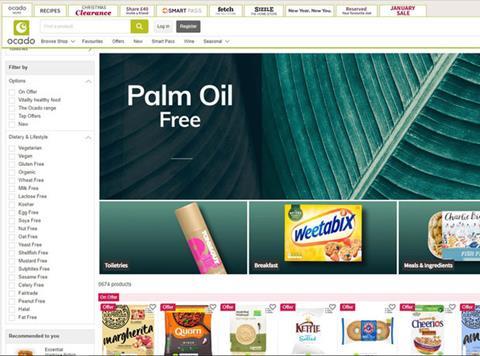 Ocado has added a 'palm oil-free aisle' to its website, allowing customers to browse over 5,000 products not containing the ingredient.

Products including bread, breakfast cereal, pizza, crisps and toiletries are listed on a dedicated new page which customers can find by searching for 'palm oil-free' on the homepage.

The move follows a 28% increase in searches for palm oil-free products in 2018, according to Ocado.

It also comes after Iceland achieved a claimed 70 million views of its viral 'Rang-tan' Christmas ad, promoting its commitment to go palm oil-free on own-label by the end of 2018.
Ocado already has similar aisles for products with recyclable packaging or using little plastic, introduced in September last year.

"Palm oil is a key issue for many of our customers, becoming an increasingly important factor in the choices people make while buying everyday essentials," said Alice Mannion, Ocado's head of grocery merchandising and product. "However, it can be hard to find products that are free from palm oil.

"With the addition of the new aisle, we have introduced an efficient and easy-to-use route to a huge range of palm oil-free products, accessed at the click of a button.

"While we always include comprehensive lists of ingredients on the Ocado website, we're aware that not everyone has the time to check these thoroughly when making their weekly shop. We want to provide our customers an effortless and enjoyable shopping experience. This now means providing simple ways to help align shopping habits with a desire to reduce one's environmental impact."