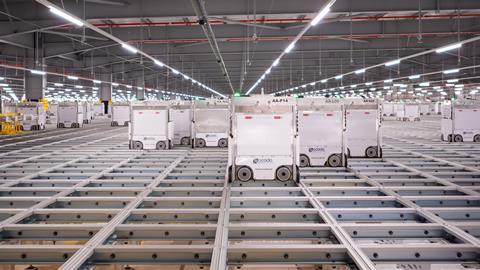 Ocado is relaunching its shopping app after pulling it offline in March due to "continued high demand".
The app is initially being made available to a small cohort of customers, ahead of a wider rollout.
Following a huge spike in demand for online grocery at the start of the pandemic, Ocado had been forced to turn away new customers and pull the mobile app due to "performance issues" as a result of the massive increase in usage.
App shoppers were funnelled towards the Ocado website, where a queueing system had been introduced. The site too suffered technical glitches which saw some orders cancelled at short notice.
Through the pandemic, the online grocer has worked to increase capacity and saw retail sales surge by more than 40% in the lockdown period.
The company has been "working hard to get [the app] up and running again" it said.
"We are pleased to confirm we are starting to slowly turn back on the Ocado app. We plan to roll this out gradually, starting with a small number of customers, to ensure the best possible app experience," a spokeswoman told The Grocer.
Ocado would not say how many customers could now access the app, or a timescale for its wider availability.
The app's return was welcomed by those customers who can now access it.
"Small thing I know in the grand scheme of things but I have really missed the app. It's so much easier and I know my way around it better than the website," one wrote on Twitter.
"Remember, lockdown isn't over until the Ocado app is back online," another remarked.
Last month Ocado laid out plans to raise more than £1bn to capitalise on the boom in online grocery shopping brought about by coronavirus.