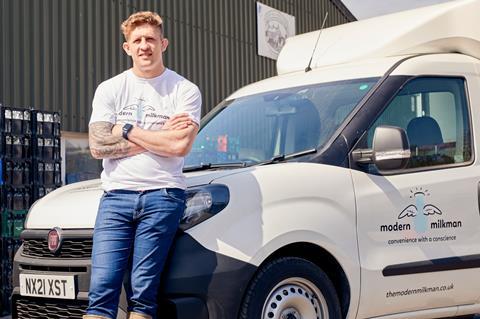 Online grocery delivery service Modern Milkman is launching a new range in reusable and returnable packaging.
'The Refillables' range will initially be made up of breakfast staples including cornflakes, choco pops, rice pops and granulated sugar.
On arrival, customers decant the product from the durable recycled pot they arrive in into a container of their choice. The empty pot is then left on the doorstep for collection at the next delivery. Each pot within the Refillables range can be returned, reused and refilled over 700 times.
Modern Milkman is also offering refillable 'starter packs' that include an extra glass jar for decanting product into, as well as separate extra glass containers. The range is available for nationwide delivery from today.
Modern Milkman is partnering with Dizzie on the refillable scheme. Dizzie provides the reusable pots, and tracks their usage.
"We know our customers want to embrace zero waste, however like everything, convenience is key when it comes to encouraging changes in behaviour," said Simon Mellin, CEO and founder at Modern Milkman. "Through this partnership we're bringing the concept of the refill shop to the nation's doorsteps, making it easy for customers to choose a more environmentally friendly lifestyle through our convenient and easy-to-use delivery service."
Repackaging
Dizzie – formerly known as Good Club – late last year launched its B2B "packaging as a service" offering to brands and retailers. The model involves Dizzie handling the cleaning and repackaging of goods, as well as delivery and collection if required.
Dizzie is already working with Milk & More, supplying 12 SKUs on its one million weekly deliveries.
Modern Milkman – founded in 2018 – said the new refillables initiative enabled "the public to begin their return and reuse journey as soon as they wake up". The Lancashire-based business has for several years delivered milk in glass bottles – the "original plastic-waste fighting superhero" it said – which are collected from its 100,000 customers, washed and reused up to 25 times on average.
The brand also offers a range of groceries delivered in returnable containers, while any non-reusable packaging is plastic-free, recyclable or home-compostable. Customers subscribe on the brand's app to regular doorstep deliveries and collections up to three times a week. Deliveries are made from 16 hubs up and down the country, which can cover a third of households in England.
"We are delighted to work alongside Modern Milkman as we continue our mutual goals of helping to reduce single-use plastic packaging and supporting the nation strive towards zero-waste," said Dizzie founder Ben Patten.
"We're very passionate about creating packaging for the future, and by utilising our technology we can track our pots and continuously improve return rates – helping the country embrace return and reuse habits. We're excited to be working with Modern Milkman through the launch of its Refillables range to continue our journeys to eliminate waste."