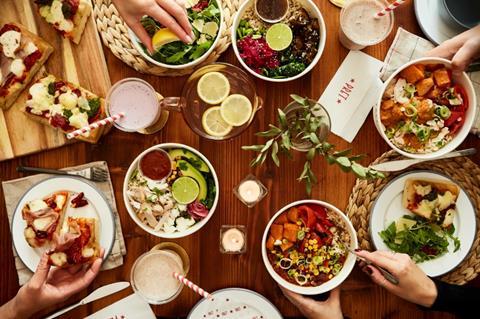 Pret a Manger has launched a new home delivery range, 'Dinners By Pret', as the chain continues to diversify.
The new offer will be available to order from 30 Greater London stores from 19 November with Uber Eats, Deliveroo and Just Eat delivering the meals.
The menu will include 20 new dishes including pizzas, pastas, curries and salad bowls as well as three frozen dessert shakes.
It comes as the high street chain continues to look for new ways to reach customers through lockdown.
This week also sees the launch of a new 'order ahead' service which will allow customers to order breakfast and lunch through the website before picking it up at a designated time.
"We're thrilled to be able to offer more customers new (and freshly made) Pret Dinners for their evening takeaways," said Pret a Manger UK food and coffee director Briony Raven.
"With many of us having tried to take up cooking in the last lockdown, we decided it's time to let our customers sit back and relax while Pret handles dinner – you've seen enough of your kitchen this year. We've worked hard to take some of the nation's most beloved comfort foods and give them a Pret twist including our new Focaccia Pizzas. Not only have we created new items to add to our dinners menu range but we have expanded the delivery services to be from thirty shops with our delivery partners. Not only that but we have also made sure to include something for everyone including more vegan dishes than ever before."