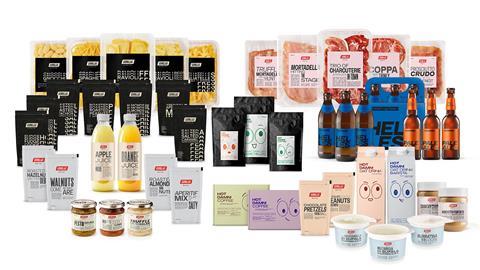 Rapid grocer Gorillas has launched four own-label brands, featuring around 50 products in the 11 "most demanded" categories.
The four brands – Gorillas Daily, Gorillas Premium, Hot Damn and Start-up Beer – will be available in the UK and three other markets: Germany, France and the Netherlands.
The product selection has been picked based on customer buying data and will "exceed category standards at a fair price" the company said. The initial set of products are available on the app now, with more to be released over the summer.
Gorillas Daily will feature a range of everyday essentials like spreads, cold cuts and cheese at an entry-level price, while Gorillas Premium includes "top-end products with particular high quality" such as fresh pasta and sweet and savoury snacks. Hot Damn is Gorillas' coffee brand covering beans, coffee grounds, home-recyclable pods, and an oat-based drink, while Start-up Beer initially includes two craft beers: a Bavarian Helles and a Pale Ale.
All products from the private label brands are manufactured by partners, which were selected based on their "strong commitment to sustainability" the company said.
"Since day one, we wanted to develop our own products with unique flavours and creative packaging to perfectly match the needs and tastes of our customers," said Kağan Sümer, founder & CEO of Gorillas.
"Our new private labels are also a key component of our profitability strategy and will enable us to develop new revenue streams across our core markets," he added. "Additionally, it reinforces our commitment to sustainability as we are focusing on environmentally friendly solutions for production and packaging."
Gorillas is not the first rapid grocer to launch a private label offering. In January, rival Gopuff launched its Basically brand, the first product being bottled water, which will be followed by cleaning products, batteries, paper products, cutlery and food storage. It later launched another private label – Basically, Amazing – featuring a line of snacks including pretzels, nuts, trail mix, popcorn and snack mix.
Jiffy – now a software company following a major pivot in May – in September launched an own-label range of fresh produce, in what it said it believed was a first for the rapid convenience sector.
Last month, Gorillas announced it was cutting its global headcount by 300 and pulling out of Italy, Spain, Denmark and Belgium as it "intensifies the shift to long-term profitability". The company said it would now focus on five key markets: Germany, France, UK, the Netherlands and the US, from which 90% of its revenue comes.
The announcement came as several other rapid grocery companies revealed they were significantly reducing headcounts.