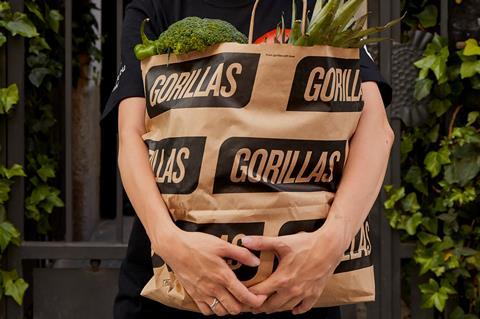 Could you do a weekly shop in 10 minutes? In the era of rapid delivery services, this is a reality for consumers. Tesco recently announced news of a partnership with Berlin-born grocery app Gorillas, offering customers their groceries delivered within 10 minutes.
True to its name, the rapid delivery space is growing fast. Research from IGD found the industry is currently worth £1.4bn in the UK alone – and is expected to grow to £3.3bn in the coming years.
This growth reflects the swift pace of change we are witnessing in consumer shopping habits. With adoption accelerated by months of lockdown, people are much more comfortable with grocery shopping online.
One in three shoppers in the UK have used or are interested in using rapid delivery, with the most common drivers for purchase being food to go, top-up shopping and meals for tonight.
Tesco and Gorillas have the potential to be a powerful partnership. Tesco benefits from leveraging a ready-made delivery app and instantly offering customers superfast delivery, whilst Gorillas gets access to Tesco's customer base and huge portfolio of products.
But there is still fierce competition in the delivery market. Uber Eats, Deliveroo and Getir all command significant market share, and there is even competition from within Tesco. The supermarket launched its own delivery app earlier this year, Whoosh, which offers customers delivery in 60 minutes.
From Tesco's perspective, it is a win-win to have both these services on offer. Gorillas will take a small mark-up, but given the convenience of the almost-immediate delivery, it will attract new customers and help cement delivery habits. With Whoosh, it can offer delivery without a mark-up as long as a minimum spend is met.
The goal is to transform these fledgling consumer behaviours into long-term habits. Convenience and speed play a vital role here, but they are not the only influencing factors.
Read more:
Reliability, accessibility and sustainability
Speed is good, but it's not everything. A key consideration for many shoppers now is the sustainability of their shopping habits.
Sustainability is rising up the agenda for retailers and consumers alike. A Deloitte report found 32% of consumers are highly engaged with adopting a more sustainable lifestyle, and 28% of consumers have stopped buying certain products due to ethical or environmental concerns.
Packaging is also proving to be a concern: 64% of consumers want brands to reduce packaging, a further 50% want information on how to recycle and 46% need clarity on sourcing of products.
Rapid delivery service brands should be proactive in offering these services and features. Through clever design and user experience in their apps, brands and retail partners can better tell their sustainability stories.
For rapid delivery services, the user experience app-side is also where there is much more margin for gain. The app itself is what connects the consumer and brand. The UX of these apps is crucial: it must be seamless and intuitive and include features like search filters, empowering users to find what they want and reducing the risk of choice paralysis which can lead to inaction and abandoned baskets.
Brands must also ensure their digital products are accessible. For example, where are the apps for people with accessibility needs? How do you pick your delivery if you're blind and your app does not have a screen reader? Or how do you find gluten-free or sugar-free options from Just Eat?
Brands entering this space should appreciate the immense room there is for competition and growth – but be wary of getting sucked into the idea that speed is everything. The winners in this market will be the brands who can intelligently leverage data and consumer preferences to deliver the best possible experience.