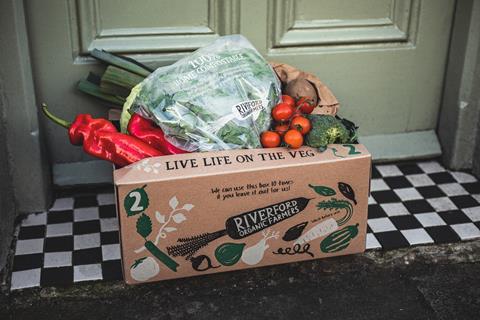 Riverford Organics has introduced new home compostable bags to replace the 1.25 million plastic bags it uses each year for its fresh fruit, vegetables and salad lines.
It was encouraged to seek compostable alternative packaging to help reduce the amount of plastic it used when a survey of its customers revealed 83% already compost their food or garden waste at home.
The bags are supplied by Tipa and are the most effective eco-friendly alternative to conventional plastic when it comes to keeping produce fresh, Riverford said.
The direct-to-consumer business hopes the change will save save 21 tonnes of plastic each year.
It added its delivery boxes already use 82% less plastic packaging than the average vegetables sold at supermarkets.
"Sustainability is a huge focus for our business, and something that is incredibly important to our customers," said Riverford Organics senior buyer Matthew Mountfield. "We have found an eco-friendly alternative to plastic that does not affect the quality of our product and actually promotes longevity, reducing food waste in the long term. We are proud to be replacing over one million plastic bags and look forward to the future as new sustainable technologies continue to be developed for the grocery industry."
Tipa sales director Gary Tee added: "The fresh produce industry needs pioneers like Riverford to offer sustainable packaging choices including compostables to give consumers the chance to cut down on plastic and food waste. We look forward to the year ahead as we continue to support Riverford in supplying its produce in sustainable packaging that doesn't compromise on the quality its customers expect."
Riverford's move follows fellow organic food delivery service Abel & Cole introducing home compostable bags for its herbs in response to increasing customer demand for more sustainable packaging last October.