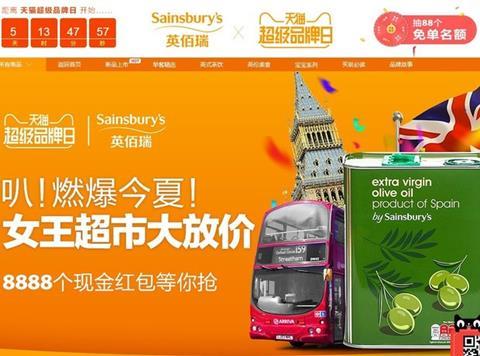 Sainsbury's is doubling its range on e-commerce giant Alibaba in a bid to break further into the Chinese market.

The retailer will offer over 100 products on Alibaba's online marketplace Tmall in a deepening of the partnership, which began as a trial in September and largely included upmarket items such as specialty tea, coffee and biscuits.

The expanded range will include products from four categories: British breakfast, drinks, organic and baby.

To promote the range, Sainsbury's will take part in Alibaba's Super Brand Day on 8 August, when its Tmall site gives extra prominence to selected retailers and uses its data to drive engagement with their target demographics.

Sainsbury's did not reveal its sales figures for the past year of the partnership, but said it had experienced "successful" growth and named its British breakfast and afternoon tea ranges as particularly popular.

John Rogers, chief financial officer for Sainsbury's, said the venture tapped an appetite for "high-quality international products" in China. "Many customers also want to replicate tastes and occasions that they have enjoyed or heard about through international travel," he said.

Sainsbury's was the first British food retailer to partner with Alibaba in September 2015, followed by Waitrose in April this year.

The partnership came about after Sainsbury's contemplated opening bricks-and-mortar stores in China in 2010 - a project that was eventually discarded.

At the time, a number of international supermarkets including Walmart, Carrefour and Tesco had already opened physical stores in the country. In 2014, Tesco increased its presence in the region by partnering with state-run retailer China Resources Enterprise, which has almost 3,000 stores.

The Chinese online grocery market is rapidly growing and expected to be worth nearly $180bn (£137bn) by 2020, according to IGD.