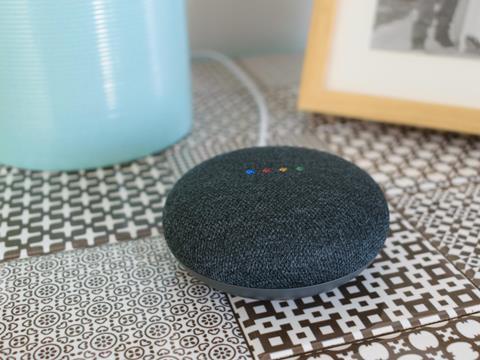 Consumers who attempt voice shopping can end up with the wrong product in response to half of their requests, new research has found.

Researchers tested Amazon Echo Show and Google Home Mini smart speakers, with the Amazon device getting up to half of requested products wrong.

Requests for branded products were particularly at risk of being misunderstood, with Google's Home Mini mistaking "Amoy noodles" for "annoyed noodles".

Tests by digital marketing agency Roast included 15 requests, five for generic products such as "milk", five more specific requests such as "almond milk" and five specific branded ones such as "Alpro almond milk".

Researchers used the voice shopping services of Asda and Tesco through the Google device and Ocado and Morrisons through the Amazon speaker. They also tried simply asking the devices for the 15 products directly, without using a supermarket.

Ocado on the Amazon device performed the best, offering the correct item in response to 14 out of 15 requests.

Asda, on Google, was second, with 13 right, but analysis of Google search history revealed the device had searched for "annoyed noodles" when asked for "Amoy noodles". It also mistook the brand name for "an oil noodles" and "a boy noodles". As a result the device responded: "Asda didn't catch that, or we don't carry that product," although Asda sells Amoy noodles.

Morrisons on Amazon and Tesco on Google both got 12 correct.
When testers used the Echo Show to shop from Amazon itself, the device only offered the correct item in response to seven requests. Six resulted in an incorrect product being offered and two led to a similar product being suggested. Requests the device misunderstood included generic ones like "Alexa, buy bread," to which it responded: "Searching Brilliant Bread book, River Cottage, music album."

Google performed worse still when used to shop directly. Because Google only supports voice shopping in the UK via third-party retailers who have created compatible software, none of the requests resulted in a product being added to a basket. Instead, requests beginning "OK Google, buy…" typically resulted in the device listing details of nearby retailers that might stock the item.

Roast's report said consumers attempting supermarket voice shopping could become frustrated with the retailer although misunderstandings were a failure of the device.

"It's not the fault of Asda or any of the individual supermarkets," said John Campbell, Roast's head of SEO. "It's the voice recognition technology of Google and Amazon."

The report said: 'Google and Amazon have made great strides in improving speech recognition, but there are still some improvements needed for certain words.'

It continued 'brands or product names that can be hard to pronounce could have problems with voice' and 'naming of new products needs to take into consideration pronunciation and the ability of devices to conduct accurate speech recognition'.

"This could affect brands with some ambiguity around pronunciation," said Campbell.

A Google spokesman said: "Full shopping functionality, for example 'OK Google, buy this product from this store,' is currently only available in the US. We're always working to improve the Google Assistant but have no plans related to shopping to announce at this time.

"We encourage partners to build Actions with our Actions on Google platform, as Asda has done, to provide a new way to interact with their customers."

Amazon did not comment.