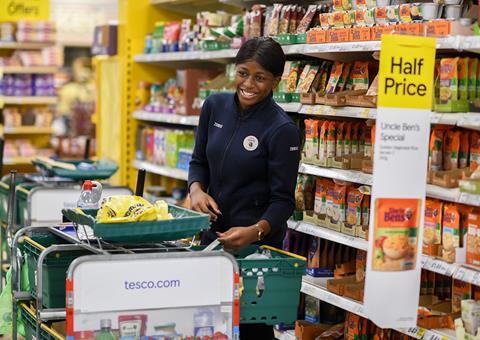 Tesco is increasing the number of home delivery and click and collect slots it offers

Stores used for online picking will open later

Over 200 vans have been added to the Tesco delivery fleet
Tesco has announced plans for a massive expansion of its online delivery capacity, as supermarkets struggle to react to an explosion in demand for deliveries under the UK's coronavirus lockdown.

The supermarket giant said it had already ramped up home delivery and click & collect capacity to around 780,000 slots this week, up from 660,000 slots two weeks ago, an increase of 15%.

However, Tesco is planning to reach almost 900,000 slots in the next few weeks (an increase of almost 30% in two weeks). This is despite warnings from its CEO Dave Lewis and other retailers that expansion of online services alone will not alone be the answer to feeding homes during the outbreak.

It has also decided to open stores used for online picking two hours later than normal to help make more capacity for online orders.

Last week Tesco announced it was limiting online orders to 80 items in order to be able to make more deliveries to more customers.

Today it revealed it had also added 200 new vans to its fleet and recruited another 2,500 drivers and over 5,000 pickers to further increase supply. It said it would continue to prioritise the 400,000 people identified as vulnerable by the government.
Read more

"Covid-19 has led to unprecedented levels of demand for grocery shopping services," said Tesco CEO Dave Lewis.

"We're doing everything we can to increase the number of slots available and to support vulnerable people. Through a series of measures including more drivers, pickers and vans, we'll expand the number of slots available each week; but this still isn't enough to meet the demand.

"For this reason it is vital that customers who can come into stores and shop for themselves do so - so we can free up as many slots as possible for vulnerable people.

"We will support a significant proportion of the people identified by the government as particularly vulnerable and without a support network; but we are also focused on helping as many other people as possible who may not be able to come into stores to do their shopping.

"We thank our regular home shopping customers for their patience as we do all we can to make this service available to as many people who need it as possible."

Meanwhile, Tesco also announced today that on the back of its recruitment drive more than 35,000 new colleagues had joined the company to work in stores, in the past 10 days alone.