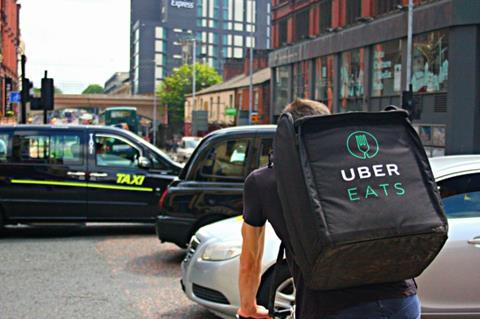 Uber Eats' can now reach over 90% of the UK population, having grown its coverage "exponentially" since the start of the pandemic.
Meanwhile grocery delivery has become one of the app's "fastest-growing sectors" in the UK, according to a trading update for quarter one of 2021.
Globally the business grew 150% year on year, while in the UK and the rest of Europe the rate was even faster, Uber Eats said, though it did not put a number on this.
More than 25,000 new restaurants had signed up to the app over the year, while grocery partnerships had been struck with Asda, Sainsbury's, Iceland and McColl's, Uber Eats said.
The food delivery app has also recently launched a new service for restaurant partners called 'Dine In', allowing customers to make contactless orders while at restaurants through the app.
"As the nation comes out of lockdown, we'll continue to ensure people can order their favourite restaurant meals at home and help them with their essential shopping no matter where they live," said Uber Eats UK and Ireland general manager Sunjiv Shah.
Sainsbury's last week extended a partnership with Uber Eats to 100 stores, having brought 25 onto the platform last year. The supermarket is using the platform alongside Deliveroo, which it simultaneously extended to 100 stores, having launched from 10 last year.
Asda began Uber Eats deliveries from 25 stores in July and added 75 more in December. Iceland launched its first same-day delivery service with Uber Eats in September, fulfilling orders in as little as 20 minutes from a store in London's Hackney, before adding branches in Kentish Town, Bow and Islington by January.
Shah said 2020 had been "a year like no other, and we've seen substantial change in the hospitality and grocery industries as a result".
The trading update said that to help restaurants during the pandemic, Uber Eats had invested over £5m in reducing fees, including waiving onboarding charges, increasing payment frequency from weekly to daily and charging no commission on orders collected by customers.
"This was a difficult time for restaurants so it was important for us to play our part in helping thousands of restaurants access new customers and adapt their businesses," said Shah.
"As the nation comes out of lockdown, we'll continue to ensure people can order their favourite restaurant meals at home and help them with their essential shopping no matter where they live."