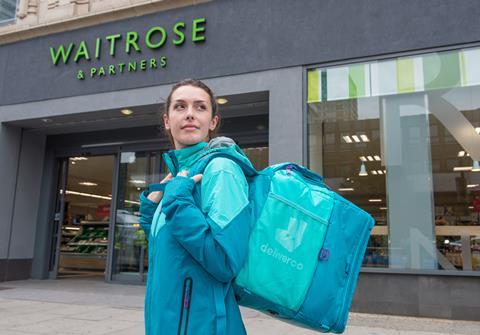 Waitrose has expanded its trial with Deliveroo to 40 stores in response to "popular demand".
The service will be rolled out to 16 additional branches within the next week.
Customers can order over 650 Waitrose products including ready meals, fruit & vegetables, meat, milk, snacks and health & beauty lines through the partnership, and have them delivered in as little as 30 minutes.
The upmarket grocer debuted its partnership with Deliveroo in September, rolling it out to five shops initially for a 12-week pilot. This was then extended to 24 stores in October.
Waitrose shoppers ordering through Deliveroo can also now donate to food redistribution charity FareShare while doing their shopping. Customers can give £3 on Waitrose's menu page on the Deliveroo app, which will go towards covering a hot meal for someone in need.
Donate a Plate will see FareShare distribute the food purchased through the fundraiser to its nationwide network of charities and community groups, and create individual meals or food parcels to be delivered or collected.
Deliveroo and Waitrose will match donations up to £20,000 as part of the move too, which comes as part of the John Lewis Partnership's Christmas campaign. Give A Little Love is designed to raise £5m to provide meals and support for at least 10,000 families before Christmas through tie-ups with FareShare and family support organisation Home-Start.
"As our partnership with Deliveroo continues to grow, we're now joining forces to encourage customers to help provide much-needed meals for vulnerable communities – at the most challenging time of the year," said Martin George, customer director at Waitrose. "This further boost to FareShare will play a valuable part in our Give a Little Love appeal to support 100,000 families in need."
Will Shu, CEO and founder of Deliveroo, added: "As part of our commitment to delivering food to thousands of families in need, we want to give our generous customers the opportunity to spread some kindness this festive period and make their own contribution. Thanks to our customers and the fantastic work of FareShare, we hope that it will help make a small difference to families in need this Christmas."