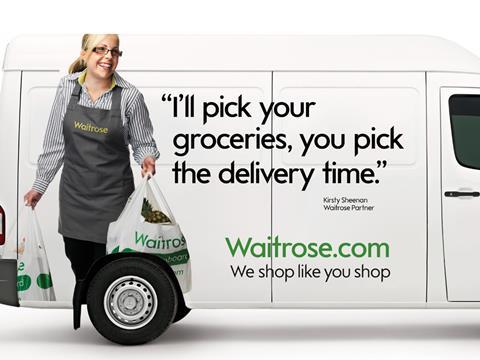 Waitrose has defended its decision to increase the minimum online spend shoppers have to make to qualify for free delivery.

Last week, it increased the free delivery limit from £50 to £60, while looking to encourage shoppers to use click & collect by cutting the minimum spend for the service from £50 to £40.

Some shoppers reacted angrily on social media to the higher charge. "No consideration for people living on their own and unable to put in enormous orders," said one.

However, Waitrose said the move reflected the costs of providing the service. It also claimed the increase would not affect the majority of its customers as 85% of regular Waitrose.com users already spent £60 or more. "We are still the only one of the big five supermarkets not to charge for delivery - our online delivery service remains free," said a Waitrose spokeswoman.

Rivals have recently made charges more competitive. In March, Ocado introduced free deliveries on Wednesdays for customers who spend £75 or more, and in April Tesco introduced one-hour £1 delivery slots for orders over £25.

Waitrose has also made changes to the Waitrose.com site in the past week. These have included a ratings and reviews function so customers can leave feedback on products, a new look and feel for the site, and a revamped Waitrose TV section.

Last month, Waitrose responded to customer criticism by reversing its decision to increase the amount that myWaitrose cardholders had to spend to qualify for a free newspaper.