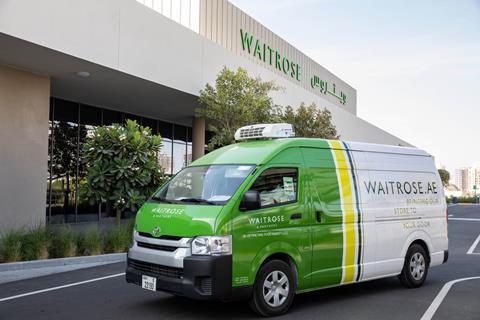 Waitrose has launched its first overseas-dedicated website, giving customers in the United Arab Emirates access to grocery deliveries.
The move comes as an extension of the retailer's presence in the UAE, currently compromising 12 branches – six in both Abu Dhabi and Dubai.
The website gives UAE-based shoppers access to over 15,000 grocery products with more than 2,800 delivery slots available each week, reaching more than 1,500 households. It also offers same-day delivery, with the cut-off for amendments being two hours prior to a customer's slot.
Orders will be picked and packed at Waitrose's Sun & Sky, Al Reem Island, Abu Dhabi store and Dubai Mall branches.
Waitrose has also added 12 delivery vans as part of the initiative, and created 14 driver jobs through its partner Fine Fare Food Market, which runs Waitrose's UAE operation supported by the retailer in the UK.
This follows Waitrose opening its sixth store in Dubai last month – a convenience branch in Al Barari. It also plans to open two further branches in Dubai the end of 2020, one at Jumeirah Golf Estates and the other at Meadows Fountain's View.
"Our e-commerce service has grown significantly in the UK and we're very excited to work with our partners in Fine Fare Foods Limited to extend this to our customers in the United Arab Emirates," said Sarah Burton, business manager, commercial sales at Waitrose. "It brings an even more convenient way for our customers in the UAE to shop Waitrose products, and we're proud to bring the same quality and inspiration customers find in our shops, to our website."
Sunil Kumar, CEO of Fine Fare Foods, added: "Our new website adds online capability, meaning we can reach even more customers in the UAE, while also supporting the local community during these uncertain times with an easy way to shop.
"As the pace of online shopping continues to accelerate, listening to our customers' demands and reflecting the service, quality and choice of our supermarkets has never been more crucial. We are committed to delivering the best quality food and drink sourced in the most responsible way right to our customers' doorsteps."
Waitrose has taken several steps to expand its e-commerce offering in the UK in recent months, following the end of its two-decade long partnership with Ocado on 1 September. This includes lowering the online minimum spend for its grocery deliveries from £60 to £40 in response to shoppers' feedback, and launching a 12-week trial with Deliveroo at the end of August for deliveries from a selection of 500 items in as little as 30 minutes.