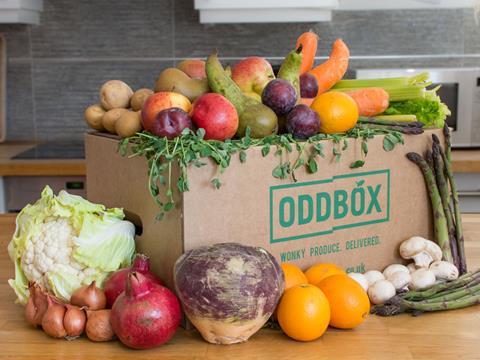 Top-quality produce hand-delivered to your door is hardly a new concept. Organic veg box supplier Riverford has been doing it for nearly three decades, after all. But in recent years established operators have been joined by a host of new arrivals launching new and often specialised takes on boxed up fresh produce in response to a growing demand from consumers. Only this week self-titled 'ethical grocer' Farmdrop, set up four years ago, secured a £10m investment from LGT Impact Venture after broadening the reach of its local market produce scheme outside London to Bristol and Bath. In the past two years it's seen its revenue increase tenfold.

Social enterprise Oddbox has also seen considerable growth since it launched two years ago, delivering boxes of wonky fruit & veg. It has now sold 25,000 boxes to homes in south London and 4,000 offices, with plans to expand its reach across the whole of the capital after moving into a larger warehouse in May.

It isn't only vegetables either. Muscle Food, winner of the Specialist Online Retailer of the Year at The Grocer Gold Awards earlier this month, raked in £50m in sales last year, and secured a £10m investment from BGF in January 2018 for its lean meat bundles of protein-packed steak, mince and chicken.

Then there is a new swathe of vegan options, including Sgaia's Vegan Meats based in Glasgow, where turnover grew by 300% in its second year thanks to sales of its bulk boxes of plant-based meats.

And even with all this added competition, sales at the likes of Riverford have continued to grow (up 7%), suggesting a rapidly growing appetite among British consumers. In fact "we've seen higher new customer numbers than we have in years," says Riverford's managing director Rob Haward. All of which has unsurprisingly tempted the mults to experiment again with their own versions too (see box).
How are the major mults getting involved?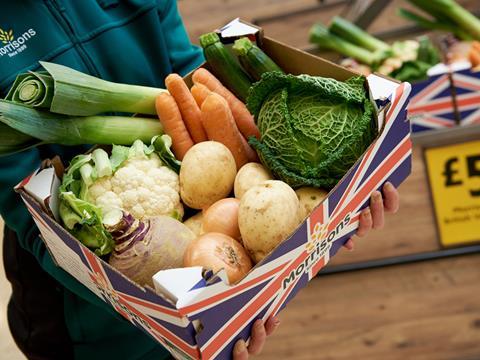 As with all growing trends, the mults are trying their hand again at fresh produce boxes too. They tried before with limited success when the movement was in its infancy, but different players are trying it and in different ways.
M&S launched two premium meat boxes last summer at £40 for the standard box and £65 for a luxury one (which includes an Aberdeen Angus roasting joint, salt dry aged beef steak and rose veal), and they account for half its (admittedly small) online meat sales.
Meanwhile Morrisons launched 'value veg boxes' last autumn, with the claim that at only £5 for four potatoes, five carrots, four onions and some seasonal extras they cost 'a fraction of the price of a typical delivered veg box'. It also stocks a Street Market meat box and Wonky Veg box . "All boxes are selling well, in particular our Wonky Veg Box," it says.
With its superior e-commerce capabilities, wholesaler Wholegood has chosen Ocado to list its consumer produce boxes, a decision MD Carl Saxton-Pizzie says was a "no brainer" thanks to Ocado's logistical reach and customer base. "The veg boxes are a very successful range on Ocado. We are currently looking at ways to widen this range."
Some believe the supermarkets represent a real threat as they don't require subscriptions, and due to the potential ease of adding a box to a weekly online shop.
Oddbox co-founder Emilie Vanpoperinghe insists she isn't worried though: "We're all working towards the same goal to reduce food waste and ultimately want customers to accept wonky fruit & veg as normal. We believe we complement the supermarket offer and because we are much nimbler we can provide a unique service that is affordable, convenient and helps solve the problem of surplus food."
So what lies behind this growing popularity? And how are new arrivals evolving the concept?

For upmarket meat box delivery service Field & Flower, offering '100% traceability' has been key to its success. "You can sell the produce on its provenance and its quality," says co-founder James Mansfield. "People are prepared to pay a bit more for this, meaning we're able to sell the product based on its merit rather than on price."

Since it started seven years ago in North Somerset, the company has experienced "steady growth" and now supplies its boxes nationwide, sourcing the majority of its produce from within the West Country. It posted a small EBITDA profit last year and sales of £2.8m, over five times what it had managed three years ago.

Mansfield doesn't envisage this growth slowing down either. "We're set up for growth, our operations currently run at only 25% capacity. We're selling a premium product but we're very competitive on price against supermarkets - we're stealing customers from them, there's no doubt about that."

Having an ethical supply chain has been fundamental, according to Mansfield with the company experiencing a 10% rise in new customers following the 2013 horsemeat scandal, and a further spike when first eggs then larger poultry suppliers came under the media spotlight.

Even the flexitarian movement has been positive for business, he believes, as people cut down on their overall meat intake and instead seek local, good quality and ethically sourced meat less frequently.

This trend has also seen a considerable increase in demand for meat alternatives. Since it started offering boxes of plant-based patties and meat-free steaks three years ago, 'vegan butcher' Sgaia's Vegan Meats has experienced a boost in sales. "Sales have been gradually increasing, and we definitely noticed a difference after this year's Veganuary," says co-founder Hilary Masin. "We're blown away by how fast and steadily the demand for vegan products has grown."
Decline in meat consumption
For those suppliers specialising in providing fresh veg boxes, the decline in meat consumption has provided a similar boost, promoting vegetables from side dish to main meal, turning the spotlight not just on provenance but also on production without use of chemicals.

The UK organic market grew 6% in 2017, making it now worth a whopping £2.2bn, according to a report published by the Soil Association in February. Of this, home delivery organic sales, including box schemes, grew 9.5% last year, an impressive figure, especially when compared with the 4.2% growth in organic sales at the supermarkets (albeit from a larger baseline).

It's a trend that has seen the likes of Eversfield Organic thrive. The Devon-based supplier of organic produce boxes saw a 20% increase in sales last year and, boosted by the acquisition of the premium grass-fed meat supplier The Well Hung Meat Company in November, is now in profit and looking to invest further in its 400-strong range.

"Our online box scheme is the area to boost at the moment, that's where we're seeing the growth," says founder and director Mark Bury. "We're adding new categories all the time to make buying organic all the more convenient for the consumer."

Adding The Well Hung Meat Company has already boosted turnover by £1m to £5m, and this year is expected to bring an additional £1.4m. "The acquisition gave us the economies of scale we needed," says Bury. "The first three months were difficult at times, particularly dealing with staff redundancies and the closure of existing facilities to move to the Eversfield site. Having worked through it though, the following months have seen the combined businesses flourish."
It's not as easy as relying on a passion for organic, however. In an increasingly competitive market, fresh produce suppliers are having to look at more innovative means to draw in customers. For Farmdrop this has meant creating four separate apps to improve efficiency in various aspects of the business - from food production to packers to delivery drivers - in an effort to boost positive online reviews. Its award-winning consumer app, launched in 2016, allowed customers to order on the move with a click-to-basket feature on the homepage and is now used by nearly a third of customers.

It has also had to diversify its offer to retain customers, expanding its range to include drinks and household products, as has Riverford, which now includes meat, milk, eggs, bakery, soft drinks and wine in its range. All of which demonstrates the challenges inherent in the business model. Produce boxes do have some advantages on recipe boxes, believes Clive Black, head of research at Shore Capital, as they avoid the prescriptiveness of pre-portioned ingredients and exacting recipe cards. "Fresh food deliveries have a much broader appeal and more growth opportunities in terms of income bands, geography, and shopper type than recipe boxes, which tend to be more metropolitan," he says.

Haward at Riverford, which has its own recipe box scheme, agrees. "Marketing from other recipe box companies has focused predominantly on London, and as a consequence the concept has become fairly well known in the city and not necessarily more broadly."
"The Achilles heel in remote food shopping - particularly with multi-temperature products - is the last mile"
Field & Flower has purposefully steered clear of expanding into recipe boxes. "There is definitely a marketplace for them but our customers enjoy food and cooking," says Mansfield. "And whilst we might not be as exciting as a recipe box to look at, we have a fantastic product and there's a massive market moving towards us. People care about where they get their meat from, and we really want to build a business on the fact that we're known as a specialist in meat and fish."

In the case of Muscle Food, success has come from offering niche selections for specific health goals among its lean high-protein meat bundles and hampers, says chief operating officer Steven Curran. "The trends for health, convenience, value and variety are the main drivers for this consumer demand in meat boxes. Our variety of products is attractive to customers as they aren't limited or restricted by pre-selected hampers and they can tailor all orders."

Even with this added flexibility and opportunity to tailor, the produce box business model faces certain similar challenges to its recipe box rivals.

"The Achilles heel in remote food shopping - particularly with multi-temperature products - is the last mile," says Black. "Distributing to a highly dispersed customer base is very costly in terms of value and people utilisation."

Encountering this problem, Farmdrop has switched from diesel to electric delivery vans, which it says can run for the whole working day for £1.18, the average price of one litre of diesel, reducing its fleet costs by a quarter when operating at full capacity.
Marketing costs
Gaining brand awareness is also crucial for startups - it's not enough to rely on simple word of mouth to attract new customers or build repeat business. At the same time, hefty marketing costs can cripple a growing company. One of the largest recipe box providers, Hello Fresh, reported losses of £52.2m after spending £112m on marketing in the first half of 2017. And in its latest accounts Riverford attributed a slip in profits to a big marketing push and rebrand.
Needing to build a loyal customer base is essential for produce box suppliers, though, and that's not easy if you're charging higher prices (Field & Flower charges £41.98 for its 'Family Favourites' box, a two-week supply).

"It requires getting the right balance so there is the appropriate level of awareness to capture the shopper's attention and then sustaining this marketing in the most cost-effective form," says Black. "General marketing is going through a revolution with the digital age. It is arguably easier through social media and digital marketing to reach the targeted customer base than it was in the past, but it's a case of easier said than done."
Riverford took the plunge three years ago to stop using offers to generate new business, instead relying on face-to-face meetings at events and SEO to draw in customers. "We put a lot of effort into creating a great product so trying to hook customers through offers is devaluing what we do," says Haward. "We're now generating as many new customers as when we were using offers and the quality of customers is better."

After seven years, Field & Flower is also reaping the rewards of its own efforts, using channels such as email marketing, word of mouth and even the Amazon Treasure Truck initiative - the e-commerce giant's roaming fleet where customers can collect limited promotional offers - which Mansfield says was a "huge success" for the company.
And in a continued bid to avoid spending vast amounts, Field & Flower, along with Farmdrop, has turned to crowdfunding to expand its offer. This can be the perfect solution for small consumer-facing companies, says Black. However, he warns that the biggest pitfall of any investment, especially one associated with a consumer brand, is that failure results in not only angry customers but animated shareholders.

So far that's not the case for Farmdrop, which achieved a 600% hike in sales when it switched from a click & collect model to a delivery service and is currently on track to hit £10m in sales by the end of 2018.
"Fresh food suppliers - particularly high-quality products with good provenance, authenticity, individuality and locality - are in the right place"
Oddbox is now also turning to crowdfunding to expand further after seeing sales increase 900% last year. Two years ago, it became the first in London to sell off subscription wonky fruit & veg with the aim of reducing food waste, and with prices 30% cheaper than rivals, it claims. It has now partnered with 26 local growers, and buys the surplus from imported goods that have been rejected by the supermarkets for their irregular size, shape and colour, distributing any food it cannot sell to local charities.

"When we first started it was difficult to persuade growers and suppliers about the benefits of Oddbox as we were such a small player," says co-founder Emilie Vanpoperinghe. "But fortunately two suppliers who believed in our mission and saw the financial and ethical benefits gave us a chance. Now, a lot of our suppliers have joined us through word of mouth and we're adding new suppliers every month."

The coming years will separate the "wheat from the chaff" when it comes to the abundance of these new arrivals on the market, believes Black. Fresh produce boxes will likely only ever remain a small fraction of the nearly £200bn grocery market but now - amid a boom in conscious consumerism - is the perfect time to try, he adds.

"Fresh food suppliers - particularly high-quality products with good provenance, authenticity, individuality and locality - are in the right place in terms of where the food market is today and where it is heading. Whether the brands that are currently selling those products are going to be here in the future depends on how they are managed and how they evolve."
Boxing clever: who's out there in the fresh space
Abel & Cole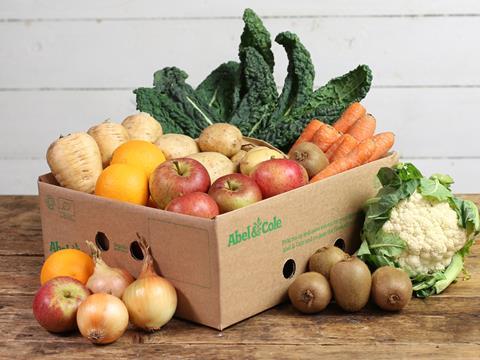 How long has it been around? Keith Abel and Paul Cole started selling fruit & veg in south east London in 1988. It was bought by William Jackson in 2012.
Supplies: Organic fruit & veg, meat & fish, plus organic groceries.
Delivery: To certain areas on specific days.
Subscription: Yes, but breaks are available.
Price: from £11.50.
How many customers? Undisclosed.
Sales: Undisclosed.
Recent developments/future plans: Removing packaging from its fruit & veg boxes and creating compostable carrot bags. It is also investing in its operations and website.
Eversfield Organic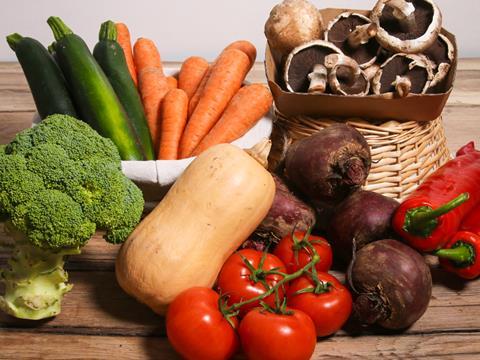 How long has it been around? Began its box scheme when granted organic status in 2004.
Supplies: Fruit, veg, meat, fish, deli, bakery, dairy and larder items.
Delivery: Tuesday to Saturday, nationwide.
Subscription: Yes, for the boxes.
Price: There is a minimum spend of £45.
How many customers? Currently delivers about 2,000 boxes each month.
Sales: £5m turnover.
Recent developments/future plans: Recently acquired The Well Hung Meat Company. Is now looking to further grow its online box scheme and add new categories to its range.
Farmdrop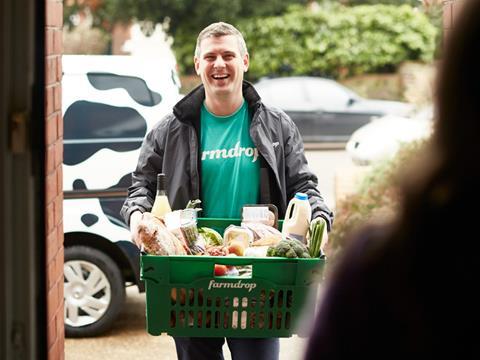 How long has it been around? Launched by Ben Pugh in 2014.
Supplies: Fruit, veg, meat, seafood, dairy and other groceries.
Delivery: Offers next-day delivery to London, Bristol and Bath.
Subscription: No subscription required.
Price: No minimum spend, but £4 is added to orders below £30. Fruit & veg boxes start at £7.50, meat bundles at £21.
How many customers? Undisclosed.
Sales: On track to deliver annualised revenues of £10m by end of 2018.
Recent developments/future plans? Plans to grow multiple hubs across the UK.
Field & Flower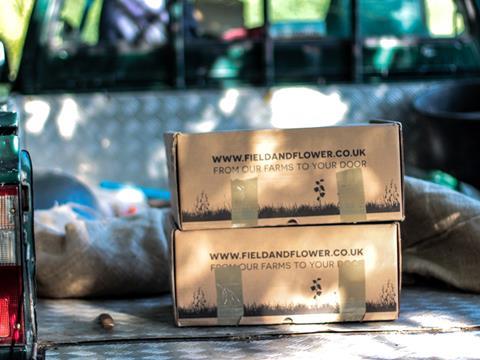 How long has it been around? Set up in 2010 by James Flower and James Mansfield.
Supplies: Locally sourced meat boxes as well as fish, dairy and deli products.
Delivery: Every Wednesday, Thursday and Friday nationwide.
Subscription: Yes, but breaks are available.
Price: Minimum spend of £39.50.
How many customers? 5,000.
Sales/profits?£2.8m in sales, making a small EBITDA profit last year.
Recent developments/future plans: Looking to grow its base; developing an app to help customers manage orders.
Muscle Food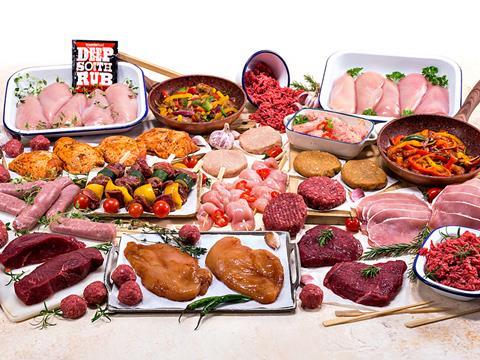 How long has it been around? Founded by Darren Beale in 2013.
Supplies: A mix of high-protein products including meat boxes and its own ready meals.
Delivery: Offers next-day delivery via a courier.
Subscription: Optional, boxes are available as one-off deliveries.
Price: Minimum spend of £24.99.
How many customers? It sells 5,000 items a day.
Sales/profits: Annual sales exceed £50m.
Recent developments/future plans: Muscle Food has global expansion plans, which are being aided by a £10m investment earlier this year.
Oddbox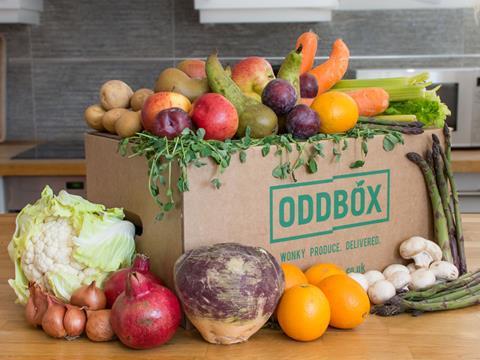 How long has it been around? Started out as Tasty Misfits in 2016 before being rebranded a year later by founders Emilie Vanpoperinghe and Deepak Ravindran.
Supplies: Boxes of surplus fruit & veg.
Delivery: Set time slots for home deliveries and every Monday for offices in south London.
Subscription: Yes, with options to pause/cancel.
Price: Start at £8.99.
How many customers? Delivers to over 1,400 homes and 75 offices.
Sales: Undisclosed.
Recent developments/future plans? Moved to larger warehouse in May. Preparing crowdfunding this month.