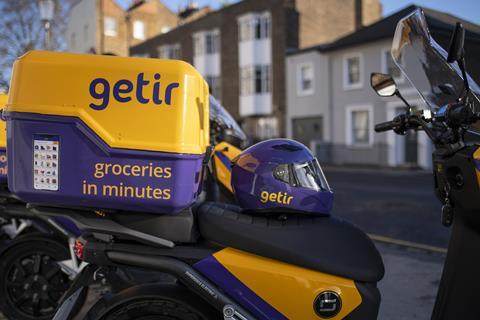 Having launched with guaranteed hours and permanent contracts for couriers, rapid grocers are reverting to zero-hour contracts and making performance-related bonuses impossible to hit, a major report has found.
The Foundation for European Progressive Studies report – based on interviews with workers at Getir, Deliveroo Hop and Gorillas – also found contractual entitlements, such as rest breaks and paid holiday, were not frequently not honoured.
The worsening conditions for workers came as investors had become reluctant to burn more capital on rapid grocery, the report states.
"The shaky foundations of q-commerce are driving a desperate attempt to forge 'paths to profitability'," said one of the report's authors, Steve Rolf. "Unfortunately, these are being pursued on the backs of workers in the sector."
Set hours
The rapid grocery sector had been notable in avoiding gig-economy labour practices, tempting workers with set hours and the promise of bonuses for meeting targets.
"While the widespread use of employment contracts might lead one to expect better conditions than in other parts of the platform economy, our interviews with workers across Europe proved troubling," Rolf added.
The research found "the erosion of contractual entitlements, such as the reduction of hourly pay and/or shifting employees on to zero-hour contracts" and performance incentives "removed, or set at unrealistic levels and, therefore, unobtainable".
The study also discovered widespread cases of "summary dismissals and abuse of probation periods" which meant workers were "often at the mercy of the employer".
As one rider interviewed for the study said: "We are abused in so many ways. You have to fight for everything."
Getir told The Grocer that it was introducing zero hour 'worker status' contracts "after listening to feedback from couriers who wanted more flexibility in the way they were able to accept work from us" and "to help attract new colleagues". It said it does not offer or use gig contracts.
Quaid Combstock, a quick-commerce consultant and former head of delivery operations at Jiffy, told The Grocer many rapid delivery companies were now looking to go beyond zero-hour contracts and "revert to gig contracts".
Paid per order
"The big difference between these contracts is that gig workers are not legally entitled to minimum wages, holiday pay, or pension contributions," said Combstock. "Instead, they are mostly paid on an 'assignment' basis, meaning they are paid per order. If there are no orders, they earn no money.
"This is great for companies as it reduces their financial risk, but poses a huge threat to gig workers who often work paycheque to paycheque," he added.
The companies had been further emboldened by the UK government's seeming lack of desire to bring in regulations promised in 2019 to protect gig-economy workers, Combstock said.
"There have been no significant changes since then, nor do there appear to be any significant changes pending," he said.
Separate research by Workers Info Exchange found that app couriers – including rapid grocery riders and those working for food delivery platforms – are struggling to earn more than a year ago. Some 74% of those surveyed disagreed or strongly disagreed that earnings were up on previous years.
About 60% of those questioned said the amount they earned delivering food did not cover their basic needs. And a clear majority – 81% – said their courier work was their main source of income.
Combstock added: "I would suggest that if companies are unable to pass on the costs of fair pay to consumers, then the company should cease to exist."