In August, Waitrose added more than 100 new products to its own-label Cooks' Ingredients range. The new lines include popular ingredients from around the globe that aren't as common in the UK, like dulse seaweed and kalamansi, to inspire customers to get experimental with new flavours. 
To give you deeper insight into the range, we've selected seven of the new products to highlight what they are, what they're competing against and what the new launches tell us about Waitrose's wider own-brand strategy. This time, expert analysis is from Jemima Bird, former Co-op CMO and founder of ad consultancy Hello Finch.
This showcase is the first in a new series of articles examining key trends and developments in own label and has been introduced to support The Grocer Own Label Accreditation Scheme. Under this new scheme all the products we review can apply for accreditation at any time, through a programme of continuous consumer testing and approval developed to help retailers and suppliers promote the best own label products. Find out more details here.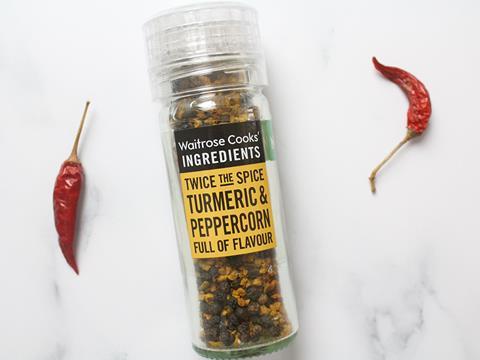 Turmeric & Peppercorn Grinder
Rsp: £2.99/56g
Waitrose says: "Add earthiness to Indian, South East Asian and Middle Eastern dishes with this great-tasting blend. Make a warming chai tea by grinding with other ingredients such as cinnamon, nutmeg and ginger, or follow the latest coffee shop trend and sprinkle on top of a home-made latte."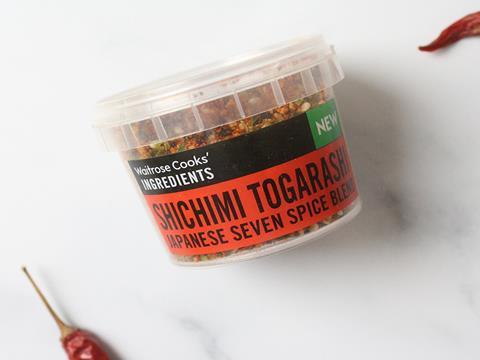 Shichimi Togarashi
Rsp: £1.99/55g
Waitrose says:"Also known as Japanese seven spice, this dry spice blend contains black pepper, cayenne pepper, orange peel, sesame seeds, ginger, dried seaweed and poppy seeds. Sprinkle lovingly over noodles, sushi rolls, rice, tempura vegetables or grilled meats to add a dash of colour and a fiery kick. Dust over fish or sprinkle over noodles to bring them to life."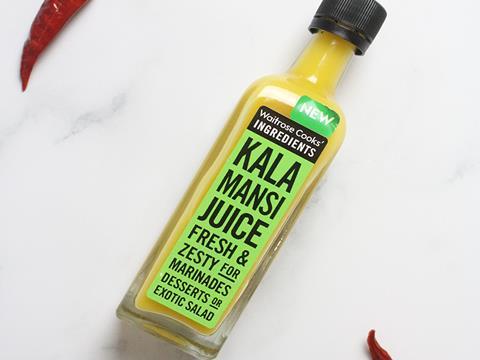 Kalamansi Juice
Rsp: £3.95/60ml
Waitrose says:"A hybrid citrus fruit used in South East Asian cuisine, with a sour and tart flavour, between orange and lime. Use the juice to add a zingy kick to noodle dishes, or serve with crushed ice for a refreshing fragrant drink."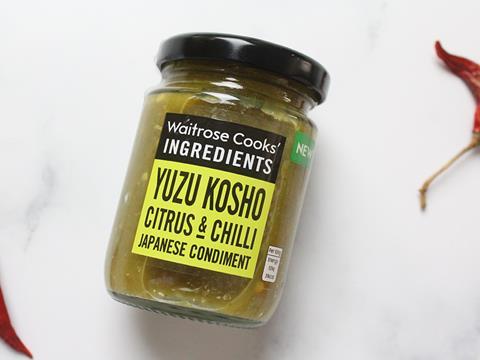 Yuzu Kosho
Rsp: £2.65/95g
Waitrose says:"This Japanese condiment provides a flavour hit of green chillies, citrus and salt. These three flavours come together to enliven dishes. Use to season fish, steak and Japanese soups, or as a condiment to sashimi."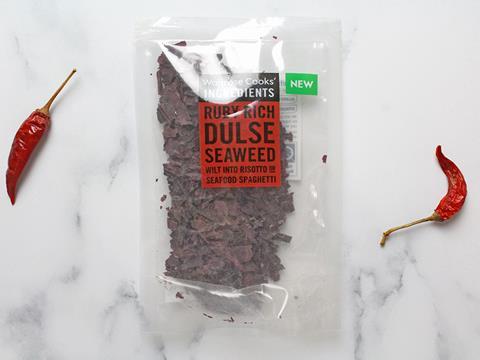 Dulse Seaweed
Rsp: £2.99/5g
Waitrose says:"Also known as palmaria palmata, sea lettuce or sea greens, use as a natural seasoning in risotto, pasta sauces, to accompany fish, or try finely chopped in homemade bread, dips and fishcakes."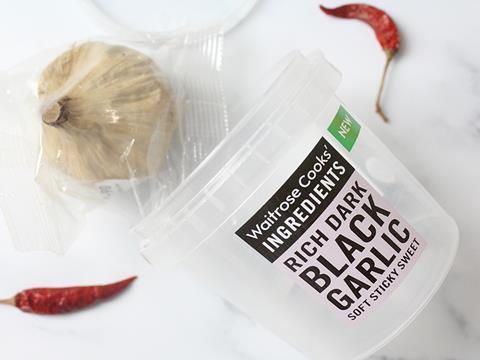 Black Garlic
Rsp: £2.99/5g
Waitrose says:"A type of aged garlic, first used as a food ingredient in Asian cuisine. It is made by slowly heating whole bulbs of garlic; a process that results in black cloves. The taste is sweet and syrupy with hints of balsamic vinegar or tamarind. It's a versatile ingredient which adds a wonderful depth of flavour to dressings, aioli, pasta dishes, pizzas and so much more. Use it as you would roasted garlic. Try it with baked camembert and crusty bread for a sublime combination!"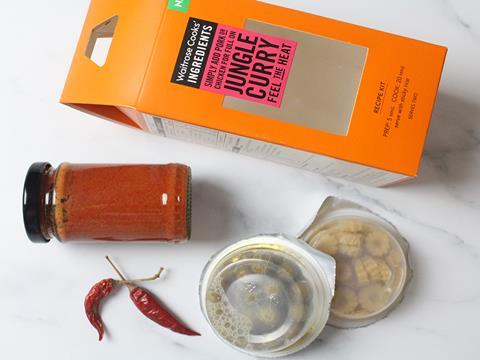 Jungle Curry Recipe Kit
Rsp: £2.99/5g
Waitrose says: "Simply add pork or chicken for full-on jungle curry… Feel the heat."
Expert verdict
This week our expert is Jemima Bird, founder of Hello Finch
What do you think?
"The packaging and design are simple, clever and confident - exactly where Waitrose has been over the past few years. The storytelling aims to take the customer on a journey; to entice and excite; to up the ante and prompt some more experimentation in the kitchen. It's very Waitrose. These products play deeper into the cook-from-scratch trend (versus dining out) that retailers are trying to hit and that's prevalent among middle-class shoppers. Simple on-pack directions and serving suggestions give buyers every reason to give it a go.
Is the range interesting?
I'd say the products are interesting but not show-stopping. Presumably a chunk of metro shoppers will have heard of, or tried, these foods before, so it'd be interesting to know if Waitrose is responding to a demand or trying to create one. If it's the latter then why not inject more ceremony and uniqueness around the packaging and the presentation? Presented as just another slick, own-brand product - this may be a missed opportunity.
What does this tell us about the wider own-label strategy?
The products fit into the wider own-label strategy perfectly. It's the uber end of premiumisation.
But whether sales will really move the needle remains to be seen. Asian, Indian, Japanese … Waitrose shoppers will, most likely, be au fait with these cuisines as it is. Most of us have our favourite Japanese dish, we might even cook it twice a month. So if Waitrose expects shoppers to change up their favourite recipes and effectively change what are relatively new culinary behaviours then it's all a bit of a stretch.
Waitrose, new products, global food … with all the customer filters in play, the potential market slice is razor thin. Waitrose needs to hope it's a thin slice that will cut deep - and that people will really be bowled over by the taste.
But with this presentation, and having seen similar launches in the past, it feels more like we've got a bunch of one-time-buys here. Shoppers probably have a supermarket's worth of exotic, one-use condiments and fad spices gathering dust in the cupboard as is. These don't feel a whole lot more special and different than that.