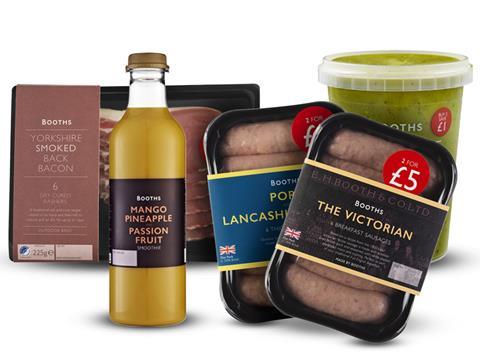 Booths is working through an ambitious programme of own label development with the aim of doubling sales over the next five years.
The northern supermarket said it was developing Booths brand products across a mix of food categories, and promised they would be defined by "excellence, provenance and value". Where possible, it will source ingredients from "Booths country" – the corridor of Lancashire, Yorkshire, Cumbria, Cheshire and Greater Manchester where its 28 stores are located.
The long-term goal is to position the Booths label as "the best of the brands available", it said, as it prepares to carry out a rolling calendar of NPD over the next two years.
The programme started 18 months ago with the launch of more than 70 cheese lines – up from 12 previously.
Abby Talbot, head of Booths branded products, said sales of own-label cheese had soared by more than 40% in the past 12 months and now accounted for about two-thirds of pre-packed cheese sales.
This February, work continued with a range of 15 own-label chilled juices and smoothies. Sales of freshly squeezed orange juice had since rocketed more than 60%.
The biggest launch to date was this August, when Booths unveiled more than 70 ready meals, including a 'with chips' range and a 'slow-cooked' range. The products team used only two suppliers for the range, and sourced Indian chefs for its regional restaurant-style Indian meals. Sales had seen a 30% increase since launch, said Talbot.
Another new own-label range appeared on shelves three weeks ago – this time chilled soups with local ingredients to highlight Booths' "Northern credentials".
The company had "high aspirations" for own brand, she added, with "challenging" launch targets.
"We're all foodies, and by working closely with a great range of suppliers I am confident we can maintain this momentum and bring some great Booths products to life that will wow our customers and drive strong growth," Talbot added.
Booths is also developing targets for Christmas, according to commercial director Nigel Murray. The supermarket's Great Northern Christmas will again celebrate local products, people and producers but also showcase the broader range of Booths branded lines. The retailer will stock more than 300 Christmas range products in stores, up from about 80 last year. Another new development this year will be the opening of the majority of its stores on Boxing Day and a delivery date for new year.
"Our aim at Booths is always to inspire customers with our food and drinks and to advise them on the best way to celebrate and enjoy a Great Northern Christmas," Murray said.