Last year it was all about lobster. This time, the focus looks to be free-from, plus premium, sharing platters and, of course, value
Sainsbury's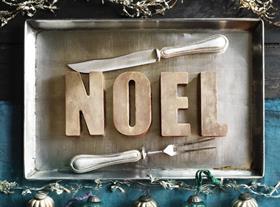 An expanding free from range (set to reach 140 lines in September) will be a Christmas gift to shoppers wanting to avoid nuts, dairy, wheat or gluten - and the retailer will be offering an Iced Rich Fruit Cake with none of those ingredients. There's no booze in it, either. It's the centrepiece of an impressive festive free-from selection that caters thoroughly for all food intolerances and includes frozen toad in the hole, an ice cream-style dessert made with coconut milk and available in three flavours, salted toffee shortbread (supplied by Prewett's maker Northumbrian Fine Foods), and Wensleydale-esque cheese with cranberry. In fact, the other highlight of Sainsbury's Christmas comestibles is the cheese, which displays a touch of playfulness, from the Taste the Difference cheese stack of West Country farmhouse cheddar, matured stilton, camembert and Wensleydale with cranberries to the TTD Barber's Cruncher gift pack with a wee bottle of Black Cow vodka made with the milk of grazing cows.
Waitrose
Nostalgia blended with fresh foodie trends - and a massive push for premium own-label range Waitrose One which makes its Christmas debut - is the strategy for Waitrose this Christmas. Think traditional white chocolate yule logs filled with a modern passion fruit, lime and mango mousse for £9.99, or a slice of old-fashioned Battenberg cake for £1.25 topped with premium salted caramel.

Waitrose has split its range into three areas: playful, dazzle and craft, so traditionalists can do DIY with a luxury fruit and nut topped cake kit for £15 while households who prefer a bit of dazzle can indulge in a glitter-sprinkled turkey for £50 per 1.8 kg. Overall there will be around 900 products in the Christmas range, over 300 of which are new and have been developed especially for Christmas 2016.
The Co-op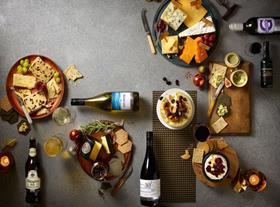 Convenience and quality are the watchwords at the Co-op this Christmas. So the £8 roast turkey parcel (692g) is boned, rolled, stuffed and wrapped in bacon and the cooking time is an hour. "It does itself," says one of the development team. But although this is a typical example of "an overarching theme of Christmas made easy, the emphasis on quality is paramount and there is no compromise" says head of product development Breige Donaghy. As a result, the premium Irresistible range has gone from 240 to 360 lines and a host of wines, cheeses and chocolates have been given premium packaging to make them perfect for last-minute gifts.
"What we do best is people forgetting stuff," says Donaghy. Free-from products have also been doubled from five SKUs to 10.
Iceland
"Relevant, modern and contemporary" isn't always how Iceland's food has been described in the past, but new head of buying for fresh and chilled, Andy Garton, insists there has been a "massive step forward" in quality in 2016 thanks in no small part to the appointment of own-label veteran Neil Nugent as head chef. Garton shows off a posh partridge and pear pâté as an example, but Iceland has also added a premium touch to the basics, so even the standard frozen turkey has been brined for eight hours and thyme butter and slices of orange have been slipped under the skin. Other premium standouts among the 200-strong range include the awardwinning Wookey Hole cave-aged Cheddar and a Beef Wellington with a 400g fillet of beef that Garton says cooks from "frozen to a perfect pink in 20 minutes". More range and more choice across the board mean for the first time Iceland believes it can be a "one-stop shop for Christmas" says Garton.
M&S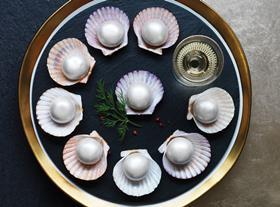 The industry-wide focus on improving quality this Christmas means M&S's premium credentials are under attack. But if the foodie favourite is fazed then it's not showing it. The free-range turkey is bronze and plump, the rib of beef is stuffed with porcini and truffles, it's doing two types of double-smoked salmon and its 'ultimate Christmas dinner for two' costs £10 (an individual sized version is £6). Overall it's launched 300 new products for 2016, including 22 new drinks, like a crème brûlée liqueur, a lot of trendy gin and a Jeroboam of Prosecco for £50. But M&S is a party food specialist, and this year's highlights include fiery tortilla chips dipped in dark chocolate, hog roast piled up on little crackling 'plates', smoked salmon and lemon mousse 'pearls', and mini Santa hats made from a meringue, raspberry jelly and fresh vanilla cream that would make even Scrooge crack a smile.
Morrisons
This year, Morrisons is keeping it simple, sticking to what its customers want, and reminding them 'Morrisons Makes It' wherever possible. Gone are some of the hard-to-peg own-label ranges as the retailer returns to The Best for its premium offerings, so expect to hear about The Best pigs in blankets, or The Best hand-dressed Cromer crabs, or even The Best salted caramel parsnips. And even when Morrisons dips its toe in luxury the emphasis remains on simplicity, like the lobster thermidor kit, which promises an easy-to-prepare premium treat for just over a tenner. Morrisons is also one of the supermarkets going big on free-from this year. From a gluten-free fruity apple & cranberry stuffing for its in-store prepared British turkey crown, to free-from Christmas spiced cookies, the retailer is looking to reflect CEO David Potts' passion for allergen-free products.
Lidl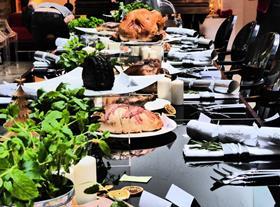 Dispelling myths of shoddy quality has long been the strategy at Lidl, so products for its 500-strong Christmas range fall almost exclusively under its awardwinning Deluxe range. Numbers have also increased (although the range has not been finalised yet) but Lidl says over half have been introduced solely for Christmas, like an Italian salami selection complete with chopping board. For the main event it's added more meat, with an 800g frozen venison joint and a 1.3kg fresh British duck. And Lidl has gone big on sharing options, introducing a new Spanish ham platter and adding four new SKUs to its modest party selection. There is a sense that Lidl's selection lacks a 'wow!' product as in previous years, but last Christmas Lidl recorded record sales, so perhaps more evolution, rather than the revolution of previous years, is a sound strategy. And what is key for Lidl this year is that shoppers can complete a full Christmas shop.
Aldi
"Aldi customers are starting to be a lot more adventurous in their tastes," says Aldi buying director Paul Cunningham. "We're offering them a broader range of products but of course still at the best prices." And the adventure is never greater than at Christmas. With products like Black Iberian pig leg (£69.99) or £24.99 for a 1kg mini version, it certainly has some potential showstoppers. Every store will get 20 of the large version and 50 of the smaller. Whilst these and other products, like a haunch of venison (19.99/kg), will have limited availability, products like truffle crisps for 99p for a 50g pack will surely contribute more in volume terms. Aldi is also ramping up use of its online Special Buys service, with beauty items such as its Lacura makeup range set featuring prominently.
Asda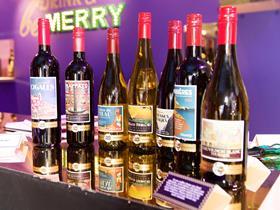 Celebrity chef James Martin has been working three days a week on the Asda turnaround, and his efforts towards the Christmas lineup are a big part of that, highlighting products including a chilled chocolate, praline and hazelnut dessert cake, which he has billed "the wow cake". And while all the talk has been about whether Asda will go nuclear on price, it's the improved quality of its own-label range that it hopes will see better things this Christmas. Asda has ramped up the Extra Special element in areas such as party food, with a slight reduction in the core offering. Its Extra special salmon, which will be hung and smoked for 15 hours, is a case in point. However, senior director of products development Gail Paddy says Asda has been careful "not to go too far" down the premiumisation road at the expense of the core essentials.
Tesco
Tesco's Christmas lineup in recent years has been focused on its Finest range but whilst this is still a key feature, unsung "hero products" like the Christmas dinner in a box for two (£20) point to a more concerted effort to turn the heat up on the discounters. So while it may boast a 10,000 strong flock of Narrangansett turkeys (at £9/kilo) (a species it saved from extinction), the focus this year is on regular frozen turkey with all the trimmings (it includes stuffing and pigs in blankets), selling for just £10 and cooking in under two hours. Tesco is also making a big play of being closer to the discounters, but three times as cheap as M&S on products such as the £32.40 seafood platter. It also claims to be spearheading the charge for a free-from Christmas, with just five out of 146 products in meat, fish, poultry and eggs containing gluten.