Last month, Asda unveiled its take on the vegan boom with own-label range Plant Based. The 48-strong range spans chilled and frozen ready meals, meat alternatives and food to go and is approved by The Vegan Society. To differentiate from its competitors, the retailer brought new elements like low-soya recipes, recyclable packaging and low prices to the table.
To give you a closer look at the range, we've chosen a range of products and enlisted an expert to give you their opinion about what works and what doesn't.
This time, expert analysis is from Basic Arts founder Alex Smith.
This showcase is part of a series of articles examining key trends and developments in own label and has been introduced as part of the The Grocer Own-Label Accreditation Scheme. Under this new scheme, all the products we review can apply for accreditation at any time, through a programme of continuous consumer testing and approval, developed to help retailers and suppliers promote the best own-label products. You can find out more about The Grocer Own-Label Accreditation Scheme here.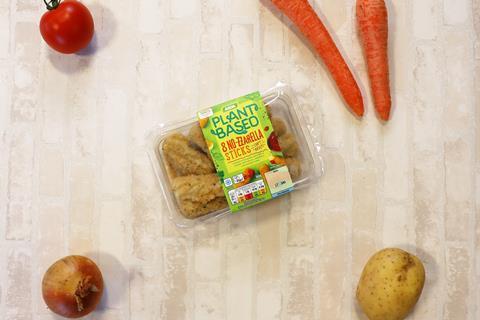 No-zzarella Sticks
Rsp: £2.25/160g
A blend of mozzarella and mature cheddar alternatives, coated in a crisp parsley crumb.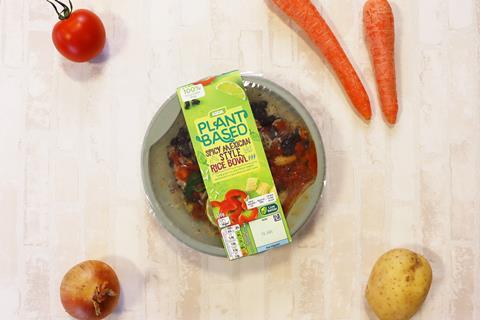 Spicy Mexican Style Rice Bowl
Rsp: £2.50/400g
Long grain rice and vibrant veggies smothered in a spicy Mexican-style sauce.
Mushroom Arancini
Rsp: £2.25/160g
Prepared with mushrooms, rice and a mozzarella alternative, coated in a poppy seed breadcrumb.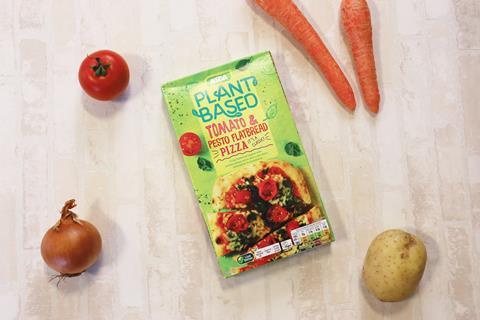 Tomato & Pesto Flatbread Pizza
Rsp: £2/210g
Crisp flatbread layered with classic tomato sauce, a mix of vibrant chargrilled veg and a non-dairy alternative to mozzarella.
Meat-Free Chicken Nuggets
Rsp: £1.50/320g
Chicken-style nuggets made from rehydrated textured soya protein, coated in a crispy breadcrumb.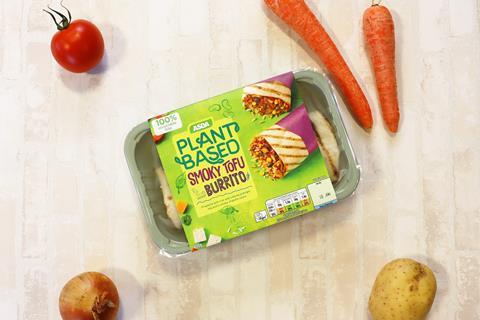 Smoky Tofu Burrito
Rsp: £2.50/400g
Marinated tofu prepared with rice, a blend of bright veg and a smoky chipotle sauce.
Expert verdict
Commentary is from Basic Arts founder Alex Smith
What do you think of Asda Plant Based?
On the face of it, the news of Asda's Plant Based range is barely news at all, given that such ranges have now become as much of a staple for supermarkets as value, premium and better-for-you selections. What is interesting however is some of the choices they've made with it.
What's interesting about it?
Asda have taken a populist approach to their range, with a friendly approach to presentation, price and food choice. Rather than seeing vegan options as a chance to go upmarket and gourmet, they've gone in the other direction with basic crowd-pleasing favourites such as spring rolls, dirty fries, potato skins and katsu curry.
Although Asda takes this idea further than most, it's a similar approach to other retailers like Tesco and M&S (whose branding is remarkably similar). This derivativeness doesn't really matter because this range was created to cater to existing customers and to avoid being left behind – rather than to get leverage over competitors.
This strategy recognises that the vast majority of consumers are only dabblers in plant-based, and therefore won't be willing to venture too far off the beaten path.
What's different about this range?
Asda's decision to lean less heavily on soya than its competitors is notable. It may have done this for taste reasons, as it isn't targeting people at the bleeding edge of nutritional knowledge, but it could be part of a wider trend we're seeing across the category as soya starts to be more scrutinised both for health and environmental reasons.
Do you think the range works?
Amidst all the hype about veganism it's easy to forget only 1% of the population are actually vegan [Mintel] and that number is static. This true vegan demographic is likely to be clustered in London and the south east, and less amenable to ready meals and packaged food, making them even less important to Asda for this range. Therefore a smart range would be one that appeals to the "plant curious", something which Asda has emphatically delivered here.
In summary, this range is well judged. It plays it safe strategically but executes that strategy more boldly than others. One can only wonder what long-standing veggie brands such as Quorn and Linda McCartney must be thinking as brands all around them win plaudits for doing what they've been up to for decades.