Going plant-based for the month of January is getting bigger every year and the retailers are gearing up for the challenge with a raft of new vegan launches. Co-op says this latest drop of products under its Gro own-brand will celebrate the deliciousness of veg, which "real foodies will love". Here's a look at the new products hitting shelves from 6 January.
Co-op has not yet confirmed all prices for this range
Gro Arrabbiata Ravioli
Rsp: £2.80/300g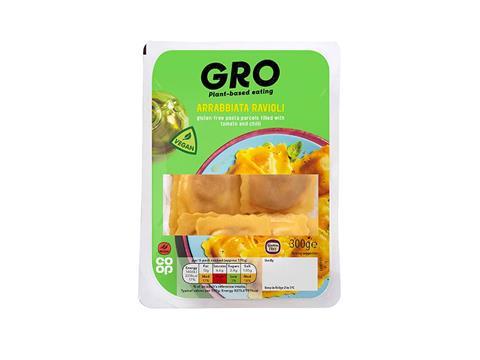 Not only meat and dairy-free, these pasta parcels are gluten-free too. They're filled with tomato and chilli to be served with a drizzle of olive oil.
Gro Sizzle Steaks
Rsp: £3/200g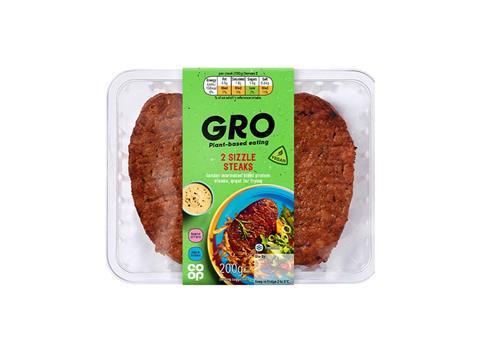 Co-op's entry to the range of steak alternatives on the market, these marinated steaks are made with mushrooms and plant-protein making them high in fibre and a "tender" alternative to the real thing, says the retailer.
Gro Teriyaki Mushroom Noodles
Rsp: Unconfirmed/380g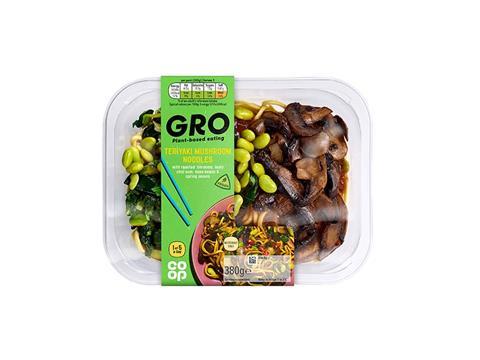 Roasted mushrooms provide the meaty bite in this ready meal and they're teamed with noodles, edamame beans, choi sum dressed in spring onions and sweet teriyaki sauce.
Gro Vegan Pies
Rsp: Unconfirmed/200g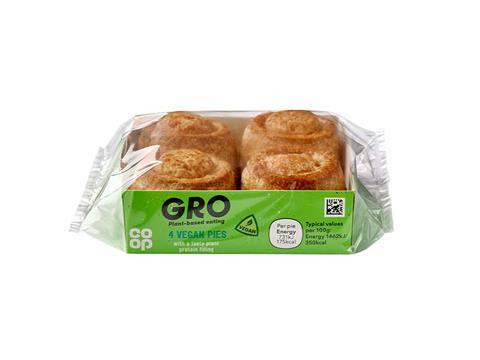 The crispy butter-free pastry of these pies is filled with onion, potato and soya protein, making them ideal for a lunchtime or picnic treat.
Gro Chick'n Kievs
Rsp: £3/260g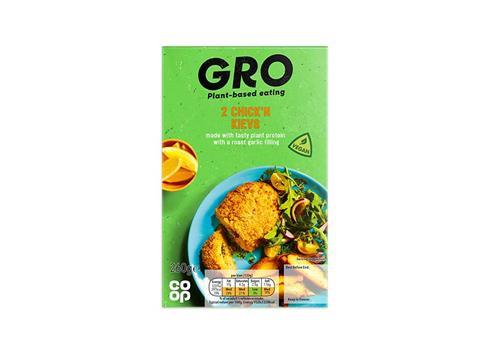 A comfort food classic, these no-chicken kievs are made with plant protein, a roast garlic filling and coated in crunchy breadcrumbs.
Gro Linguine Meatball Marinara
Rsp: £2.95/350g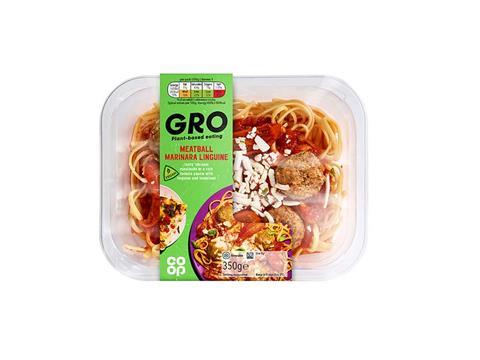 Buon appetito, this Italian-inspired plant-based ready meal is filled with linguine pasta, tomato sauce, mushroom-based meatballs, tomatoes, vegan mozzarella and parsley.
Gro Roots Rostis
Rsp: Unconfirmed/238g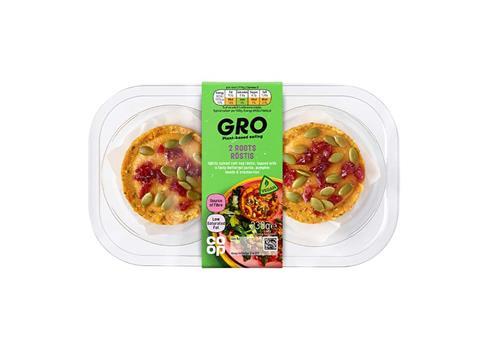 Low in saturated fat and high in fibre, these veggie rostis are made with lightly spiced root vegetables and topped with butternut purée, pumpkin seeds and dried cranberries
Gro Squash & Cauli Pie
Rsp: Unconfirmed/175g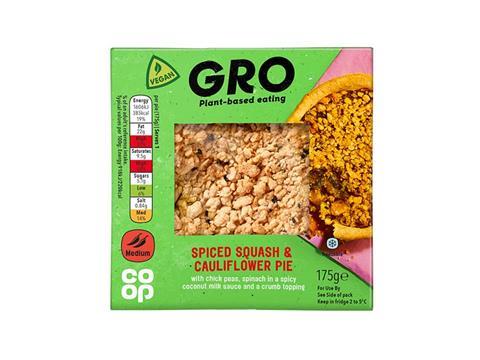 An ideal meal for one, this crumb-topped pie combines chickpeas with lightly spiced butternut squash and cauliflower pieces in a spicy coconut milk sauce.