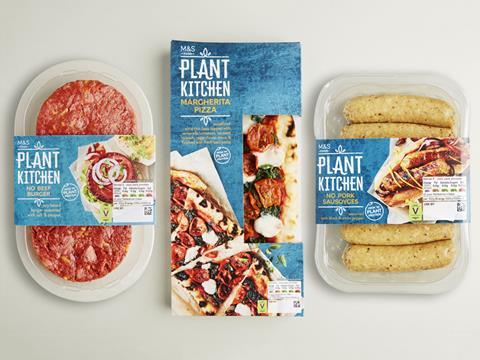 Supermarkets have unveiled a flood of plant-based own-label NPD, amid predictions 2019 will be the year plant-based food becomes "truly mainstream".
Charity Veganuary predicted 300,000 pledges to ditch meat and dairy this month.
The mults have responded with a host of new products to cater for the growing market, with Marks & Spencer yesterday (2 January) launching Plant Kitchen, an exclusive 60-strong range of fresh meals, salads, snacks and ingredients.
The retailer claimed a high street first with the range's vegan-friendly coleslaws and potato salad, which contain vegan alternatives to mayonnaise. Other highlights of the range include Sourdough Pizza, Cauliflower Popcorn, Cashew Mac and Mushroom Stroganoff.
Plant Kitchen also becomes the first range of M&S ready meals to use recyclable white plastic trays, as well as foil trays and cardboard boxes, rather than difficult-to-recycle black plastic.
"We've created a range which tastes as good as you'd expect from M&S, but is also vegan-friendly, so finally people don't have to compromise on taste," said M&S product development director April Preston.
Elsewhere, Waitrose, Sainsbury's and Iceland have added vegan pizzas to their own-label ranges.
Iceland expanded its No Bull range with two variants of No Cheese Pizza in houmous and Italian flavours at the end of last week (rsp: £2), while Sainsbury's added three pizzas to its Love Your Veg range as part of a 25-strong addition of branded and own-label SKUs on 31 December, to enhance its 'next generation' vegan offer.
Waitrose is set to add to the 25 new vegan products launched in October last year with a further 11 SKUs set to roll out later in the month. The expanded range will feature a host of ready meals, two pizzas, Beetroot Risotto made with spelt & pearl barley, in addition to Fish'less'cakes and Fish'less'fingers made with breaded seaweed tofu.
The Co-op has will also launch a new vegan and vegeterian range next week in response to 10% of its members identifying as vegetarian or flexitarian. Made up of vegeterian ready meals such as mushroom stroganoff, and vegan options like Thai style broccoli rice and BBQ pulled jackfruit with wedges, as well as meal kits such as one for green curry stir fry, the selection hit shelves on 9 January. Prices range from £2 to £2.75 and dishes are designed to appeal to vegans and meat eaters alike.
It comes as Asda rolled out own-label savoury pies and vegan chocolate cupcakes in December in a bid to take advantage of growing demand for plant-based sweet treats and junk food. Its sponge is made with strawberry jam and coconut milk and finished with a chocolate flavoured frosting and a white marshmallow. The launch follows similar moves by Tesco and Morrisons to roll out plant-based bakery items at the end of 2018 as part of the Wicked Kitchen and V Taste ranges respectively.
Finally, food-to-go giant Greggs caused a social media storm this week after unveiling its much-anticipated vegan sausage roll today (3 January), made with a bespoke Quorn filling. The launch follows a petition by PETA last year, calling on the outlet to offer more vegan options, which was signed by more than 20,000 people.
"Like many food retailers we have seen increasing demand for vegetarian and vegan products," said Greggs CEO Roger Whiteside. "We have been trying to develop a vegan version of our famous sausage roll for some time now. It has not been easy but our taste panel customers all love this one, so we have decided to launch it as our contribution to Veganuary."