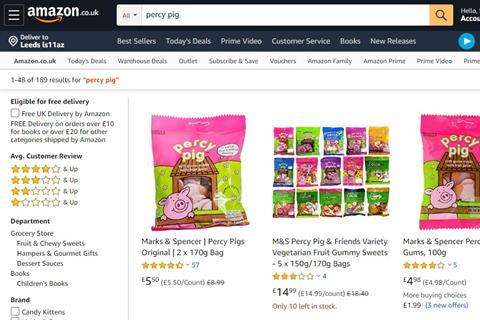 Supermarket own-label products are being resold on Amazon at up to 10 times the cost they are available on retailers' own websites, and there is little the mults can do about it.
An investigation by The Grocer found own-label products from Tesco, Asda, M&S and Waitrose listed in the grocery section of Amazon.co.uk. While the product information states the items are 'by' the retailer, they are being sold through a handful of third-party sellers.
Many of the products say they are "dispatched from Amazon" indicating they are being held awaiting orders in Amazon fulfilment centres.
Some also carry an 'Amazon's Choice' label, given by Amazon to select "highly rated and well-priced products". In some cases product descriptions have been copied and pasted from retailer websites.
The supermarkets told The Grocer they were powerless to stop the reselling activity.
"We do not control this or any listings of Asda-branded products on Amazon Marketplace and only Amazon can remove sellers," an Asda spokesman said. Among the Asda items available on Amazon were multipacks of own-brand Little Angels nappies on sale for £8.50, £6 more than on Asda.com.
"It looks like there is no rule against buying a branded product and reselling it on Amazon Marketplace, but we would encourage customers to visit our stores or our online grocery service to find the best value," the spokesman added.
M&S said it was "investigating" the sales. Bags of the supermarket's famed Percy Pig fruit gums are being sold on Amazon for £6.99, more than four times dearer than on Ocado.com.
A Tesco spokesman said once someone had bought something from a store it was up to the buyer if they wanted to resell it online: "We don't have ownership over that part of the chain".
Tesco own-label biscuits, spreads, cleaning products, petfood and free-from lines were among the Amazon listings. A variety pack of own-label biscuits – available at Tesco.com for £1 – is for sale on Amazon for £11.97.
The supermarket said it wouldn't be asking the reseller or Amazon to take down the products. "It's perfectly legitimate for them to do that," a spokesman said. "It's not illegal for them to do it." He added that online reselling of its own-label goods was "not uncommon".
Amazon said that the items were being sold through independent reseller accounts. It has long positioned itself as a facilitator rather than vendor of reseller goods.
On the massive mark-ups observed Amazon said there was "no place for price gouging" on the platform and that it had "already removed more than half a million offers for attempted price gouging".
"We continue to actively monitor our store and remove offers that violate our policies," a spokesman added.
None of the resellers were willing or able to comment at the time of publication.
Despite the huge mark-up, it appears shoppers are buying the own-label goods through Amazon. Most products carry user reviews and ratings. "Bought them out of desperation as couldn't get to Asda," wrote one reviewer on Asda nappies, noting that they were "far too expensive on here" and recommending people buy from the retailer direct. In other cases, reviews were left by customers from overseas destinations to which the mults don't ship. "I wish I could find these in the US," wrote one.