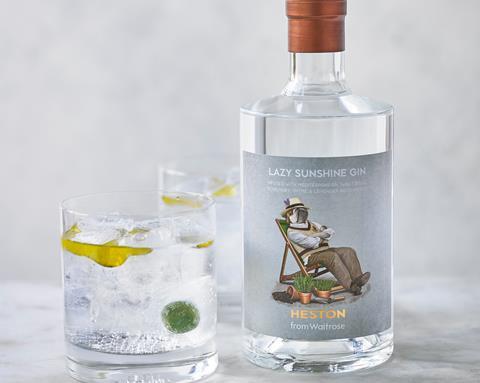 Waitrose has launched a new own-label gin made to be served with olive oil.
The Lazy Sunshine Gin (rsp: £25/60cl), which has been created with chef Heston Blumenthal for the Heston from Waitrose range, is best served with Mediterranean tonic, an olive and a drizzle of olive oil, according to the retailer.
"The addition of a little olive oil gives it body and intensity." said Blumenthal.
The gin is infused with Mediterranean sweet basil, rosemary, thyme and lavender botanicals, with an Italian juniper, citrus and spice botanical base.
"This gin is exceptional – delicious and aromatic on its own, but also amazing with a drizzle of good-quality olive oil over the top," said Waitrose spirits buyer John Vine.
"On the nose, the fragrant juniper comes through and balances perfectly with the subtle notes of lavender. When you taste the gin, the fresh juniper and savoury herbal notes blend together beautifully. The finish is dry like a classic gin but with floral and herbal notes. The olive oil brings out all of these flavours, making it a show-stopping cocktail to have as an aperitif, while enjoying the late summer sunshine in the garden."
It will be available from Waitrose stores and online from 4 September.