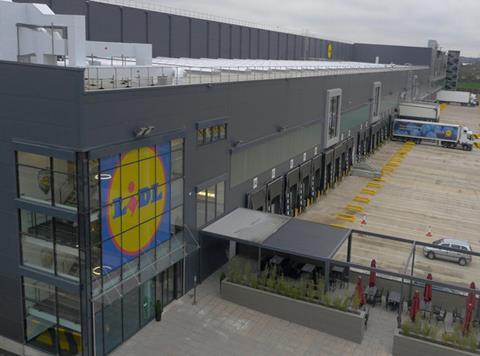 Lidl has created 400 jobs at a new multimillion pound regional distribution centre in Wednesbury.

The 435,938 sq ft centre becomes its largest warehouse in the UK - the equivalent of 10 football pitches.

The depot will service 56 Lidl outlets in the West Midlands, with an additional eight stores planned to open in the area in the next two years, it said.

In November 2015, Lidl announced it was investing £1.5bn over the next three years to increase the number of its UK warehouses and stores.

"The opening of our new Lidl Wednesbury warehouse marks an incredibly exciting time for the business, particularly in and around the West Midlands," said Lidl UK regional director for Wednesbury Richard Shaw.

"Not only is it necessary to accommodate the scale of our existing and future operations in the area, we have been able to create significant job opportunities as a result of the new warehouse, and will continue to invest in the West Midlands and beyond as we move forward with our expansion plans.

"We are incredibly proud of the teams here at Lidl that have been working in the background to get the new warehouse off the ground, and would like to extend our thanks to all those involved for their hard work and dedication."

The new Wednesbury warehouse is the second centre the German retailer has opened in the last six months and the 11th in total since it launched in the UK in 1994.

Last November, Lidl created 400 jobs when it opened a £55m warehouse in Southampton.