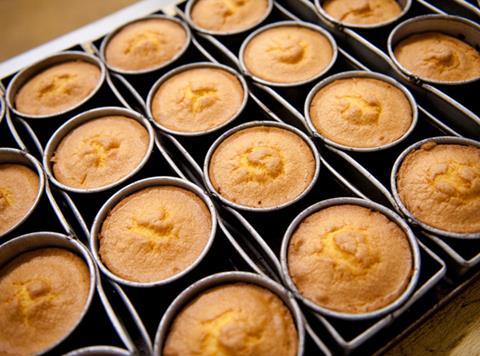 Executives at Finsbury Food Group (FIF) have enjoyed bonuses worth more than £1m after delivering strong profits growth and completing "transformational" deals at the listed cakes and baked goods supplier.
CEO John Duffy's total pay packet for the year to 27 June was £920,000, up 38% on 2014, the annual report for 2015 has revealed. Duffy took home a base salary of £334,000, an annual bonus of the same amount and £240,000 for playing an instrumental part in the £56m acquisition of Fletchers and the £21m sale of its free-from business to Genius Foods.
CFO Stephen Boyd enjoyed a 58% boost in total remuneration thanks to a salary of £211,000, a bonus also worth 100% of his base pay and a further bonus of £240,000 for work on the deals.
New chairman Peter Baker, who joined on 1 July 2014, and non-exec director Raymond Duignan, also the chairman of the remuneration committee, received £25,000 and £50,000 respectively as fees for the extra time they spent in support of the transactions.
The acquisition of morning goods specialist Fletchers in October 2014 doubled the annualised revenues of Finsbury to £300m and is now providing a platform to fulfil ambitions to become a £500m business. The disposal of the free-from business to Genius in February 2013 enabled Finsbury to focus on the core bread and cake division and reduce net debt.
The directors handled the two deals personally, saving the group significant costs with regard to external advisors, the remuneration report said.
Duffy told The Grocer: "The past year has truly been transformational. Building on our organic growth, the acquisitions in the period have diversified the group into new channels and widened our customer base.
"In concurrence, we have invested significantly in the business to ensure long-term competitiveness. With annualised turnover of close to £300m, Finsbury is a diverse bakery group with an ambition to increase shareholder value, identify acquisition opportunities and deliver further growth."
Strong profits of £18.3m EBITDA – representing "excellent" growth of 70% year on year – also resulted in annual bonuses for Duffy and Boyd worth 100% of their salaries.
Revenues jumped 45.8% in the year to £256.2m, with like-for-like figures up 6.1%, and pre-tax profits were up 76% to £11.4m. Finsbury also acquired Scottish cake supplier Johnstone's Just Desserts in May to expand the group's reach in food service, in particular in coffee shops and independent cafes.
The bonuses have been paid 50% in cash and 50% in shares to align the pair's interests with those of shareholders.
Finsbury has also introduced a new long-term incentive plan following consultation with advisors and its largest shareholder, institutional investor Ruffer. Duffy and Boyd received 1.1 million and 721,000 shares as part of the scheme which will vest based on the performance over the next three years.