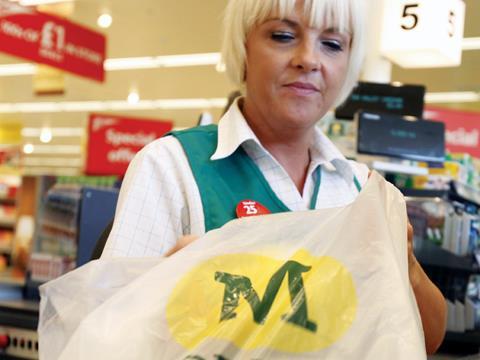 Since the beginning of 2015 Tesco (TSCO), Morrisons (MRW) and Waitrose-owner John Lewis have all rolled back their pension benefits as the harsh realities of the increasingly competitive grocery market have begun to bite.
Tesco and Morrisons are scrapping their final salary pension benefits, while John Lewis has scaled back the generosity of its own defined benefit scheme in favour of a more hybrid pension policy. The retailers were part of a tiny handful of large British companies still offering these final salary pension schemes – that group is unlikely to grow larger any time soon.
A pensions expert below explains that, under fire from new challengers like Aldi and Lidl, such gold plated pensions are simply too expensive to offer for retailers in 2015.
Tracy Walsh, pensions partner at law firm Bond Dickinson
"The news that Morrisons is planning to close its two salary-linked schemes should come as no surprise. The move is in line with the rest of the retail industry; Tesco announced a few weeks ago that it was planning to close its schemes, and the John Lewis Partnership has since announced that it will be axing its scheme.
These schemes are simply too expensive for employers to run. They were set up a long time ago, when life expectancy was a lot shorter. In addition, the legislative ground has moved under the feet of these schemes in terms of the benefits employers are required to provide and how to fund them. The value of the assets in these schemes has also been negatively impacted by the global economic crisis.
This 'perfect storm' has made it harder for all employers to justify keeping these gold-plated schemes open; it's telling that Morrisons is one of only a handful of businesses in the FTSE 100 whose schemes are still open to accrual.
The longer and better-established retailers have tried to buck the trend but the challenge presented by discounter brands like Aldi and Lidl (who don't have the burden of these gold-plated schemes) has created a dogfight over margin. Contributions to these salary-linked schemes deal a hefty blow to profit and once their traditional competitors started to make the move to close their pension schemes, sooner or later they were all going to follow suit. That said, many of these long-standing retailers have historically adopted a very paternalistic approach towards their staff, and the decision won't have been taken lightly.
Of course the announcement of a plan to close a scheme doesn't mean it's guaranteed to happen. Employers legally have to go through a period of consultation – proper consultation, not simply treating closure is a fait accompli - and once Usdaw and other unions become involved there is always the potential for change to the employer's plans. Also, since a High Court case involving IBM last year, the unions will be much more focussed on any 'reasonable expectations' the scheme members may have about how long the scheme would stay open. Consequently, a retailer might need to consider whether it has created any reasonable expectations by its previous conduct and whether this could impact on its closure plans.
However, if Morrisons has established a sound business case for the closure of its schemes and considered all of these points with its advisers it will be optimistic about the getting the changes pushed through successfully."