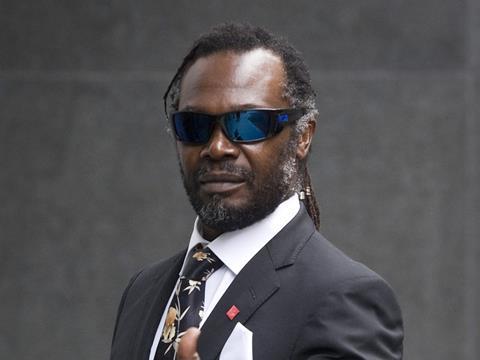 Levi Roots isn't smiling. Everything else is present and correct: the dreadlocks, the jewellery, the bottles of Reggae Reggae sauce. But the familiar grin has vanished.

"There was a very small minority of people that saw my rise as something they couldn't comprehend," he says, reflecting on the moment when old friend and business partner Tony Bailey claimed Roots had robbed him of the recipe for his special sauce and sued him for £300,000. Weeks of testimony followed before Judge Mark Pelling threw out the case. He was less than satisfied with any of the testimony he heard, including that from Roots, but ordered Roots' costs be paid.

"A great judge saw through it," Roots says of the accusation. "He said the case was 'dishonestly advanced,' and they were shocking words for those guys."

The experience made Roots "wake up to what being Levi Roots is all about. It means being in the public eye and expecting certain things. Before, I was a happy-go–lucky guy in the music business. Now, because of the court case, I have grown up. It taught me a lot."

It's not the only lesson he's learned since his memorable appearance on Dragons' Den in 2007, when he persuaded Peter Jones and Richard Farleigh to put up £50,000 for 40% of the business. A few weeks later Reggae Reggae sauce hit Sainsbury's, swiftly followed by a flood of products including crisps, ready meals, pizzas and soft drinks. There are now more than 50 in the portfolio. Yet 2013 saw a 17% slump in sales of the "solar plexus, the core, the hero product" - Reggae Reggae sauce.

"Not a good year," Roots sighs. "We spent £2m on advertising the year before, but last year AB World Foods, which produces the sauce, decided not to price-promote it. That was the main reason we saw a slump in sales - we didn't bring any new customers in. Now we have talked and agreed it's not the way to go."

It's not the only reason. The "weather was a washout" and other brands, like Heinz, "encroached into the area. For years we were on our own, so it's no surprise we had a slowdown. It's how we respond that counts."

The entire portfolio was relaunched in June with new packaging featuring a portrait of Roots and new variants, including a milder sauce "for the young kids" and an extra hot version "for people like you and me. We just cranked up the Scotch bonnet to give that carnival heat, but the flavour is the same."

He compares it to "having an album that stops selling. You give it a new cover, put a couple of new tracks on there, and it brings in new customers. And now we are seeing fantastic growth."

Indeed, sales are rising fast, up 3.8% in value with a very healthy 42% rise in penetration in Q1, according to Nielsen, and Roots says the brand is worth £45m.

Roots says repackaging the product also communicates to "existing customers you are trying to improve." And it's obvious that quality control is important to him, even if at times it seems like the brand has a scattergun approach to NPD.
Roots denies this. "If I don't eat it, cook it, or wear it, it's not Reggae Reggae. We choose our partners very carefully. Also, as a Rastaman, we have to adhere to certain rules, so there are lot of things I wouldn't put my name to. No pork for instance. You won't see my name on pulled pork. And we think long term. It's great to have big licensees, because you can rely on the quality and the packaging, but we also use small family companies because that integrity rings well with us. Burts do our crisps. We had a flood of people pitching for our pasties, but we went with WC Rowe."
Not everything works. Last year Tesco delisted the chilled ready meals, although Roots says they are now back. "Big up Tesco for having the heart to admit they got it wrong. They had their own-label equivalent going for a year, now they have asked us to return. There was nothing wrong with them trying. Imitation is the sincerest form of flattery."

The smile is back and Roots is riffing freely on everything from "the big challenge" of launching the sauce in the US, more NPD, his childhood in Jamaica and Brixton, where he still lives today. "I'll never leave. I'm part of it. I was given the keys to Brixton a couple of years ago. We had a big do in the middle of Electric Avenue and I remember thinking, when I was a kid I probably burgled every house in Brixton…"

That's all changed now. He's gone from burglar to businessman and says his best business decision was to buy out Richard Farleigh. "He invested £25k and 18 months later they were worth £250k. It was a great investment for him, but it was fantastic to be able to buy those shares back." But he would never consider buying out Peter Jones.

"It was always about Peter. He stood up first. He really wanted this. I would never want Peter out. I love him. And you always need a mentor, you can never stop learning. I will always need him by my side."

Sitting in adjacent offices in London they complement each other perfectly, says Roots. "Peter does not know much about Caribbean food, but if I say we are thinking about launching in the US he has great experience of that. So I ask him how we can extend the brand, not whether the sauce should be thicker."
Snapshot
Age: 56
Status: In a relationship
Children: Eight
Inspiration: My grandmother. Everything about who I am and what I have aspired to be comes from her.
Business idol: Peter Jones!
Favourite food (other than Caribbean): I love Brixton market. It's not a fine dining area, it's a cool place to have a beer and a fantastic Franco Manca pizza.
New products in the pipeline? We have a T-shirt coming out with Primark in association with the Prince's Trust. All the profits go to them. It's very subtle rather than full-on red, gold and green.
Passions (other than food)? To go into prisons and tell people that you can change your life around. And I'm not telling them as some white guy from North London, but as a black Rastaman from Brixton. If you ask what is the message of the Levi Roots brand, it is that you can do it. Business doesn't belong to anybody.