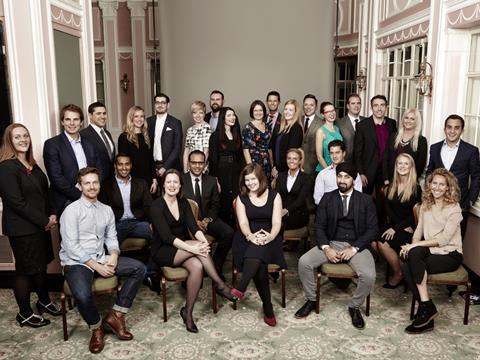 Top New Talent, The Grocer's search for the most talented young individuals working in fmcg, is back for 2016.
Entering can be done by completing the form below or via email (see below for details).
Individuals can be nominated or can nominate themselves, although self-nominations must be backed up by supporting statements.
There is no cost to nominate yourself or another individual.
Anyone working in the diverse world of fmcg can enter. The only stipulation is that they are 35 or under at the time of nomination.
TNT highlights the richly talented industry we work in and shows off the range of roles available in the industry. Last year saw buyers, brand managers, account managers, company founders, event managers, digital specialists, store managers, e-commerce directors, PRs and online entrepreneurs on the list. Previous years have also featured financial controllers, wholesalers, work placement students, supply chain analysts and inventors.
Once the entries are in, The Grocer team whittles them down to between 30 and 40 people. They will all be invited to an informal party in London on 14 November to celebrate along with a host of industry VIPs. Last year saw senior executives from Coca-Cola, Asda, Lidl, Heinz, Bestway, Mars, P&G, Innocent, Ella's Kitchen attend.
Everyone on the list will also be profiled in The Grocer.
"The wider recognition has definitely had a positive impact," said one young director from a leading retailer. "The award was a significant highlight of my career to date."
"I always mention the award to customers and have had top food buyers congratulate me," said one product founder. "The award has given my business kudos and it definitely helps with securing sales and gaining reputation in the grocery industry. Since the award I have gone on to secure listings in Harvey Nichols and Fortnum & Mason."
And another added: "Go for it. Share what you've achieved and your ambitions."
The deadline for nominations is Friday 30 September.
Complete the form below to enter, or to nominate someone else. Or email us and include the following details:
Name of nominee:
Job title:
Company:
DOB (nominee):
Contact details (email & telephone):
Name of nominator:
Job title:
Contact details:
Reason for nomination (200 words or less):
Testimonials from a third party are also required if nominating yourself, but can also be supplied to strengthen a nomination. Please include name, job title, company name and contact details of those supplying them (200 words or less).