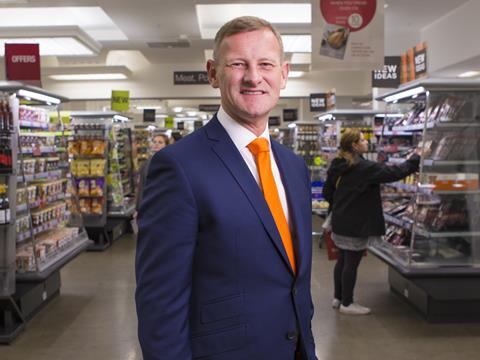 Steve Rowe is now the clear favourite to succeed Marc Bolland as CEO of Marks & Spencer after John Dixon, the retailer's general merchandise director quit.
Rowe will switch from food to general merchandise in the wake of Dixon's resignation, with Andy Adcock, food commercial director, replacing Rowe as head of food, though only on an interim basis according to a release issued last night.
The M&S statement said Rowe had been "instrumental in ensuring that M&S has maintained its specialist positioning and continued to outperform in a challenging market".
Chief exec Marc Bolland added: "Steve has outstanding experience working across the business and is well placed to take the general merchandise business forward".
As well as accelerating M&S food sales since succeeding Dixon as head of food, Rowe is also hugely popular with staff and won The Grocer Cup last year.
His only remaining internal rival for the CEO role is online boss Laura Wade-Geary. However the launch of a new website last year was plagued with operational issues. It also emerged last month that M&S had double counted £500m of its sales that were returned to shops, resulting in an embarrassing restatement of its accounts.
However, analysts at Espirito Santo are unconvinced any internal candidates measure up. "There are currently a number of potential insider contenders but in our opinion they are all unlikely to be able to do the job. For some it is a question of possibly not being good enough and for some they do not have the full skill-set and would most likely benefit from extended mentoring, maybe by a temporary CEO if Marc Bolland leaves."
They label Rowe as "possible, but work-in-progress", noting "he has had some difficult investor-facing experiences and would need to demonstrate a broader strategic awareness in our view". The broker added: "In terms of driving the clothing business we have no doubt that he would be good at the driving part but we are less certain that he could act as a catalyst for the positioning and creative work needed to make the game-changing moves needed in Women's clothing in particular."
The analysts also suggest group CFO Helen Weir "ticks a lot of boxes", but note she has "very little experience of clothing" and the role is "probably too soon here".
John Dixon will leave M&S with immediate effect after quitting to take on a CEO role with a rival retailer - though details are currently unknown.
Dixon moved across to general merchandise from M&S' food business in October 2012 to lead a turnaround in the struggling division.
The results have been somewhat mixed, with full-year general merchandise sales falling 2.4% to £4bn and like-for-like sales slipping 3.1% last year - a performance Bolland admitted at M&S' AGM was "still not good enough".
M&S reported a surprise turnaround in general merchandise sales in the fourth quarter as divisional sales rose by 1.3% and like-for-likes were 0.7% up – the division's first sales rise for almost four years. However, general merchandise sales slipped back 0.4% in its first quarter to 27 June.
Analysts at Jefferies said this morning: "This is a blow to M&S but with Steve Rowe stepping into Dixon's shoes (again), we believe the M&S recovery can continue relatively unscathed."
"Some may argue that M&S's product range is still far from perfect, but we take the view that M&S has become more confident in its style and product choices and that the improving momentum in full price sales, weather impacts aside, is a step in the right direction. This should continue under Rowe."
M&S shares fell 1.2% to 539.5p in morning trading.