Welcome to the UK, Marty. What brings you to the UK?
I like to make face to face contact with the European side of Percy Fox. I also like to see first-hand how the UK market is performing and behaving to make sure I still have a good feeling of what the consumer is after, so that I make the right wines for them.
How exactly do you go about doing that?
I visit the grocery stores with our sales folks, watching movement trends, observing folks doing some shopping. We will also buy several different wines in the same categories and price point, take then back to the office, and do some blind tastings to see what the competition is doing.
And how has Blossom Hill been stacking up against its rivals during the tests?
We are about halfway through right now and Blossom Hill is doing pretty good. We are happy with how the Pinot Grigio did against its competitors and we will finish up with the others.
Who does the tastings alongside you? Is it consumers?
Typically it's our trained wine tasters in the office. It's an internal thing.
If they are internal, doesn't that mean they're able to spot a Blossom Hill wine?
You would think so, but it's hard to pick out your own wine sometimes, it really is.
How about you – as the master wine maker can't you tell instantly?
Not when you sit down with ten Pinot Grigios in front of you. I might have tasted the wine at every stage of its development, but it's not always possible.
What attracted you to working at Blossom Hill?
I'd been in commercial wine making for ten years and the opportunity came up to be the lead wine maker for Blossom Hill. It's a fun brand to work with, a great group of people, and it interested me because even though Blossom Hill is made in California it's sold exclusively in Europe – and the UK is a fun country to sell wine in.
Are there any plans to move outside of Europe?
Our main focus is the UK, but we are still a fairly young brand. We want to make wine for the consumers not the critics. Bringing a consumer led product has been vital to our success – and the UK is where we have had major success – but we want to become the world's favourite wine. We are looking to take it global within five years.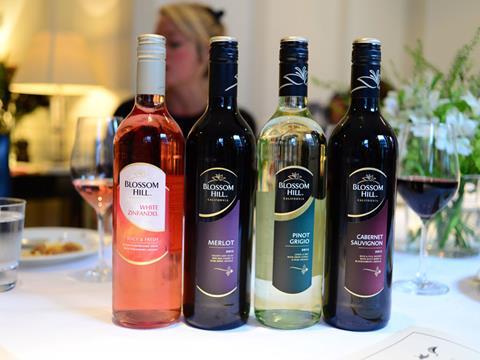 Does blending a popular wine create challenges – in the sense that trying to please everyone risks creating a generic product?
It definitely is a challenge, and it's one that I enjoy. It's a balance. You don't want to over-simplify the wine. It's a constant work on the success of the previous vintages, watching where the market is going and what the customer is looking for.
And how much of getting that balance right comes down to experience?
It all comes down to experience. But we are the number one white zinfandel, the number one white wine and the number two red. So the consumer is telling us we are doing something right. Sometimes when I buy wines in the states they are one-dimensional. But I like to make wines multi-dimensional, without over complicating them, and without making them unapproachable to consumers.
The world of wine can be snobbish, and a snobbish attitude exists towards Blossom Hill. What are your thoughts on that?
(Laughs) I guess if I had a psychology degree I could answer that better. I would say that, in the past, wine has been unapproachable, but that has shifted in the last couple of years and there are a lot more people moving towards wine. We take that as a cue to do what we do. Yes there will be people out there that are a little bit snobbish about wine, and that's okay because we also have consumers that always want Blossom Hill, and we love them. Any brand as big as Blossom Hill will attract snobbery but we are not ashamed to be a wine brand for all. We are inclusive and welcoming. That might not be to everyone's liking sometimes, but we really like staying true to ourselves. We want to break up the terrifying wall of wine and take the scariness out of wine consumption. And we don't want to talk about bouquets and aroma. We want to talk in the language of taste, like fresh or juicy. It removes the complexity of choosing that wine.
The launch of Sun Kissed very much reflected that language? Were you happy with the campaign?
One of the ambitions this year was to increase the awareness that we actually have a range. When we launched the TV ad this year it was with the intention of increasing people's knowledge that we have 20 delicious wines, and it's done a really good job of doing that. And Sun Kissed was developed because there was insight that said there is 1.8m households that only sell rose, and if we could get them to drink a lighter red or white with a similar profile to rose that would increase market spend and bring more into the category.
What role did you play in Sun Kissed?
I was part of the liquid development. It involves whittling down a variety of samples with the crew and tasting through several different lab trials to figure out where the taste profile needs to move; so different levels of residual sugar, the mouth feel, the acid levels. Everything comes into play when making a new product like that.
And how is the tasting done? Is it under bright white lab conditions?
It's inside a tasting room, where you have a group of winemakers standing at a table and talking about what they are tasting. It's a very open forum, we say things like 'I think number one works, I think number two works'. It can be daunting or it can be straightforward. Sometimes you nail it on the first one.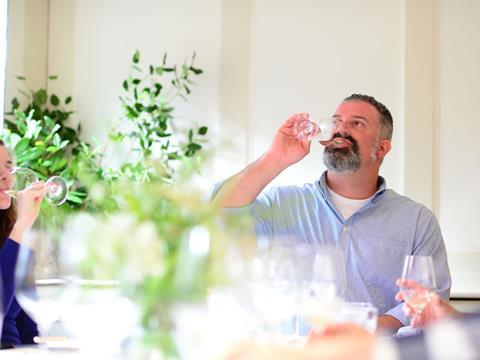 Was that what happened with Sun Kissed?
Sun Kissed was not as easy as others. It was a very specific target we were looking for and we went back to the drawing board a couple of times. But that just made delivering the final product more satisfying.
Christmas is coming. What are you hoping for in terms of sales of Blossom Hill?
Christmas is hugely important to Blossom Hill. Over the last three October, November and December periods we've seen sales almost quadruple normal monthly levels.
Finally, if you had to pick a favourite bottle from the Blossom Hill range which would it be?
That's like asking to choose between my children! It's a tough call. But if you forced me to choose two, I would gravitate towards the Cabernet Sauvignon and the Chardonnay.