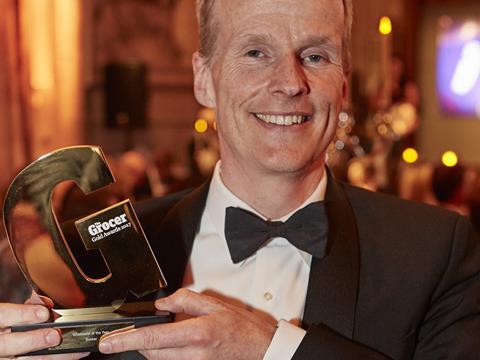 It's only four months since Charles Wilson assumed the new role of Tesco UK & Ireland CEO, and he was relishing the chance to roll his sleeves up and get to grips with the supermarket giant, to deliver on the synergies and other benefits expected from the Tesco-Booker merger.
Already there were signs of his influence – including the early success of Chef Central pilots and the inclusion of 30 bestselling Booker lines in 50 Tesco stores; the closure of the Tesco Direct website; and sharper prices, notably on fresh foods, after drifting over the autumn.
The recent Q1 results were a ringing endorsement of the rationale of the merger, especially from a Booker perspective, with sales up a whopping 14.3% (including tobacco sales) off the back of Palmer & Harvey's demise, in which he played a key role.
So news that Wilson has been forced to resign owing to throat cancer will be a devastating blow: for Tesco colleagues, for the City (though the share price thus far has only wobbled – at 256p as I write this, it's still up over 21% since he took over), but above all for Wilson himself. He has staked in Tesco the entire fortune he has built via his shares in Booker (currently worth £280m), with a pledge to keep his investment in the supermarket for five years from the time of the transfer in March. Though he will remain on the executive committee it's no longer in his hands.
Wilson, a non-smoker, had an operation to remove his tonsils just weeks after he assumed the new role, and has since been undergoing intensive daily radiotherapy. As everyone knows, this treatment is extremely debilitating, and in a role as demanding as his, he has concluded he needs to step down, with chief procurement officer Jason Tarry promoted to UK & Ireland CEO while another familiar figure in Andrew Yaxley, the CEO of its Irish operations, replaces Tarry on the commercial side.
As well as commanding respect through his ability (he's known as 'two brains') and despite his success (he was named the Sunday Times business person of the year in 2017), Wilson's career has been characterised by a genuine respect for and generosity towards colleagues, rivals and suppliers alike. Analysts and journalists too. As Shore Capital's Clive Black put it, he's "a top bloke".
Black's headline struck an incongruous note, introducing the subject of Wilson's illness and concluding that Tesco was a BUY. To be fair he was merely reiterating Shore's rating. That the rating hasn't suddenly changed is a compliment to Tesco's strength in depth, its momentum, and also the strategic direction Wilson has taken Tesco in through the merger. But it would be foolish to think his loss will not be felt, particularly on the retail side, where Tesco's senior management has limited experience.
The good news is that Wilson is reportedly responding well to his treatment. The fact he feels sufficiently strong to continue running the Booker side of the operation is also encouraging. Let's hope he can return and finish the job he has only just started.
In the meantime, we wish Charles a full and speedy recovery.