Time has not been kind to forecourts. Since 1990, numbers have plunged from 18,000 to 8,643, according to the Grocery Retail Structure 2013. Yet that's only one side of the story.
Although abandoned forecourts litter road sides like road kill, when it comes to the retail side of the picture, the survivors look bigger and better than ever. In 1990, hungry drivers were happy with a Coke and a Twix. Today they can almost do the weekly shop at a forecourt. Forecourt operators have, in short, upped their game and Esso's UK and Ireland retail director Simon Herbert is charged with making sure Esso can compete in such a cut-throat and increasingly food-oriented market.
What's interesting is how he's going about it. Rather than pouring money into developing its retail offer, Esso is selling off its shop freeholds. It retains an interest by supplying the fuel, in effect handling the forecourt, while a retailer owns as well as operates the 'backcourt' - in a strategy it dubs 'branded wholesale'.
"It's our new approach," explains Herbert in an interview with The Grocer at its cavernous Leatherhead head office. "Teaming up with a specialist is the right model for Esso to move forward. It's marrying two specialisms together to create a combination of quality fuel and a retailer that understands local consumers. We think it's a great model."
The model has already been introduced in Belgium and in the US, where its parent company ExxonMobil is based. It's a gargantuan business, with annual turnover of $438bn, but its talent doesn't lie in retailing. The majority of its cash comes from its 'upstream' operations, like exploration and production.
Divide and conquer
So, with rival forecourt retailers upping the ante, it decided it would be a good idea to team up with specialist retailers that better understood the nuances of their local retail markets - and could act as footfall drivers for its fuel operation. "We are a global entity that goes about things globally," says Herbert. "We are partnering with retailers that go about things locally. That's the beauty of the model."
In the UK, the project to sell its 400 plus sites started in 2012 and the second phase - the sale of 36 sites to Rontec and 45 to Euro Garages - will complete in Q2 this year. "Now we are in the final phase with 200 sites across central and southern England," says Herbert.
"We are a global entity that goes about things globally, partnering with retailers that go about things locally. That's the beauty of the model"

Simon Herbert
It's not hard to see why it was attracted to Euro Garages. Last month, the specialist retailer reported a 40% rise in sales to £439m for the year to 31 July. The admiration is clearly mutual. Euro Garages, which was founded in 2001 from a single derelict filling station in Manchester, has splashed out in the region of £100m for 93 Esso sites. The move means that it has doubled its estate in the past year and now boasts 180 forecourts, the vast majority of which offer a Spar - or will do once they have been refurbished - while 45 have a Burger King, five have a Subway and one has a Greggs. In 2011, it signed a deal with Starbucks to handle the all-important coffee.
It's a fast-rising star in forecourt retail and although Herbert is reluctant to speculate on who is going to pick up the remaining stores, he concedes that "Euro Garages is likely to be interested". However, he hopes Esso's "proactive media approach" will flush out "other bidders and attract other buyers" for the final tranche, which will be split into packages of 35 and 50 (minimum purchase 35).
He proceeds to give Esso's estate the hard sell with the zeal of a used-forecourt salesman. "They are very successful sites in great locations, they are long-established businesses, they have been running for years and they come with a very trusted brand. So this is an unrivalled opportunity. And we have had lots of interest from retailers."
While Euro Garages looks a likely contender, given the dearth of convenience-sized space on the market and the fact the supermarkets in particular have been crying out for more, could, say, Tesco scoop up all 200?
"Could one person bid for them all? Yes, absolutely, if that's the right person to do business with. We have a longstanding relationship with Tesco. We already have around 200 sites with them. We also put in Tesco Clubcard last year. It's a great relationship, we see it as being of great value and it's something I want to see grow."
Lots of interest
Another supermarket-shaped potential candidate is Asda, famously aggressive on the price of petrol and also known to be on the lookout for more forecourts. There is, however, the small issue of the Esso-Tesco alliance. Herbert refuses to comment on whether that could derail a potential deal with Asda.
"I'm not going to go into the details of my contract with Tesco," he says. "Asda wants to buy 100 forecourts around the country, but there are other players that want to buy as well, the Rontecs, the Euro Garages, specialist local retailers and businesses with the ability to bring in Mace or Spar - we are seeing that grow in the marketplace. There is plenty of interest on the retail side that can create a competitive bidding process."
Herbert won't specify who submitted previous bids, beyond confirming that "multiple parties" were involved. It sounds like a healthy level of interest considering a tranche of over 200 Murco forecourts has been on the market since July 2010 and is yet to find a buyer. "I don't know why that is," shrugs Herbert. "What others do is their own thing. It's not something I have really looked at, in all honesty. I follow the market and I monitor what's going on, but I focus on my brand and my offer. They are competitors and I'm not interested in what they are doing."
The competition
For all his denials, Herbert is, of course, interested in and actutely aware of what the competition is up to. After all, it's partly the progress made by the competition that prompted Esso to get its retailing act together.
Rival BP teamed up with M&S way back in 2005, for example, and there are now 120 Simply M&S forecourts across the UK. Shell teamed up with Waitrose in 2011 to launch Little Waitrose convenience stores on Shell forecourts in a deal that also saw Waitrose supermarket customers offered fuel vouchers for Shell garages at the checkout.
Snapshot
Name: Simon Herbert
Job title: Retail director Esso UK & Ireland
Family: Married to Paula for 20 years. Two kids: Anna, nine, Alex, seven.
Career: Trained as a chartered accountant at Deloitte before joining Esso in 1998.
Career high: "I've had a few very interesting roles. The great thing about Exxon is the diversity of the roles and the geography you cover. Leading this transformation is the high, though."
Career low: "I've never had a career low. I've thoroughly enjoyed every career I've had. I count myself lucky."
Favourite food: "Thai food. I like to cook, it's how I relax."
Favourite drink: "I brew my own beer, and I also like a good drop of malt whisky."
What irritates you? "Not a lot. I'm quite a tolerant person. I try to see both sides to every story."
What makes you happy? "Apart from my kids, and the family, I'm learning to surf, which is brilliantly relaxing. Happiness to me is escaping."
Then there are the major multiples which, over the last 25 years, have become a major force in the forecourt sector. In 1990, Deloitte recorded 434 supermarket forecourts. Today, they have 1,563 between them [GRS 2013] and they use the price of petrol every bit as much as the price of milk to lure customers. Just last week, Morrisons launched a loyalty scheme based on 10p off a litre. The supermarkets (Asda in particular) are also the ones that tend to kick off petrol price wars. It's little wonder government data released last summer shows they now account for a whopping 46.5% of fuel sold in the UK.
Herbert, however, is not prepared to comment on the impact that vouchering or price cuts have on Esso. "I'm not going to discuss what impact anybody else's marketing offer has on our business," he says. "The supermarkets promote themselves on a different basis. We go about it the way we go about it. We cannot offer a view on how other companies conduct their pricing strategies."
All he's interested in is ensuring that in such a price-sensitive environment, Esso is focusing on what it's good at and its retail partners are concentrating on what they're good at. Although it's still early days, the strategy appears to be working. Herbert says sales across the overall industry are down around 1% (quoting UKPIA), but that Esso sales are "notably" up (he won't reveal how much as "it is confidential information").
He credits the sales increase to the arrival of branded wholesale and he can take much of the credit himself. Herbert played a key role in developing the concept, which has seen Esso make a determined and cohesive effort to retail effectively in the UK, albeit in a roundabout way, which is not something the business has always done. One retail analyst says that, other than the On the Run brand, Esso was "slow on the uptake with convenience and doesn't appear to have reacted to the growth in convenience in a particularly dynamic way over the last 15 years".
The future
That's all changed now, of course, or it will have once the remaining stores are sold and transitioned, which Herbert concedes is likely to take some time.
"You can't just flick a switch overnight," he points out. "Negotiations can take nine months, so can the transition itself. You have to respect the employees. You have systems, PoS, to take care of. And the last thing you want is disruption to the consumers."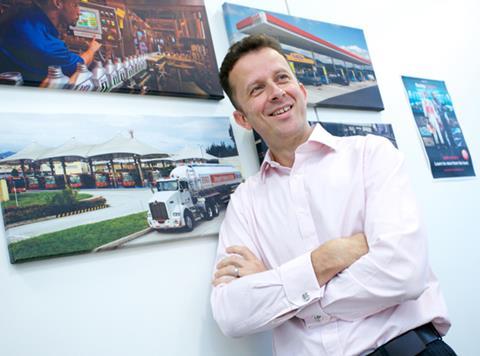 As for the future, you'd think that Esso's head of retail might be worried about the company exiting retail. Not at all, he says.
"My role will morph to focus on the customer relationship, marketing and promotions," he says. "It's a really exciting time to go through this business transformation and the ability to create a localised retail offer has really opened up. Our business is growing, our marketing focus is growing and our commitment is growing. It's going to be a fantastic few years."