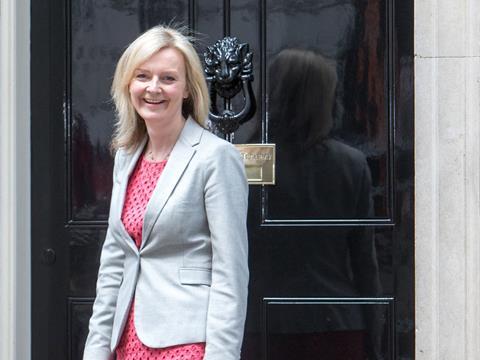 A raft of food leaders from across industry are set to join a new agri-food trade advisory group launched this week by trade secretary Liz Truss.
Members include Cranswick CEO Adam Couch, G's Global founder John Shropshire, and Tate & Lyle senior vice president Gerald Mason.
The agri-food group is one of 11 new advisory forums established by the trade department as a means for experts and stakeholders to facilitate technical policy discussions on specific trade issues.
The government said it is part of plans to "step up engagement" with key industries and comes a month after the launch of the trade and agriculture commission designed to establish a framework for agricultural trade policy.
The group will meet with officials at least three times a year although could also convene on an ad-hoc basis as trade talks progress.
Trade associations will also be represented with members including Dominic Goudie, head of international trade at the FDF, Andrew Opie, director of food at the BRC, and Nick von Westenholz, head of trade at the NFU.
"This is about bringing business closer to the negotiating table and using their expertise to help secure the best possible deals that deliver jobs and growth across Britain," said Truss.
"Talks with Japan, the US, Australia and New Zealand are entering their crucial latter stages, so it is only right that we step up engagement with vital industries to utilise their technical and strategic expertise."
The new advisory groups build on the government's Strategic Trade Advisory Group established last year as well as 17 other expert trade advisory groups. Members are typically made up of stakeholders from industry, trade associations, consumer groups, and trade unions.
Cranswick's Adam Couch said he was "delighted" to be able to start work on the new advisory group. "There are so many opportunities that we can explore as part of the programme to ensure the UK remains at the forefront of global agricultural standards to maintain our competitive position as we seek to negotiate future trade agreements."
Couch joined Cranswick as a graduate in 1991 and was appointed to the board in 2003. He took over as COO in 2011, before being appointed CEO in 2012. Shares in the FTSE 250 company jumped to an all-time high last week after it announced sales during lockdown had jumped by a quarter.