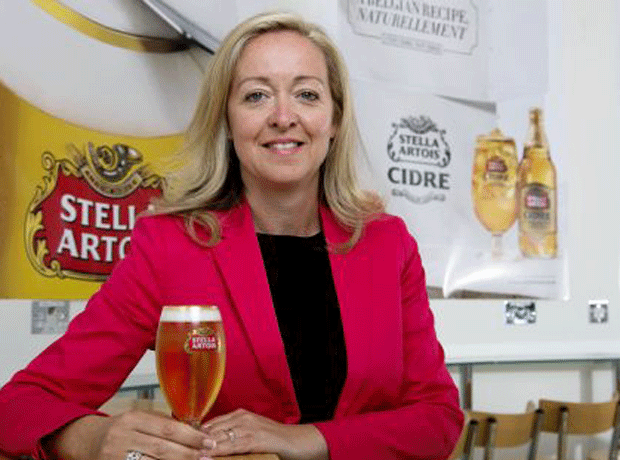 The recent launch of the Let There Be Beer campaign, backed by all the major UK brewers, signalled a rare moment of unity among rivals that have spent the last 20 years in a bitter war of price cuts.

Over this period many senior figures in the industry have made loud noises about how important it is that brand owners kick the promotional habit and inject some value back into the category. More often than not, however - in a category that is also battling a long-term volume decline - these words have not developed into actions.

This is not a criticism that can be levelled at Inge Plochaet. The AB InBev UK and Ireland president has put her money where her mouth is, and two years into the job - despite some scary-looking sales figures for her leading brands - she is confident her strategy will ultimately pay off.

It's been a long time since the brewer's Stella Artois, the UK's leading alcoholic drinks brand, was 'reassuringly expensive'. While Stella has successfully shrugged off its 'wifebeater' tag through reformulation and the introduction of a 4% variant, and brilliantly diversified into cider (sorry, Cidre), the core brand has been cheapened by the pile-it-high sell-it-low merry-go-round - a situation that Plochaet saw as unsustainable when she arrived in the UK in 2011 and immediately vowed to change.
Snapshot
Age: 45
Marital status: Married with two boys
Career: Joined P&G as a trainee packaging engineer in Belgium. She moved to Interbrew, where she continued on the engineering side for a further five years before moving to marketing. She ran the retail operation in Belgium before being promoted to vice-president of commercial, a role she held before moving to the UK.
Favourite thing about living in the UK? The countryside. She is a keen walker, who regular takes the family off for 15-mile weekend walks. Her mantra: There's no such thing as bad weather, just inappropriate clothes.
Other hobbies: Reading
Favourite book: The Shadow of the Wind by Carlos Ruiz Zafon.
"In the UK off-trade we have the unique situation of four major brewers and four major retailers, which is a recipe for a perfect storm," she explains. "Over time, the category has developed into a low, lower, lowest model where beer was only seen as a footfall driver and was maybe even misused through marketing with such low prices. If we want to have an interesting, dynamic and healthy category, that is so not the way to go."
Persuasive nature

Plochaet has been preaching this mantra for the last two years and argues that the message is getting through to retailers. Before she could convince her customers, however, she had to persuade those in her own company that going against the grain in this way was the right way forward. It was no easy sell.

"I had to explain [my position] all the way up to our global CEO, so it's not something that comes lightly," she confirms.

The key to her plan is to wean its major beer brands off their dependence on promotions, and Stella in particular. True to her word, AB InBev ran 29% fewer deals in supermarket featured space in the year to March, according to promotions experts Assosia. This strategy led to Stella retailing at an average of 36p per litre higher than its nearest rival, Heineken-owned Foster's.

Some argue it's a dangerous tactic. Stella's Aussie rival has been making serious inroads of late. Off-trade sales of the AB InBev brand fell 4.6% by value to £497.6m and 7% by volume for the year to 31 March [IRI], while Foster's grew its value 12.2% to £470.6m with volumes up 9% over the same period. The Grocer has calculated that, should current trends continue, Stella could be toppled from its number one slot as Britain's biggest alcohol brand as early as October.

"Our promotional participation was at too high a level and we've taken the strategic choice to significantly bring that down," explains Plochaet. "Of course, that comes with consequences such as revenue, market share and volume in the short term, leading to something more sustainable in the long term."
Brand equity

Plochaet plans to sustain the brand by building better brand equity, and that means more innovative and less price-focused promotions. She cites a campaign that allowed drinkers to claim a free Stella Artois chalice by entering an on-pack promotional code on the brand's website. The campaign had a bank vault theme, with consumers using the code to unlock the vault.

This theme was replicated in Tesco stores with an actual vault watched over by its own security guard. Shoppers were then invited to enter their code on the vault and claim their glass.

Plochaet says the campaign not only resonated with shoppers, but it also seemed to affirm support for her strategy, as other retailers quickly came knocking to see what kind of theatre they could have in their own stores. Not surprisingly, Plochaet is keen to repeat this type of marketing trick again in the future.

"We will look to do more of this next year, developing different campaigns that suit the different DNAs of the different retailers, are close to who we are as a brand, and also resonate with shoppers," she says. "If you can get there at that intersection, people are very ready to listen and work together in a constructive way, and you start getting into a virtuous circle, rather than promoting more, lowering prices, and retailers coming back and saying you should compensate me for my lack of margin."
Plochaet claims her strategy is already starting to pay dividends, with Stella beginning to claw back market share, and is comfortable with where Stella is right now. But she also knows it will take time to pay dividends, which is why she has created a five-year plan for the brand (it's currently approaching the mid-way stage).

The shift away from promotions has also impacted on AB InBev's other major lager brands - Budweiser and Beck's - although there are signs that value is being restored in their latest performances.
On the face of it Budweiser's performance looks disappointing - sales fell 3% by value to £247.6m for the year to March. However volume fell 6.1% as price-led promotions were reduced, sending the average price up from £2.12 per litre to £2.19. These deals were replaced with more innovative activity such as interactive cans backing its sponsorship of the FA Cup.
It was a more mixed picture for Beck's, as strong performances for Beck's Vier and its alcohol-free Beck's Blue went some way to making up for the losses suffered by its core Beck's Bier brand.

"We are really looking to premiumise the beer market over the next few years and our three premium lager brands all play very different roles," she explains. "When Corona joins we will have an even bigger premium portfolio to do that." (AB InBev completed the $20.1bn takeover of Corona-owner Grupo Modelo at the beginning of June this year.)

And what of organic growth? One major bonus was AB InBev's spectacular entrance into the cider market with Stella Cidre. Having only launched in 2011, the brand is now worth £66.5m and grew by 32.7% last year [Nielsen, 52w/e 27 April 2013].

The company's success in the cider category also inspired its main big beer rivals to follow its lead, although none of them have been able to match Stella's instant success. Indeed, last month Carlsberg Somersby posted just £2.4m of sales in its first year on the market [IRI 52 w/e 22 June 2013].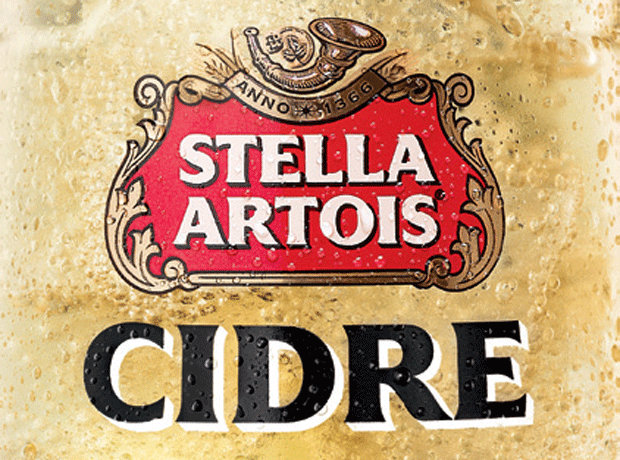 Cidre's focus on quality

Although Cidre debuted in the UK just prior to Plochaet's arrival, in her then role on the commercial side of the business, she worked alongside predecessor Stuart MacFarlane on the development of the product. She puts the success of Cidre down to its quality, and admits there was pressure to launch before it was really ready.

"A lot of research and work went into liquid development," she remembers.

"If you are risking the reputation of a brand like Stella, you really need to be sure you know what it stands for and that the product side is also right. Cidre has a real intense apple taste and performs really well in blind tastings."

Like Cidre, Plochaet has come a long way in a relatively short space of time to get to where she is today. Not just physically, from her native Belgium, but also in terms of her career. The trajectory that has taken her to the helm of one of the most important markets of one of the world's biggest brewers has been far from conventional.

Her first venture into the fmcg world was as an engineering trainee for Procter & Gamble in Belgium in 1990. After five years in packaging engineering with P&G, she moved to a similar role with the less corporate and much smaller Interbrew.

It was a huge culture shock. "I remember my first couple of days thinking 'what have I done?" she admits.

She didn't have to worry about the company's small size for long, however: thanks to a series of mergers and acquisitions, Interbrew has grown from a company with around 2,000 employees then to 150,000 today, as well as undergoing several name changes along the way.
"Over time the category has developed into a low, lower, lowest model where beer was only seen as a footfall driver. That is so not the way to go"
Moving to the dark side

Plochaet's switch from production and packaging to the commercial side or, as she jokingly refers to it, the "dark side", was "a leap of faith", but she is convinced her technical background provided an excellent grounding for the corporate world.

"It gives me an advantage in that I am very process-driven and I will go very deep in understanding details," she insists. "There are some people in the old school who would say it's all about relationship management and you don't have to be that on top of your numbers - I would beg to differ completely. Your commercial process is definitely something where you need to go into the detail and understand it really well."

That's not to say all Plochaet cares about is the numbers - she clearly enjoys life at the coal face of the brewing industry.

"We are not just selling anything we are selling beer and I am massively proud of that.

"The thing I like most about the UK is there is a massive affinity with beer and people really carry it in their hearts. If you work the number of hours we do, you need to be passionate about something."

From her time spent working in brew houses and on packaging lines, through to the invaluable experience she gained marketing beer, Plochaet says she has a strong understanding of the passion and the craftsmanship involved, and as a result it's a real honour for her to sell it.

"Beer is such a great category with its heritage and the way it brings people together. I think it's something beautiful being able to work on that - I could never do the same for toilet paper."