Reports have linked the former Berry Bros & Rudd CEO to a possible top job at the wine warehouse. Is he the man to get it back on track?
The more things change, the more they stay the same: Majestic Wine is potentially facing its second turnaround in four years.

As CEO Rowan Gormley prepares to sell the Majestic Retail business to fund his fast-growing delivery service Naked Wines, national news reports claim bidders, including US private equity firm Fortress, are lining up for Majestic's 200-plus stores.

What's more, Sky News has linked former Bibendum MD, Tesco BWS director, and Berry Bros & Rudd CEO Dan Jago to a potential top job at the retailer if it's sold to Fortress.

Neither Jago nor Majestic have confirmed or commented on the rumours. But the prospect of Jago moving to Majestic is an exciting one. The former WSTA chairman has a wealth of experience in the sector and has made his name as one of the booze sector's premier turnaround specialists.

There's a caveat: Gormley & Co have spent three years trying to turn Majestic Retail around themselves, with mixed results.

So why couldn't they get Majestic properly back on track? And if a deal goes through that installs Jago at the top, what could that mean for the future of the wine warehouse?

For a time, Majestic seemed to be getting healthier. When The Grocer interviewed Joshua Lincoln, Majestic's UK MD, last year, sales and footfall were growing. It had modernised many of its stores, adding shelves and investing heavily in digital marketing, taking up a friendly, irreverent tone similar to Naked in its marketing. Customer acquisition, rather than expansion, became its number one priority.

Initially the omens were good. The business returned to the black and sales rose, albeit not by a tremendous amount. It also introduced pioneering initiatives like its 'franchise-lite' stores, giving more autonomy (and cash) to high-performing managers - and thus increasing retention.

But it was clear Naked was the priority. In March, Majestic shocked investors with the announcement of an extensive transformation, putting its retail estate up for grabs, with an eye to growing Naked - primarily in the US - with cash from the sale. Its shares dived with the u-turn, though they have since rallied with rumours of a buyer.
What would Jago do?
Many wine industry sources believe Naked's direction of travel was wrong for Majestic, despite the rise in sales. Or at least not the right path to cement long-term stability.

"They have been working very hard on the same mechanics that Naked use, like vouchering, couponing and trying to get people signed up for subscriptions, but it is not a business that should be virtual," says one industry source.

"It's clearly alienated a significant portion of customers, and while they have recruited a lot of new ones, they won't be as valuable as the customers that were there before."

Some argue its range has lost credibility, having massively upped its focus on own-label, slashing many brands from shelves as it sought to create a point of difference with supermarkets. Potentially unwise for what is supposed to be a top-end retailer.
"There's been such a focus on own-label, private-label and made-up brands where they're buying in large quantities of bulk wine", says Benchmark Drinks MD Paul Schaafsma.
"But there is an integrity that brands have. The consumer needs to be inspired by what they're offered, and I don't think necessarily the managers or consumers have been as inspired as they should have."

Admittedly, adds our source, "there is a group of customers who want this sort of thing and certain businesses have been very successful at it, but it is not really the Majestic proposition".

The message? That the battle Majestic has been fighting cannot be won on these terms, and that it succeeded best as a business for upmarket oenophiles. Returning Majestic to this model would mean it wouldn't even have to worry about the supermarkets, the source proposes.

"[Competing with them] is not a business model it should be going anywhere near. Majestic is not a volume grocery retailer. It should work on the principle that supermarkets can sell wine up to about £10 and independents should be selling it generally over and above the £15-£20 mark. Which is a clear gap in the market."

Enter Dan Jago. At Tesco he spearheaded a complete upheaval of the supermarket's wine offer, which had become commoditised and was losing share.

Essentially, he understood that, for Tesco to regain its standing in wine, it had to have a more credible offer, which meant undoing much that had come before.

Jago (along with Tesco's current BWS director Jason Godley, who was head of wine buying at the time) cracked down on duplication, ditched loss leaders for more premium brands, renovated the Finest range and invested in a small range of fine wines costing up to £100 that, despite contributing little in ­volume terms, hallmarked Tesco as a quality retailer.

They re-dubbed Tesco 'Everyone's Wine Merchant', and it was shortly afterwards named IWC Supermarket of the Year, a major accolade previously only scooped by the likes of M&S and Waitrose.
"He knows wine inside out. In some ways he was wasted at Berry Bros & Rudd"
Conversely, when he took over the ailing Berry Bros & Rudd in 2015 (it was more than £11m in the red), he saw that, for the prestigious business to succeed, it needed to behave a bit more like Tesco.
He overhauled its IT systems, invested in bringing much of its delivery operations in-house, and renovated its own-label offer, bringing in a slew of new drinks at accessible price points. He also oversaw the sale of unnecessary parts of the business, such as The Glenrothes brand, to boost the coffers.

"He knows [wine] inside out, from FX rates to harvest conditions," says one source at a major supplier. "In some ways, he was wasted at Berry Bros & Rudd because all that knowledge was lost on the market."

There are underlying similarities between Tesco, Berry Bros and Majestic's current situation: all are (or were) long-standing retailers with solid reputations that just weren't firing on the right cylinders.

Even with Jago in charge and an upmarket renovation, however, store closures are surely likely: it may well be that there simply isn't the capacity in the UK market for a premium independent retailer of such scale, says our first source. And nothing is set in stone. No sale has yet been announced and it is unclear just how many bidders are circling Majestic. Or who might be in the lead.

Still, the apparent appetite to keep Majestic running as a wine merchant is good news by any measure, says Schaafsma. "It's such a precious part of our industry, and one of the last bastions of independence."

If the rumours prove true, a real resurgence could be on the cards.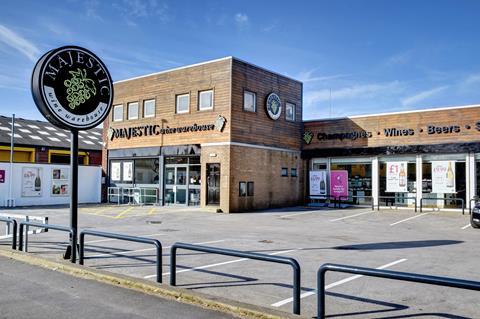 Majestic's timeline of change
2015: Majestic buys online retailer, and major competitor, Naked Wines, in a £70m reverse takeover, with Rowan Gormley, Naked's founder and CEO, taking over as boss.
2016: Gormley kicks off a major turnaround project designed to bring Majestic into the 21st century. The business' long-standing six-bottle minimum purchase rule is scrapped and store openings are curtailed.
2017: Majestic launches its first entry-level own-label range, signalling its desire to compete harder with the supermarkets. Gormley unveils a new 'franchise-lite' store model. The business posts a loss of £1.5m.
June 2018: Majestic's full-years reveal it has returned to the black, but it warns of dire market conditions. Meanwhile, Majestic trials new store concepts and cracks down further on branded suppliers to focus on own label.
November 2018: Turnaround hits the buffers as Majestic posts a pre-tax loss for the first half, blaming investment in new customer acquisition for Naked and the 'sluggish' post-Brexit market.
2019: Full-year retail sales are up but decreasing margins hit profitability. Gormley announces a radical plan to exit Majestic, with a potential sale of the entire retail estate to fund Naked, the more profitable business.


Daniel is The Grocer's food and drink editor and is responsible for our product coverage across all fmcg categories.

Daniel has written about food and drink for the majority of his career: prior to joining The Grocer in 2017, he covered food and drink news on pub industry title The Morning Advertiser, and wrote features for VICE magazine.

Follow Daniel on Twitter: @WoolfsonExists