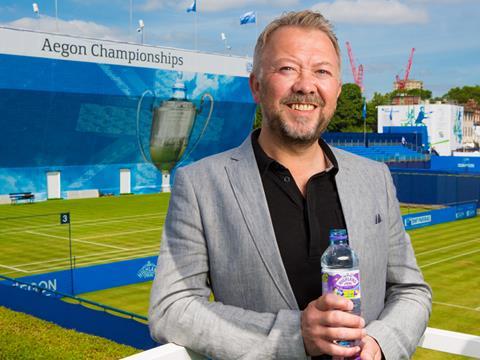 For years, Andy Murray was contractually obliged to quench his thirst on Highland Spring bottled water. It was part of a reported £1m-a-year sponsorship deal that ran for four years, until 2010, between the then rising sports star and the brand.

The partnership doesn't appear to have done either any harm. Murray has gone on to win two Grand Slams, while his former sponsor has doubled its turnover to £100m in the past five years, thanks to a bottled water category in double-digit growth.

So it seems fitting that Highland Spring CEO Les Montgomery was there to cheer on Murray as he lifted the Aegon Championship trophy at Queen's for the fourth time in June.

"Andy wasn't where he is today when we were involved with him but he was an up-and-coming young player with potential," the bottled water boss remembers.

A little like the potential Highland Spring identified by Montgomery when he joined the team 30 years ago as a junior accountant. "When I joined Highland Spring in 1985, the water business was tiny, something like 85 million litres," he says.

"We were losing money in everything we were doing, so every time we saw a Highland Spring lorry go past the joke was 'how much has that one cost us?'"

That joke soon went flat after Montgomery's arrival: the year he joined was the last the company made a loss. "It wasn't really to do with me," he insists coyly.

And he isn't just being modest. For the past three decades, sales of bottled water have boomed as consumers have ditched rusty drinking fountains for portable plastic bottles.

Brits now glug a reported 2.5 billion litres of bottled water a year, leaving the category overall worth more than £2bn, according to British Bottled Water Producers. The market continues to grow, with supermarket sales up 12.2% year on year to £871.1m in January 2015, according to IRI. So what's the secret of the category's success?

"It was a bit of education, and a bit of understanding about the need to hydrate," Montgomery explains.

"You give people something they need and they want more of it. And that's what happened with bottled water. The product was provided, people found they wanted it, and needed it, and it just grew, and grew, and grew."

Acceleration

Two further factors helped speed things up, he believes. First, in the early 1980s Perrier worked its magic on water's bland image. "These French guys were there talking about sparkling water and making it look cool. Thank goodness for Perrier because they brought the bottled water market to the UK," Montgomery laughs.

Then in the 1990s supermarkets ditched their 'pile them high, sell them cheap' mantra in order to "build things called categories".

"So bottled water went from something stuck on the end of a soft drinks aisle to a category in its own right," he says.

And in recent years the "biggest driver" of growth has been the anti-sugar lobby maligning juices and carbonated soft drinks, Montgomery believes.

"People get reminded not to drink calories, and that water is the healthiest way to hydrate," he explains.

Keen to capitalise, Montgomery set the company an ambitious five-year turnover target of £100m when he was promoted to CEO in 2008. He also set about making major acquisitions just months after taking the reins.

First he rescued fellow Scottish brand Speyside Glenlivet from administration in March 2009. Later that year a deal was struck to acquire Greencore Group's bottled water division for £15.5m.

"That step change made us the biggest supplier virtually overnight," recalls Montgomery.

"We went from two production sites in the village of Blackford to five, six production lines to 12, and from 220 employees to almost 400."

As a result, the company hit its sales target of £100m last year, although it narrowly missed out on its volume target of 500 million litres. Nevertheless, it was enough to earn Highland Spring the status of the UK's biggest supplier of naturally sourced bottled water.

Scale was crucial to compete with international rivals Danone and Nestlé Waters, says Montgomery. "We had to make sure we had a seat at the table when these giants of the market are there.

"They're going to get in to see whoever they need to see because of their scale and the fact they have a broad portfolio of products. That wasn't what we had and we knew that in order to get a seat at the table we had to be a big player in the business."

No matter how big the player, of course, bottled water has always had its critics. For some, the idea of paying up to 500 times more for water in a bottle, rather than water from the tap, is ludicrous.

Unsurprisingly, it's a viewpoint Montgomery has little time for. "I'm not going to denigrate tap water because in the UK we're very fortunate, we have good tap water, but it is what it is," he says.

"It's treated, it's filtered, it's got things added to it to make sure it's safe to drink and that's fine because everybody knows that.

"But our product comes from natural sources 300ft down filtered through rocks. It picks up minerals on the way and it's about making sure it's in the bottle in that natural state. There is a difference: natural versus the treated stuff."

As for concerns about the environmental impact of disposable plastic bottles, he believes "the big guys all do the right thing" when it comes to lightweighting their plastic, but stresses any solution needs to be practical. "There's a fine line," he says. "Some bottles out there are too flimsy."

More importantly, he points out, the tap versus bottled mineral water debate is about consumer choice, and with average bottled water consumption per person, per year, up to 40 litres (a 10% year-on-year rise), according to British Bottled Water Producers, more and more people are opting to drink out of a bottle. "Nobody is forcing someone to take nine litres of bottled water to carry home," he adds. "Buying bottled water to take home is not an easy choice: it's heavy, and it costs money. People are doing it because they've made a choice against what is available."

Profit margins

Although he doesn't share specifics, Montgomery suggests profit margins may be smaller than most might imagine on a simple bottle of water. "We're a business the same as anybody else, and most businesses when you look at the profit figures, it's low single-digit profits," he says. "Everything costs, and the more complicated the supply chain, the more the cost of getting it in there."

Getting sweeter

Still reeling from the recession, consumers are all too aware of their own household costs, which has led to 13% more opting for free tap water in their packed lunches, according to Kantar Worldpanel. It's a fact that is likely to ensure bottled water brands remain on their toes.

Industry has responded with a flurry of flavoured water new product development, with many of these now outperforming plain. Yet other than fruity concoctions of its budget Hydr8 range, Highland Spring has been slow to partake. A test launch of 11 flavoured SKUs in Tesco last year ended in June with further work needed prior to a wider market launch, says Montgomery.

He hints at the challenges when he speaks of the "downside" of all added flavour. "Most people need some kind of sweetener to make the drinks palatable," he says. "You want to do that as naturally as possible, but there's a limit to the technology."

Besides "there's still a lot to do in the area of plain bottled water" he insists.

"We thought we would be stronger in the water-plus market but we've decided our investment over the next three and a half years is going to be increasing our ability to meet the demand that's in the plain bottled water market."

That will mean a £50m investment at Highland Spring's Blackford site to grow capacity by 50%, and a £5m injection into the nearby rail siding with a plan to take 2.5 million road miles off its operations. With the company currently abstracting just 2% of annual rainfall from its 300 acre site in Perthshire, the potential to grow seems huge.

And 15% growth in the market over the past 12 weeks despite summer temperatures - 23C the magic number at which sales spike by up to 50% - proves there is a thirst among consumers, too. "I'm not sure there's any other category growing like that," Montgomery says.

And with that he pours himself a glass and settles back to watch the tennis.
Snapshot
Name: Les Montgomery
Age: 51
Place of birth: Falkirk, Scotland
Family: Wife and two girls, 19 and 15
Potted CV: Left school at 16, got a job as a trainee accountant in a small private firm, went back to college to fully qualify before joining Highland Spring in 1985 as a junior accountant
Best career decision: Taking on the role of CEO at Highland Spring
Biggest regret: Not going to university. I see the opportunities my kids have had and wish I had had the experience.
Career highlight: Becoming the UK's leading water company - I was driving the acquisitions that made us the best in the UK
Best piece of advice: Happiness is not an outcome of success; it's a function
Business mantra: Be yourself, only more
Business idol: A leader I admire is Alex Ferguson
Hobbies: Season ticket holder at Falkirk FC, playing golf, reading, eating and drinking
Favourite meal: Pumpkin ravioli
Favourite film: Citizen Kane