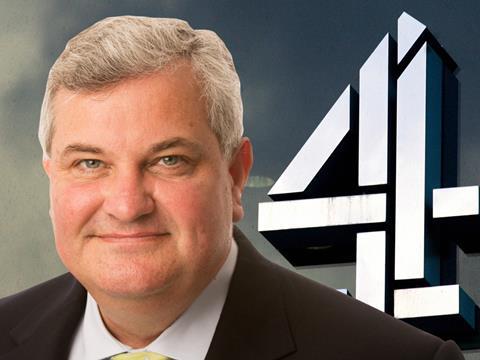 It's the end of an era. Overshadowing the publication of a food and drink report the next day, Waitrose announced on Tuesday that its larger than life MD, Mark Price, will step down on 3 April, after nine years in the role (and two years as deputy chairman of the John Lewis Partnership).

He's off to run Channel 4. Or at least that's the hope. As deputy chairman of the government owned broadcaster, Price had signalled last week a willingness to act as interim chairman when Lord Burns announced he was stepping down as chairman at the end of January.

But Price wants the role full-time - whether that's the 50-odd days and £100,000 salary the job currently commands - or more, if there's a case. And there is a case, with privatisation likely, and a significant amount of work given the complexity of Channel 4's ownership structure - state-owned, funded by advertising, run as a not-for-profit and with a public service remit.

So why is he leaving? Money was not the motivation for Price. "There are only five broadcasters you can chair and they don't come along very often, so it was now or never," he says.

"First there's the intellectual challenge that lies ahead in the next few years in terms of what might happen to the channel."

"And it's also about working with incredibly creative and talented people."

Price sees "a lot of parallels" between grocery and the media in terms of technological upheaval and the impact of the web. It's all about channels.

The timing is good too. By the time he leaves next April he will be 55, "which in Partnership speak equates to retirement", enabling Price to draw on his pension while retaining company benefits such as staff discounts on his grocery shopping. "I've been thinking for a while I was coming to the end of my time here," he says. "At the start of the year I told [Sir] Charlie Mayfield I would start to consider my options, and a month ago Terry Burns confirmed he was going to stand down and the application window opened last week. I've had a really happy time here but I had to take my chance."

Price clearly fancies his chances. "I've been on the board for five years so I have a reasonable chance of being successful. And I have a reasonable skillset."

Ministers are also likely to consider Price favourably given the prime minister's much-publicised admiration for the "responsible" brand of capitalism practised by the Partnership.

And who can doubt the value of his transferable skills, given the success of Adam Crozier at ITV, after he moved from the Post Office, a similarly complex commercial beast?

Price is also clear he has other irons in the fire, including "consultancy work on employee engagement and commissions for books on business and food, and children's fiction."

He's not ruling out another role in the food industry either. "Who knows? I may come back as chairman of an fmcg business. I've always enjoyed the manufacturing side."

Legacy

So what will be his legacy? For Price the greatest satisfaction comes from "everyone writing us off" in 2008.

"They said we would be one of the economic casualties of the recession. Since then we've gone on to record 76 quarters of outperformance."

Analysts, suppliers and colleagues have also been generous in their praise. Darren Shirley at Shore Capital describes Price as "charismatic, effective and hugely likeable" and "deserves huge credit for the way he has steered [Waitrose] through tricky waters".

Adds Neil Saunders, MD at Conlumino: "The Waitrose that Price leaves is remarkably different [from] the one he inherited in 2007. Back then Waitrose was a moderately successful grocer, but one that lacked a sense of ambition, national scale, and commercial rigour. Eight years have changed all that. Almost 200 stores have been added, the online business has been transformed, and the supply chain completely overhauled."

Saunders also praises Price for his skills as a marketer, innovator and leader.

And Inventabrand chairman Paul Monk, who has known Price for 20 years as a supplier, said Price was "the perfect dinner companion: fantastic company, a great storyteller, but also a very good listener."

Legwork

As to the challenges facing Rob Collins, the current retail director - announced this week as his successor - independent analyst Nick Bubb puts "the tortuous Ocado relationship near the top of Rob's agenda next year, along with the issue of Waitrose's underlying price competitiveness and cost control".

Saunders believes "the backdrop to the next part of the story is fairly bleak and, despite its success, Waitrose will need to work much harder to generate growth.

And for Shirley, Price will be a tough act to follow. But Price believes the future of Waitrose is bright under Collins - despite his lack of experience in commercial and marketing. "We have strength in depth with commercial director Mark Williamson and marketing director Rupert Thomas to ­support him.

"Rob and I have worked together for many years. He's a terrific person and I greatly admire his expertise and judgement. He has extensive experience in the Partnership and a deep understanding of Waitrose and our values. I know Rob will do a fantastic job and I will be working with him to ensure we have a smooth handover."
Price legacy
200 x Duchy Originals acquisition helped take Waitrose into 50 countries as an fmcg brand. Exports £100m.
Waitrose Essentials. 2008/9 - £2bn turnover.
Duchy - a great deal for us. used that to grow our international business.
My Waitrose. Huge volume into our business.
Pick Your Own Promotions - one million
New formats with Shell, Welcome Break. Convenience.
Small town format.
Grozing. There've been loads.