Snapshot
Age: 57
Place of birth: Nicosia, Cyprus
Education: Marketing BA (Hons) at Strathclyde University
Family: Married to Julie with four children (two are stepchildren)
Career history: Cadbury Schweppes, United Biscuits, Deloitte, Mars, Dairy Crest, Hovis
Career highlight: Sitting with my French Mars team watching France win the 1998 World Cup, which Snickers sponsored
Best career decision: Joining Mars where I had a 20-year international adventure
Best piece of advice: Be yourself
Business mantra: Let's bake a bigger loaf, not argue about who gets how many slices
How do you relax? With my wife
What's your favourite meal? A sandwich made with Hovis Seed Sensations Original and Davidstow Cheddar
What book are you reading? The Hovis medium-term plan
Favourite movie: White Christmas
The Hovis boy on the bike is one of Britain's most iconic advertising images. But that doesn't make it untouchable. Hovis has a new CEO, Martyn Wilks, who took over in May, and his first major piece of marketing activity has been to give the youngster a 21st-century makeover with a splash of CGI and a modern take on Dvorak's New World Symphony.

Breaking on TV screens on Monday, the new campaign represents a clear sign of intent by Wilks, who left his role as executive MD of Dairy Crest to take over at Hovis Limited (the business was created when Premier Foods split off its baking and milling operation as a joint venture with private equity firm The Gores Group in April 2014).

Wilks is a veteran. He's been in charge of some huge names in a 35-year career in fmcg, including Cathedral City and M&M's. And he says he "loves brands". But this could be his toughest test yet. The bread market is facing intense pressure from two sides: volumes being lost to consumers' concerns over the health credentials of standard bread; and value being drained from the market by stiff retail pricing competition.

In terms of the latter, Wilks' options are limited. "It is right consumers should get the best value we can offer them, and it's right retailers can demonstrate their credentials - we don't choose the price, they do," he says.

As for altering consumer perception around health, it is a different story, and one that began before Wilks came on board, with the launch of Hovis' fortified Good Inside breads this August.

"The guys involved in the beginning of the new business quickly realised they needed some real expertise in marketing," says Wilks. "They temporarily brought in Philip Gladman [the former Diageo marketing director], who put together a team and developed a point of view about the brand and an innovation pipeline that supported that."

That work included the relaunch of Hovis premium loaves in June and, from last week, the rollout of Good Inside thins and flatbreads. With retail pricing of standard bread being squeezed, such developments are designed to drive value into a commoditised category - something Wilks has plenty of experience of from his time at Dairy Crest.

"The bread market is not wildly dissimilar to dairy," he points out. "Dairy is one where we have been very successful in building brands that people have been prepared to pay a premium for. It's true in liquid milk with brands like Cravendale and Frijj, and it's true in cheese with Cathedral City. So it is possible to get people to appreciate something beyond the commodity nature of the ingredient."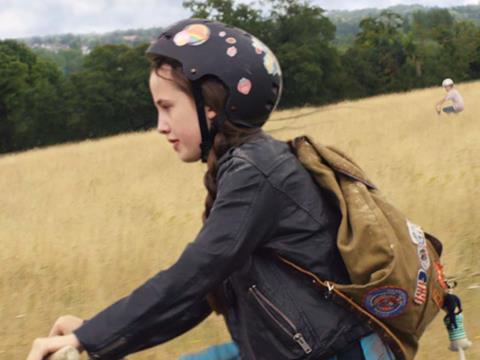 Catching up

The launch of thins and flatbreads is not before time, as Hovis has been lagging behind its branded and own-label rivals in embracing the burgeoning demand for alternatives to traditional sliced bread.

"This is the beginning of us catching up," says Wilks, adding the development of flatbreads had been inspired by foodservice trends. "We are looking at tastes coming through in Subway or other fast food businesses," he adds, pointing out that Hovis chairman Nish Kankiwala is a former president of Burger King.

The push into sandwich alternatives has also brought the first significant co-manufacturing deal for Hovis - a clear sign of how the operation has changed since splitting from Premier. "One great thing about being a smaller business is we can work with other smaller business," he says of the co-manufacturing deal. "We can make quick decisions and don't have a corporate view about what we should or shouldn't do."

Staying fresh

Not that it hasn't been a "big piece of work". The new structure includes a 16-strong marketing department led by Wilks. "We looked for a CMO before I joined," he says. "I have a marketing background and concluded that between managing core, innovation and insights that's not a big leadership role. In every business I've worked in, the CEO has been the CMO."

And this CMO is clearly excited about the new Hovis ad, which flags up how Good Inside can help to get kids outdoors having fun. Supported with radio ads and the brand's first major push into digital, the campaign has cost £5m. It's a significant sum for a business that Wilks admits has limited resources.

Also high up on the list of things to solve has been delivering a consistent product, something he has brought with him from Dairy Crest. "Cathedral City stands out in Cheddar as the brand consumers are loyal to, and that is because the consistency is good."

At Hovis, Wilks has invested in areas of plant, such as water refrigeration, to help improve consistency and improve the things customers care about: "freshness, the squeeze when you buy it, that all slices have the same softness and are still soft at end of life. We have halved consumer complaints in the past year. They weren't off the scale previously but weren't where we wanted them to be."

Now he is happier with consistency, innovation will be a key focus for the brand, and Wilks is looking at areas including breakfast and snacking - an area he "understands a thing or two about" after spending 20 years with Mars. "As I approach any market I always look at what we can learn from the need states in confectionery."

With a background that includes running the M&M's business and its huge licensed portfolio, he also sees licensing as a potential growth area. Currently, Fox's Biscuits produces a Hovis biscuit, and Wilks would be open to other deals.

And while in-house work won't be confined to Hovis (Wilks is pleased with the business's own-label performance and has plans for its Mothers Pride brand next year), the 130-year-old name above the door will be the driving force. "It doesn't matter who you talk to, everybody starts with a very positive view of Hovis," he says. "Our challenge is to make sure they understand today why they should be buying Hovis. And not just because of a nostalgic view based on a commercial made many years ago."

Clearly, the boy on his bike isn't the only aspect of the brand getting a makeover.