snapshot
Age: 41
Status: Married with three children
Business Mantra: Keep it simple
Best career decision: I've always been with Aldi. I came through the graduate scheme, which is number four in The Times Top 100 Graduate Employers. We believe one year of area manager training at Aldi equates to five years elsewhere, based on the extent of exposure to all areas of the business. We pay a phenomenal salary. And we are very open about the fact a lot is expected of our graduates. If that's not for you, then you won't enjoy it, but when it works it's formidable. It's a big part of our success
Best career advice: Treat others how you would like to be treated
Worst career advice: You don't need the customer to tell you how to run the business
Favourite meal: Asparagus risotto
Last good film you saw: The Imitation Game. It was excellent
How do you relax? I used to love running but I injured my knee and now there is no cartilage in it. So I ride a bike instead
Those five years were the most eventful and incredible we have ever had in business," says Matthew Barnes, in his first interview as Aldi's first-ever UK and Ireland CEO. "We learned a lot from each other and we got on extremely well. We had less than 2% market share in 2010, we weren't growing and the bottom line wasn't where we wanted it to be. And we faced that challenge together."
Barnes is referring to his "partner in crime" Roman Heini, who left the UK on 1 April to take up a new role as chairman of the advisory board at Aldi South HQ in Germany. Their respective promotions ended a formidable partnership featuring rocketing sales and stunning profits, and the news came as a surprise to the industry. So did it come as a surprise to either of them?
"We always knew the structure would evolve due to our phenomenal growth, although it was a surprise," says Barnes. "But I'm hugely excited, as Roman is."
With Barnes elevated to CEO, two new GMDs have been appointed. "Giles Hurley, one of our two MDs of buying, and Dan Ronald, our store operations director in the South West. Dan has been with the business for 17 years, Giles for 14 years. They are both Aldi lifers. Dan has been in operations all his career and Giles has been trading and buying throughout his, so it's a fantastic combination."
Both men start their new roles on 1 September, so until then Barnes is "very much going solo, but this move is more about sharing responsibilities than me going it alone. We will tackle the challenge together. I've always said two minds are better than one and four eyes are better than two. Now we have six eyes and three minds and that is exciting."
The reshuffle was announced last November, but in January there was speculation that Barnes would join Morrisons as its new CEO. The bookies had him as the 4-1 favourite. But it was never going to happen.
"At the time I read many opinions about it, but my opinion was: absolutely no way. When I think about where we were in 2010, where we are now and where I think we can be in 15 years, why on earth would I leave? We are unique. No one is like us. I've been here for 18 years and I love the business to bits."
Another recent rumour was that Aldi was launching online. Barnes says there is a "degree of foundation" to that one. "We are talking to different stakeholders and partners to learn more about online. We'd be foolish not to, but we look at it purely from a defensive mindset. What if our customers want us to go online? They aren't telling us that now, but you can't just flick a switch if they do. It's a very complex business."
The biggest sticking point is that "no-one is making any money online, although you can show some profit if you ignore the capital investment that has gone years before. As the leanest model out there, we - more than anyone else - have to be cognisant of that. So we are piecing together a scenario so if we did want to run a trial we know how to do it. And we have taken some fantastic people from the industry to get ourselves closer to a position where we know what going online might entail. But there are no trials scheduled."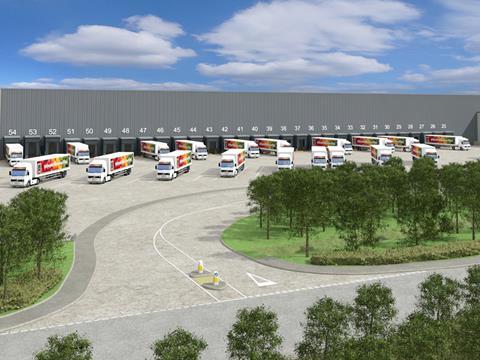 Bricks and mortar
There is no doubt over Aldi's plans for bricks and mortar expansion, however. It plans to open a "record" 70 new stores in 2015 and Barnes is "pretty confident" Aldi will open in excess of 70 in 2016. "We have a strong landbank but what's holding us back is staffing. Operationally, that's our biggest challenge. We finished 2012 with 12,000 employees and 2014 with 24,000. This year we will recruit 450 store management positions, plus 4,500 employees for existing stores and 50 for every new one. It's a remarkable expansion."
The South is a particular area of focus, and Barnes says Aldi's debut in the heart of London, in a "profitable" smaller store in Kilburn, has posed a unique challenge.
"Kilburn is exceeding all our expectations, including how challenging and complicated it is. We get 30,000 shoppers a week through that store and it's been a struggle just to cope. I know it's a lovely problem but it's still a challenge to offer customers the in-store experience we want. Tooting will open this year and all figures suggest it will be even busier. We have two others lined up but we are conservative, we are careful. We don't add to our cost base or complexity for no return."
Outside inner London, but still down south, is every bit as exciting. "We are hugely excited. We opened in Coulsdon two weeks ago and the sales are phenomenal. And we have fewer stores in the South, so we have more targets."
Other than expansion, Aldi targets include rival supermarkets. In April, Aldi edged past Waitrose in terms of market share. "We are proud to now be the sixth-largest grocery retailer and we'd like to be the fifth. And it's well within our sights."
Morrisons might be nervously looking over its shoulder but Barnes is referring to the Co-op. Either way, Aldi's momentum must have everyone worried, despite its rampant sales slowing of late. However, as Barnes has been pointing out since 2012, a slowdown was inevitable. And he's still in a position to reel off facts and figures rivals would kill for.
"We are at 17% y-o-y sales growth for the 12 w/e in March, on top of growth of 35% year on year, on top of 32% yoy, on top of 29% yoy, on top of 14% yoy. Mathematically that couldn't continue. And we are delighted, when you put it into context, with 17%. Plus we are still growing market share faster than anyone else, while the big four are losing it. And there is deflation. Our top 100 volume lines have seen deflation of over 6% in the last six months and across the full range it's 4%. Our biggest struggle is opening stores fast enough and coping with demand from customers. Our stores are bursting at the seams. So 17% is a magnificent performance."
Mistakes have been made along the way. An astonishingly priced pot of Beluga caviar, for example, offered at £9.99 for 20g compared with a market price of around £80, turned out not to be the real thing. "We got that wrong," admits Barnes. "We shouldn't have used the word Beluga because there was potential for that to be misleading, even if there was no intention to mislead. It was a mistake that we rectified quickly and learned from. But we get the vast majority of decisions right. I was fascinated by Which? magazine's super-complaint and I'm confident that if you asked them 'Where does Aldi feature?' they will say we don't. Customers can trust us on pricing, we don't wildly fluctuate and we don't confuse them. It's why millions of customers come through our doors, including half a million new customers this year, because they are fed up with the smoke and mirrors, and their lack of trust, in other retailers. It's been one of the foundations of our success."
Tipping point
Yet it's also been suggested Aldi is eroding those foundations by moving too far from its discounter roots. Is Barnes worried Aldi is approaching a tipping point, where its ultra-lean modus operandi becomes compromised, or Aldi begins to alienate core customers?
Not remotely. "We are still the leanest, meanest, and most efficient out there. We keep it simple. We have added complexity to be compelling for UK customers but every change has to jump hurdles, from adding baskets to expanding the product range. If customers aren't shopping with us because of it, we will do it."
He does concede Aldi has started to get unfavourable feedback from customers complaining how busy stores are. "We are trying to deal with that. But on price and quality our customers are happier than ever and we don't see a slowdown in their affection for us."
Barnes also dismisses suggestions from rivals that they are unconcerned by what Aldi is up to.
"We are in the midst of a price war, which isn't remotely consistent with the rhetoric that they are not taking us seriously. They are taking us very seriously, because they are very concerned. And the price gap hasn't narrowed, despite what they say. They try and fight us on price but they won't win, because they define our margin. And we will be 15% cheaper."
Overall, he says, the "market is changing and we will continue changing it. It's similar to what we have seen in other countries, where the discounters weren't taken seriously for years. That structural repositioning is beginning to happen here, although it's by no means happened yet. We've got a lot of work to do. And despite the changes, it's business as usual."