snapshot
Age: 59
Status: Married, two children
Best career decision: Joining Poundland
Career highlight: I've had a lot but the best was when George Davis told me I was going to be fast tracked through Next. I was 32. To be fast tracked by the darling of the stock market made me so proud
Career lowlight: I have worked for some great bosses but I had a terrible boss for a short period who made my life extremely difficult
How do you relax: Playing squash
Last good film: Wolf of Wall Street
Why do you enjoy chess: It's really good brain fodder. It makes you think. There are recognised strategies, but you can't be transparent. You always know why you lost. And you've only got yourself to blame if you do
Jim McCarthy loves playing chess. That makes him a strategic thinker who knows exactly when to hold back and when to strike. And lately, those skills have been coming in handy.
In April, Poundland captured rival 99p Stores for £55m. Then, in a surprise development, the Competition and Markets Authority held up the deal unless Poundland offered to address its concerns over "a substantial lessening of competition through a possible reduction in quality, fewer promotions or closure of stores".

McCarthy asked for three weeks to consider his next move. Scrapping the deal was an option, but last week he decided to keep going. The CMA will report back in October with its decision, which is likely to result in Poundland being ordered to sell some of the 251 stores on the table. And until then, when it comes to discussing the deal, it's understandable McCarthy is reluctant to offer up much beyond a diplomatic soundbite designed to sate media appetite for information but ruffle no feathers at the CMA. He's no patzer.

Fortunately there is plenty more to talk about. What's going on with online? What does the increasingly diverse range of fresh food in Poundland chillers say about McCarthy's intentions to grow grocery? And crucially, does the appearance of 97p promotions, £2 CDs, and David Beckham aftershave for £8 mean Poundland is drifting away from the round pound price point?

McCarthy looks appalled by the very suggestion. "In 25 years there have been less than 20 Poundland stores that have reduced their price to 97p. When a competitor arrives on our doorstep we burst its bubble with coupons, extreme value items, or we might drop in price. I think we once went to 95p. But it's a blunt instrument."

As for the £2 CDs, he shrugs them off as a trial in 20 stores that didn't work. Poundland offered a "more contemporary" range of CDs in concession areas that were meant to be manned separately, but the demands of the shop floor on staff meant "that broke down. So we merged the ranges and everything is now £1. The margin comes down, but the volumes rise."

What won't be going anywhere are the "conditional spend" deals. "Spend £3 and have this £22 David Beckham aftershave for £8," he says. "But you can't buy it separately. This week we have Disney Frozen ottomans. Spend £3 and you can have the ottoman for £5."

Unlike the Advertising Standards Authority, McCarthy isn't concerned deals like these confuse customers or dilute its biggest selling point.

"Customers have got it, oh yes. Sales are astonishing. It's a great mechanism, which preserves the important single price point and gives customers something extra. One way to win more customers is to open more stores, and another is to give them different reasons to come in. Because a fixed price point is our strength doesn't mean we can't innovate and create. We have to. But it mustn't impact on the single price."
"Because a fixed price point is our strength doesn't mean we can't innovate or create. We have to"
Billion barrier
It's been a winner for 25 years, after all. To date, Poundland is an unqualified success story. It opened its first store in Burton-upon-Trent in December 1990 and will shortly open its 550th in the UK. It also has 41 Dealz stores (everything for €1.49) in Ireland and opened its sixth Spanish Dealz in April (McCarthy says he has decided on his next European destination but won't reveal it "as it will alert the competition").

Last March, Poundland floated on the stock market and shares fizzed up to 356p by lunchtime on day one. They have now settled around the 318p mark, giving the company a market cap of £796m. And customers continue to flood in. Overall sales smashed through the £1bn barrier for the first time in April, rising 11.4% to £1.11bn in the year to 28 March. So why is Poundland thriving when rivals 99p Stores and Poundworld are doing less well?

"We have the brand, the infrastructure, the IT and the data. The quality of our sites is superior. Our sourcing is global, we have 23 colleagues in the Far East and these are good, talented people. The work they can do on quality and site inspections to ensure we can develop new products like the Jane Asher baking range… we have done 10 million pieces in 12 months from that range. Ten million! And basket size is up every year, by 7% this year. That tells you the offer is right."

Conversely, where does McCarthy, CEO since 2006, think Poundland has gone wrong?

"There is a rule in retail," he replies. "Fail fast. We have done lots wrong. We make mistakes every week on product. We either haven't bought enough or, less often, we bought too many! But I expect people to make mistakes. You don't accelerate learning unless you do, it's part of development. It's at board level that you have to get most of it right because it's strategic stuff."

Strategic decisions he thinks could have been handled better include Poundland's dealings with a defunct Woolworths. Taking 93 ex-Woolies stores is considered a prescient move that put Poundland in a strong position in terms of footfall. Woolworths' prime high street locations also afforded Poundland respectability, which helped neutralise the snob factor. Yet McCarthy thinks Poundland could have gone in harder.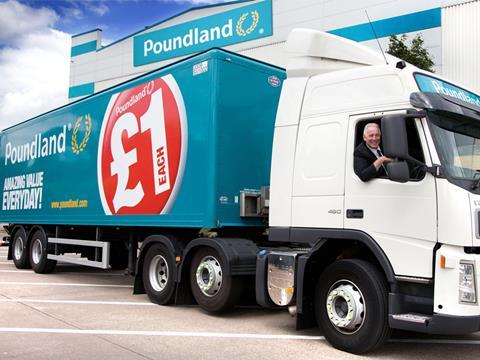 "We got more bang for our buck by waiting for the properties to revert from the administrators to landlords, but if we had been braver we could have got some of the other stores that went via the administrator to other retailers," he says. "It was a missed opportunity."

Poundland is also "two years behind where we could have been in Ireland. To put that into context, Ireland has been really good. It doesn't owe us a cent. But we could have gone there earlier."

Individually, he thinks he's made "one or two mistakes" on recruitment. "I can think of a couple of people who demonstrated all the right skill sets but didn't have the ability to live in a leaner business and flourish. Poundland is incredibly fast, demanding and challenging. Saying you can do it is one thing, doing it is another. You will know inside two weeks if you can hack it."

Operationally, he thinks "end-to-end stock management" at Poundland can also improve. "At the moment we bring things in from all over the world in containers. I see a time when they are consolidated into branch-specific containers so product arrives at the store and it's all for them. That will give us greater operational efficiency. Also, we may spend more time trying to source closer to home. Currently 70% of what we sell is bought from UK customers. That could be greater. If we bought more from the EU than China, that takes weeks out of the process, so your availability improves. That means sales improve. The cost price might be higher but when you factor in freight charges, pleasing customers more often can make a small distinction between you and the plethora of competition we have in the marketplace."
"Poundland is fast, demanding, challenging. Saying you can do it is one thing, doing it is another. You will know inside two weeks if you can hack it"
Round pound grocery
Recently, those competitors have involved more and more grocers. Grocery has long made up about a third of its typical 4,000-strong range of SKUs, but Poundland has been slowly expanding its chilled range.

Milk came first in 2010, followed by basics like cheese and ham. Then came bacon and Rustlers. Then, in 2013, packs of minced beef appeared. Now some stores offer a diverse range including pies, pasta and chicken kiev.

"There are tests going on all the time," says McCarthy. "But we are not a grocer. We compete with them but we are not a pure grocer. We are not even a blip on the radar in reality. But you have to keep trying stuff."

99p Stores are Nisa members, but Poundland has no plans to try similar. "If there was a commercial advantage to it we would very seriously consider it, but that hasn't been the case so far. That doesn't mean we don't get asked, but whenever we have looked at it, it doesn't suit us. Whereas Cheddar for a pound does, as long as it's better than everyone else on a pence per gram basis. Otherwise, we don't stock it. I want a tight range of bestselling grocery but I am not in favour of putting in more chillers, because then you've got more running costs and more complexity. Ideally we'd like to do bigger volumes from the same space."

One way to achieve that, across its entire range, is to launch online. McCarthy revealed Poundland's plans to do just that during an interview with The Grocer in 2011, but although rival Poundworld launched a website in February 2014 (ironically in partnership with Poundland founder Steve Smith), Poundland's website has yet to make an appearance.

"You know when you asked about mistakes? Well, my mistake was telling you we would launch in 2014. We didn't. And the reason we didn't was because I wasn't happy, and in hindsight it was the right thing to do. The consumer has moved on. Click & collect has got bigger - and the economics of click & collect are much better than having to deliver to home. So when we launch we will deliver to homes and after that we will launch click & collect, which I think will be disproportionally significant. It will be a low key launch. Then we can move on."

As for McCarthy's future plans, he says "I'm knocking on. I'm 59. It is funny how when you are young, cardigans and slippers have no allure. Now I find myself strangely attracted to them…"

That said, he has no public plans to retire, even if Poundland's buoyant performance has made him a wealthy man. Besides, you get the impression he enjoys playing the game far too much to give it up.