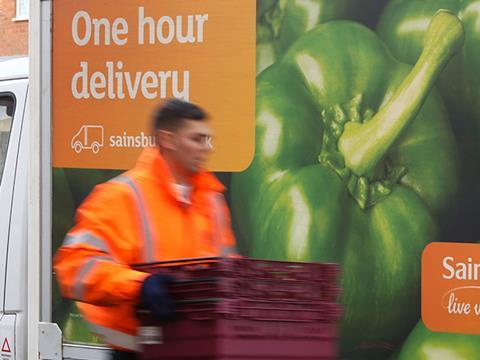 Sainsbury's is doubling the number of seasonal employees it is hiring this Christmas to help meet increasing online demand.
The supermarket is recruiting 12,000 members of staff to pick, pack and deliver online grocery orders over the festive period. Half of these positions will be permanent.
Employees affected by the closure of Sainsbury's meat, fish and deli counters and 420 Argos stores would have the opportunity to be redeployed into these newly created jobs, the retailer said.
The roles are designed to help Sainsbury's fulfil more than 750,000 delivery or click & collect orders – more than double the capacity it had in March.
Sainsbury's has also accelerated the rollout of its SmartShop app to around 500 of its convenience stores this week – up from 250 in October. The Grocer reported last month that Sainsbury's planned to introduce the technology to the "majority" of its 770 c-stores by Christmas, alongside its availability at all supermarkets.
"This Christmas will be like no other and the way customers want to shop for their celebrations has changed completely," said Sainsbury's retail and digital director Clodagh Moriarty.
"To help them find everything they need and shop how they want, we're recruiting thousands more Christmas colleagues than in previous years. The roles will receive the highest rate of pay of the major supermarkets while supporting in our superstores and helping fulfil online grocery orders, where we've more than doubled capacity since March. For customers who want to get in and out of stores quickly, our SmartShop app is now in over 1,100 stores.
"We're doing everything we can to make Christmas special for our customers and we're asking them to play their part by shopping early and shopping alone, wherever possible. This will really help everyone spend less time queuing and more time celebrating."