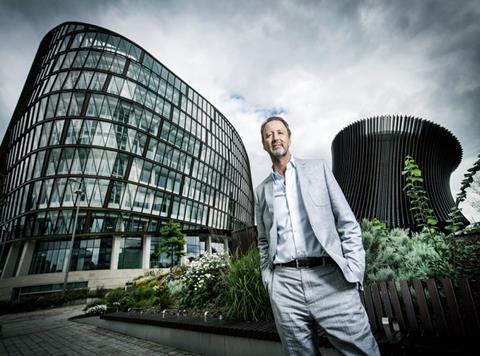 We had a lot to do," says Steve Murrells. Which, considering he is reflecting on his four years at the Co-op, is putting it mildly.

Murrells arrived as CEO of Co-op Food in July 2012. Then all hell broke loose.

An 89% slump in profits, revealed in March 2013, took the Co-op to the brink of collapse. And though the bank, and the sex and drug-fuelled antics of its hopelessly underqualified chairman (and Methodist minister) Paul Flowers delivered the worst of the negative headlines, Co-op food was also in deep trouble.

"It was close to freefall. If food had carried on like it was it would have gone bust in six months. And that was before the crisis."

Exactly when the Co-op entered crisis mode is up for debate, but Richard Pennycook, the ex-Morrisons CFO who initially came in as FD in June 2013 and took the CEO role on an interim basis in March the following year, was clear as to the cause of the "disastrous" £2.5bn loss he announced in April 2014. "Today's results highlight fundamental failings in management and governance over many years," he said.

It was Pennycook who saved the Coop, refinancing the bank, and selling off the pharmacy and farming operations in July and August 2014. August also saw Co-op members vote unanimously in favour of wholesale changes to the society's corporate governance. And in September 2014 as the Co-op returned to profit Pennycook was appointed group CEO. "We had the right guy at the right time," says Murrells. "Richard's calmness, style and experience were hugely important."

But it's Murrells who's turned around Food. And he's displayed similar qualities developed over a long, distinguished and varied career comprising 25 years at Tesco, including a spell as CEO of One Stop, at Sainsbury's in its buying and trading departments, and as CEO of Danish meat producer Tulip. Since 2013, Co-op Food has "outperformed the market for 13 consecutive quarters, while c-store growth has been double digit" for two years. The latest half-year figures, out this week, continue the trend, with like-for-like sales up 3.1% - the sixth consecutive quarter of positive LFLs - and core convenience like-for-likes up 4.3%.

So how did Murrells turn a laughing stock into a serious player in food again? And what's up his sleeve?

Falling apart

Murrells had conceived his 'True North' turnaround plan in January 2013. It was based around a simple philosophy - "we can win again if we become the best in convenience retailing in the UK".

But before he could really get going the Coop Bank started unravelling, threatening to drag the entire group down with it. So while Pennycook fixed the finance side, and looked after the institutions, the first task for Murrells was to win back staff support. "I spent six months on the road visiting stores and warehouses. I needed to win the confidence of colleagues, but just as important I needed to apologise.None of them, some who had worked for the group for years, ever signed up to what the company had fallen foul of," he says. "It should never have been."

It wasn't just their sense of shame in the organisation he had to overcome. "Colleagues had lost their mojo." There was no direction, "no clarity on how the Coop could win. It had no plan." And a top down, internally focused, HQ-centric outlook meant few colleagues felt able to spell out problems to bosses, whose appearances in stores were conducted like "royal visits".

"Colleagues didn't feel able to tell the truth. And the business, because it wasn't in the rhythm of how you run a food business, had no idea it was falling apart."

The Coop wasn't in the habit of listening to customers either. A six month listening programme found customers thought the stores were "like Beirut, poorly lit, and full of broken chillers.

"We had no idea how to lay out a shop. We had small shops laid out like big shops. Customers said they couldn't do a full shop and it wasn't a pleasant shopping environment."

He also had to do something about the 800 Somerfield supermarkets inherited in the 2008 acquisition. They gave the Co-op a presence in every postcode, something it now uses as a selling point, and Murrells believes they might have worked if integration and store investment had been better, prices lower and products better. But, again, no one was listening and colleagues in those stores were "completely disillusioned" and needing leadership.

"What the integration should have shouted out loud and clear was that the Coop offer was just not good enough. The stores that were being converted didn't achieve the targets because ranges were not good enough, prices were too high, colleagues needed support. Customers said they couldn't do a full shop and it wasn't a pleasant shopping environment." Since then Murrells has sold hundreds of stores that were too big or too small and opened others of the right size in the right locations. A starting point was changing store layouts so people could shop conveniently. "It sounds so basic, but in the Co-op, it was so new," he says. New chillers to enable the Co-op's new focus on fresh and food-to-go was a priority, and self service tills were introduced alongside 100% contactless payment.

As as result, whereas once, "when a Tesco parks its tank, there was only one outcome, today we will put a store down with absolute confidence against the competition."

The change of thinking has also involved careful segmentation. "He who is the most sophisticated at this will win. We know the importance of urban vs rural; young plays old. So what we won't do is go to an automated experience where the typical customer wants a conversation. But if I take London where they want a rapid in out, and densities are higher, and we know now how to find smart ways to lay out a store, like if you fit a submarine, without being space hungry but meeting the needs of customers. What I do in the deeper side or Norfolk or Rugby will be different."

The Co-op has also realised stores of up to 8,000 sq ft could be tailored to the convenience model. And while some "we'll sell as they won't make what we need", having a team solely focused on the biggest stores has turned many from "basket cases to okay places", so "the final figure will be far less than we thought because they're working".

"The big stores had been all but abandoned. Putting that focused team in place was a really important move. It signalled to those stores that, actually guys, you could turn those problems into an opportunity. In a lot of those stores it was realising that convenience was stretching into them that enabled us to turn them round. It couldn't have happened without them." Murrells has also recalibrated the business. "Store managers are the most important people in the business. Give them the ball and they'll stick it in the back of the net". And Angel Square is no longer the head office. "Head office was the myth that Manchester knows best." It's now called the support centre.
Snapshot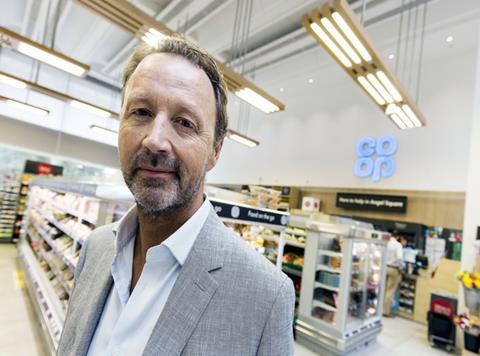 Age: 51
Home: Prestbury
Status: Married, three children: Josh, 24, Connor, 22, Sienna, four
Career: Co-op Food CEO since 2012. Three years as CEO of Tulip. Before that stints at One Stop, Sainsbury's and Tesco
Education: Four A levels, then left because I wanted to start a career
Hobbies: Staying fit and all racket sports
Pet hate: Long emails
Desert island meal: I would like dinner with Nelson Mandela. For starters we would have our Irresistible gin & juniper smoked salmon served simply with the zest and a squeeze of lemon. Followed by our Herefordshire sirloin steak (medium) with our new Irresistible triple-cooked chips. Finished with our famous sticky toffee pudding with a side helping of our Irresistible barrel-aged vanilla ice cream
Change

Delivering this level of change has not been easy. "We never delivered change well because we didn't have business planning or business processes. But now we deliver change so much better than we ever did. Half the battle is knowing what's broken, the next quarter is knowing how to fix it, and the final quarter is delivering it. Jane McCall (appointed transformation & change director in March 2015) brought that capability to change."

After three iterations, he's also happy with the food exec team, with the likes of Michael Fletcher (trading), Jo Whitfield (merchandising) and Helen Webb (HR) "a vital reason why it's starting to work again". "I could have slam dunked and started again, but I didn't think that was right. We had a model of buy or borrow." That meant paying top dollar or bringing in interim execs. If the Coop has enjoyed any luck, adds Murrells, it's been "hooking some great people out of other jobs who were maybe not sure about their future and getting them to the North", because it's inspired others to follow. "What Archie Norman calls 'followship' has played out. Good people now want to join the Coop and now we're into the build phase, which is great because it's critical we have people that stick around."

As well as changing the stores and the management, Murrells has also lowered prices, committing to an annualised investment of £150m "across all sectors but with a greater amount in fruit & veg and protein. We know we need to find efficiencies every year, from price elasticity and from other retailers trying to turn their businesses around"

The Co-op is "at a 10% gap to a supermarket, and we want to close that gap a bit more, but we've always been very clear we are a value for money proposition. My customers say if you give me a product that tastes great and is fairly priced, and I can buy it in a store that's pleasant, served by friendly colleagues who help me, I'll help you. I am no hurry to race to the bottom."

Murrells has also changed the product range. Fairtrade remains important - last year the Co-op grew its range by 5% while the market as a whole shrank by 5% - and he says it's now focussing on seven or eight categories. There are also way more fresh lines (and more chillers in store). A focus on health has also resulted in 30% of promos now featuring healthier choices. And 250 million teaspoons of sugar have been removed from own-brand products in the last two years.

But perhaps the biggest change is in product quality. When he first joined Murrells recalls with horror a visit to the kitchens with the buyers. "We felt good that our Chinese ready meals had a 21-day shelf life. The whole psyche of fresh ingredients, to drive future loyalty, was lost to the team."

And even when Murrells launched Loved by Us under the True North strategy, the Co-operative Food logo was "recessed back" because "I wasn't proud enough". Now, Coop food is "outstandingly good", he believes, and rather than hiding own-brand "at the back of the store" it's undergoing a massive rebranding exercise, with 'Loved by Us' dropped and the new retro blue Co-op logo "smack on the middle of the pack".

Murrells is convinced the new (old) logo - which will feature on the first 500 store fascias by the end of the year - is becoming a "design icon. It's an Apple. It's a Nike. But it's also a brilliant signifier of change. It was a smart but obvious thing to do."

5:1

The latest change is the new 5:1 membership proposition, which launched this week. Five million members will get a new membership card giving them 5% cashback when they buy own brand products, with a further 1% going to community charities. Trials among Co-op colleagues have seen a 17% uplift in own-brand sales.

"I'm trying not to get too excited because the permutations of how this plays out are super-complex - more members, more own brand, more spend," he says. "But no-one else can do this. Because no-one else is owned like we are."

And of course, it doesn't end there. The divi is set for a comeback in 2018. But before that the relaunch of the membership proposition will be coupled by a drive into greater digitisation. And the Co-op has made a number of significant appointments in recent months to deliver that. "It's very exciting. How we use digital to help us make a difference in thousands of communities, in the way we talk and the way we activate and crowd work, how we find areas that are just lumpy and slow, that will be important coming in. But the most important digital enabler is membership. The door is open. Digital will help us get there faster, but it's definitely a huge prize."