Hen nights are often memorable - but an appearance by Sylvester Stallone at a bash in Yorkshire this January was more unusual than most. The bride-to-be had Jonathan Warburton - chairman of the £715m bakery business - to thank for the unexpected star attraction. Stallone was secretly filming a TV ad for the bakery and Warburton had taken him out for what was supposed to be a discreet dinner.
"As the night wore on, the women came over and took pictures and asked what we were doing there," says Warburton. "Soon there were pictures all over social media."

The hens weren't the only ones excited by the idea of a Hollywood legend advertising British bread - when news got out, the story went global. And on 11 April, TV viewers will see the fruits of Warbie's labours, with a two-minute cut of the ad screening during Britain's Got Talent.

The tie-up's been in the works for 18 months and was initially inspired by a conversation with England cricket captain Alastair Cook. "He assumed, as it seems many consumers do, that bread sold in supermarkets was a few days old," says Warburton. "And I was mortified. We put huge effort into getting fresh bread into stores every single day - and it appeared it was totally unappreciated."

Warburton couldn't let it lie and, together with advertising agency WCRS, developed the idea of an ad portraying his drivers as heroes and making an action movie out of delivering bread. "As we discussed it the suggestions got more ridiculous and we came up with the idea of using a big-name movie star," he says. "And there's no bigger action movie star than Stallone."
"There's no bigger action movie star than Sylvester Stallone and he was a delight to work with" - Jonathan Warburton
Understandably, Warburton was sceptical about the odds of landing the man behind Rocky and Rambo but the direct approach worked. "Last November I spoke to him on the phone about it and he agreed. He loved the script and the family aspects of our business.
Stallone spent four days filming, mostly at a Warburton bakery in Wakefield, while the final shots were filmed on the steps of Bolton town hall, recreating Rocky's legendary training scene. There are plenty of other nods to Stallone movies, adds Warburton, including Rambo and The Expendables, and brief appearances by Warburton himself, who had his contribution in the can inside three hours. "I'm a natural," he quips. "And Stallone was a delight to work with, every step of the way," he says. Warburton is unable to confirm rumours of a £1m fee, and insists it was "a lot less" than he expected and worth every penny of his share of the £18m campaign budget - the business's biggest-ever marketing investment.

"The ad is our Super Bowl ad. It's about brand building, helping consumers understand what we stand for, and we will be supporting it in a major way with in-store activity and social media messaging," he adds. Though Warburton admits the tie-up is a gamble, given that intense competition and pricing activity in the bread market contributed to a £30m drop in Warburtons' sales value last year [Nielsen 52 w/e 4 January 2015], he insists the market is no more difficult today than it has been in the past.

"It's always been tough, it's just that now the problems are different," he says. "The biggest challenge is that people are consuming less bread."

But he won't deny Tesco's recent decision to drop rival Kingsmill could be a game changer. "When the biggest retailer takes a decision like this, everyone sits up," he says. "This has the potential to be very significant."

Warburton is also positive about recent changes in the retail market: "There's a bit more clarity in what's happening now and it is starting to pay off for people." He's also full of praise for Aldi, which Warburton supplies. "It is a straightforward business that is easy to deal with. They don't want you there every day. And they shift real volume."

Warbies 800g loaves cost 95p in Aldi - low for a premium brand - though Warburton says the price was in reaction to a rival retailer dropping to that level. And he is comfortable with what he is being paid for his product. "We are not dissatisfied at the moment, given the pressure everyone is under," he says. "We are paid a fair price. We would always like more, and negotiations are tough, but it's no different than it's ever been."

Indeed the drop in retail price has boosted the quantity of bread being bought. "Volume has picked up noticeably and we are delighted with that. I don't mind negotiating on a rising tide, it's more difficult when volume is going the other way."
"Volume has picked up. I don't mind negotiating on a rising tide, it's more difficult when volume is going the other way" - Jonathan Warburton
Expansion
Warburton is no stranger to negotiation. After leaving school he spent a few years as a sales rep for Unilever, living in "hotels all over England selling glamorous things like cooking oil" - and at Warburtons has held roles including national account manager and sales director. He started at the family firm - established in 1876 by Thomas and Ellen Warburton - in 1980 after the business began supplying bread to supermarkets, including Asda, and it grew from regional to national supplier. In 1991 he and his cousins Brett and Ross, who are both still directors, inherited Warburtons from their parents and took the decision to focus the then-diversified business on bread. "When we inherited the business we had a private-label cake operation, we made pies, had retail shops and a business in the US. We closed or sold all peripheral business and concentrated on the thing we'd grown up with, and which had our name over the door."

Back then, Warburtons had a 2% share of the national bread market. That figure has grown to 27%. "We grew on a region by region basis and never went to another area until we got our market share to a certain level," he says. "A lot of growth was built around retailers saying we had done a great job and asking where we would go next. It's much more manageable if you know your customers want you there."

Growth hasn't come cheap. In the past decade the business has invested £450m, but Warburton says putting your money where your mouth is carries weight with customers.

Still, there have been mistakes. In 2012, Warburtons pulled the plug on its first overseas venture (selling bread into Tesco stores in four Central European countries) and exports are no longer on the radar.

"I wouldn't say never but it's not how we see the future," he says. Also off the radar is private-label supply, which Warbies has not done for 30 years. "There's nothing wrong with it, I understand why people want to go that route, but it's not attractive to this business." Indeed with standard 800g own-label loaves selling as low as 55p, suppliers are unlikely to be making a lot of money from it, he reasons.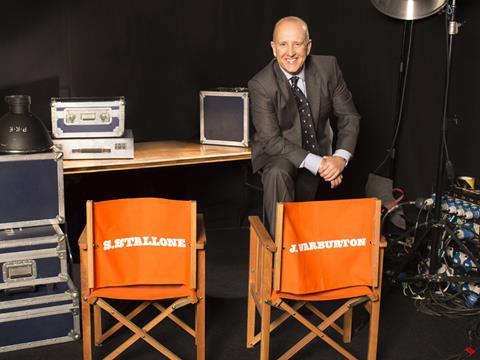 Innovation

Instead, he's staking the future on innovation, hoping to create a new market along the lines of its booming sandwich alternatives business with the launch of Thin Bagels. Produced from a new plant - part of a £7.5m spend on the launch - they aren't the baker's first attempt to crack the bagel market, though its previous one was arguably ahead of its time. "We launched bagels 25 years ago (the first in the country to do so) and it failed miserably," says Warburton. "People couldn't understand why they had to pay more for something with a hole in it. No joke."

Warbies also plans to return to another market it has previously stumbled in - bagged snacks. A year ago it axed the Escapes range, which had been targeted at health-conscious women. Lessons have been learned. "When I get home from work, I don't say give me a healthy snack," he says. "The product will be baked, which makes it slightly better than fried, but we won't try to turn it into a diet product."

Warbies' most recent launch was a range of four premium 400g loaves, rolled out with a £1.39 rsp just as retailers decided to drop the price of large loaves. "We thought that would murder it but we've been pleasantly surprised - every week we sell a little bit more."

He admits the less successful of the four is his favourite, which he says has the most flavour. "People say they love flavour in their bread and we say - well, why don't you buy it then? We get asked why we don't make a sourdough bread and we say we used to but nobody bought it."

Such issues clearly don't dampen Warburton's passion for innovation, however.

"You'll get little criticism for trying and failing," he says. "You'll get lots of criticism for sitting there and doing nothing."

Rocky the Champ would certainly approve of that line.
Snapshot
Age: 57
Place of birth: Bolton
Marital status: Married to Kim, with whom he has four children: Charlotte, twins Harry and Jack, and Angus.
Career history: Two years as a rep for Unilever, then 35 at Warburtons in a wide range of roles including sales, marketing and as joint MD, becoming executive chairman in 2002. Received honorary doctorate from Manchester University in 2003
Best career decision: Employing great people
Worst career decision: Not doing it early enough
Best piece of advice received: Surround yourself with the very best people, just don't necessarily tell them
Business mantra: Focus
How do you relax: Walking, golf and spending time with my family
What's your favourite meal: Toast!
What book are you reading at the moment: I'm not, I don't have time
Favourite movie: Rocky - I saw it decades ago and can still remember scenes from it