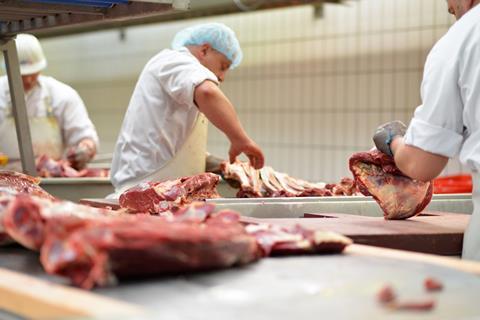 The British meat industry has had a long-running problem which has just been exacerbated by two recent government decisions.
Currently, not enough British people come forward to work in meat plants, which means the shortfall in staff has to be filled by overseas workers. They have traditionally come from the EU and make up between 50%-80% of the workforce.
From now onwards, as a result of Brexit, we're facing an exodus of our EU staff, who will leave behind a big gap in the productive capacity of Britain's meat processing industry. It's already started, with firms reporting an almost permanent 10%-15% shortfall in staff. And the government has just made it doubly difficult to plug that gap.
In November, it announced that 'butchers' (which includes every type of skill we're missing) will now not be included on the Shortage Occupation List, despite strenuous recommendations that they should be from both the Migration Advisory Committee and the Environment Food and Rural Affairs Select Committee.
This would only need to be a temporary measure while the industry tries to recruit and train home-grown talent. In fact, it would be taking advantage of the kind of immigration control that this government sought to take back. We now have an 'Australian' style system which enables us to turn the skills tap on and off as needed, and which provides a granular level of control over who we bring into the country. We should use it.
Then in December, the Department for Education failed to include any food and drink courses, specifically butchery, on the list of Level 3 adult courses eligible for the £95m Lifetime Skills Guarantee. This puts up a barrier to retraining newly unemployed British workers as the home-grown butchers and meat processors of the future.
That said, it takes up to two years of training before a new recruit to the meat processing industry has the skill to work safely and productively on different parts of the production line.
Impact on businesses
This lack of short-term access to skilled overseas labour coupled with a lack of access to training courses for UK recruits is about to start seriously impacting British meat businesses. First, work will be consolidated into fewer factories with others having to be mothballed.
With fewer skilled butchers, firms will start to simplify the products they produce, reducing the value of those products and the choice to consumers. As the value of products reduces, companies earn less from each carcase which will impact directly on farmgate prices.
Some firms will start sending whole carcases over to the EU to be processed by skilled workers over there. This is a direct loss of productive capacity and GDP from the UK. And this is already happening.
A return to producing more basic products will reduce meat companies' ability to compete with the new, heavily branded and marketed alternative protein products. This poses a more indirect but still serious threat to the British meat industry.
The British meat processing industry is a strategically important cornerstone of the UK food supply chain. To ensure it remains strong and competitive, we need butchers on the Shortage Occupation List and butchery courses added to the Lifetime Skills Training, both of which are in the government's gift.
Given the number of vacancies waiting to be filled, this training would be guaranteed to translate directly into secure, permanent and well-paid careers for thousands of people across Britain, which has to be something any government would be proud to support.