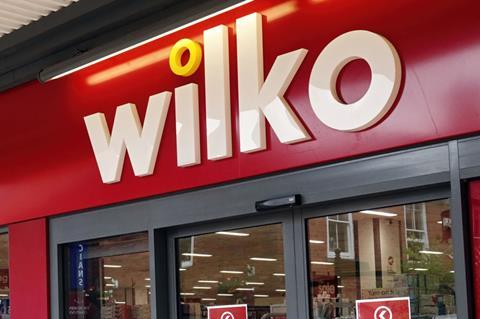 GMB Union has written to the business secretary expressing concern that potential rescuers of Wilko have encountered "difficulties engaging" with administrators PwC.
In a letter sent to Kemi Badenoch yesterday (28 August), GMB national secretary Andy Prendergast called for an urgent meeting to establish how the government could support Wilko workers.
Bidders for Wilko include UK-Canadian private equity firm M2 Capital, which put forward a deal on Friday that would keep Wilko's 400 stores trading and guarantee jobs for two years. The deal would also keep the chain under the Wilko brand, the Guardian reported on Sunday.
It followed a reported bid from HMV owner Doug Putman, which would include keeping 350 stores trading under the Wilko brand and paying off £40m of debts to restructuring specialist Hilco, along with some bank debt.
Rival variety discounters Poundland, Home Bargains and B&M are also said to have made bids for some stores, though not for the Wilko name.
Prendergast's letter said GMB had been contacted by a number of potential bidders for Wilko, since an announcement by PwC last Wednesday that redundancies and store closures were likely.
"Of these, several appear to have the necessary funding and the willingness to invest and safeguard our members' jobs," the letter said. "Needless to say, such bids not only have the potential to ensure that our members can carry on in employment, they also provide welcome relief for the high street, as well as significantly lowering the degree to which the state would need to step in to provide redundancy and notice pay via the insolvency service.
"Unfortunately, we are concerned that prior to our involvement, several of these bidders have reported difficulties engaging the appointed administrators."
The letter added: "As the current timescale specified by PwC states that redundancies will begin this week, an urgent meeting with you and your department is essential in order to raise our concerns and establish what, if any steps, the government can take to assist our members in this process. As the union representing the workforce at Wilko, this is the very least the government should do. It is our view that no redundancies should take place if meaningful offers have been tabled that will protect jobs. We make no apology for arguing that jobs and livelihoods need to be prioritised as part of this process even if it results in creditors having to accept a slightly worse deal.
"Furthermore, we wish to seek assurances from yourself that steps will be taken to guarantee that the administration process will be properly undertaken, that all bids will be considered, and that where possible all steps will be taken to protect jobs as part of this process."
In an update for members today, GMB said: "We have just attended a formal consultation meeting with PWC in relation to the administration process. They have confirmed that all redundancies have been paused following new bids for the business that have emerged over the weekend. It must be stressed that at this stage there are no guarantees that these will lead to a positive outcome and that closures remain a strong possibility."
A PwC spokesperson said: "Since our appointment as administrators of Wilko we have worked relentlessly to secure a sale of the business. We are actively engaging with all interested parties and working to ensure the deliverability of all offers made.
"As administrators we're intent on achieving the best outcome for everyone involved while preserving as many jobs as possible and adhering to our statutory duty to act in the best interests of the creditors as a whole. It would be inappropriate to comment on individual bidders or interested parties at this stage in the process."
A government spokesperson said: "While this is a commercial decision for the company, we understand that this will be a concerning time for workers at Wilko.
"We have backed businesses all of sizes with an unprecedented package of support including recent fuel duty and VAT cuts, business rates holidays and government backed loans worth around £400bn. We will continue to stand firmly behind them."
Wilko entered administration on 10 August after failed attempts to find a buyer for the 93-year-old discounter. The retailer was in the midst of a turnaround plan aimed at cutting costs and growing online sales.
In the months leading to its collapse, it sold its Worksop distribution centre for £48m and secured a £40m two-year revolving credit facility from lender and Homebase owner Hilco UK. It had also hoped to launch a company voluntary arrangement, a restructuring process involving reduced rents for stores.
Lisa Wilkinson, granddaughter of Wilko founder James Kemsey Wilkinson and major shareholder of the retail chain, stepped aside as chair in January.
In an interview with the Sunday Times at the weekend, Wilkinson responded to criticism of the founding family for taking £750,000 in dividends out of the business as recently as February last year and leaving a £50m hole in one of its pension funds.
She said: "We're about to let our customers down, and our customers are hard-working families who will struggle to find what they need elsewhere. We're letting our team members down, and their hard-working families. They will get other jobs but they may not have the same emotional engagement.
"Could other decisions have been taken along the way? Of course they could. They weren't, and we are where we are.
"It's likely to be a million small things that add up in the end to something bigger."